Otis Blackwell … His Music

 

Fueled the Elvis Machine in the Fifties



Otis Blackwell and Elvis Presley never met, but their respective talents intersected at a crucial time in the history of popular music. After an unsuccessful recording career in the early 1950s, Blackwell found his calling as a songwriter. At the same time, Presley's unique set of singing and performing skills were catching fire with the country's teenagers. However, Elvis depended on young rhythm and blues composers to provide the particular kind of music needed to continue fueling his exploding career. In 1956 it was Otis Blackwell who provided much of that fuel.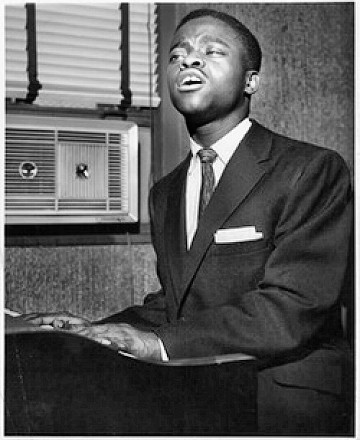 "Otis wrote in a style that came to define a new synthesis that Elvis was groping for," noted Presley biographer Peter Guralnick. The Songwriters Hall of Fame profile of Blackwell notes that his songs, "helped to launch the Presley legend to the heights of the stratosphere (and then some), and it's certainly equally accurate to say that these initial successes with Presley quickly secured Blackwell's place in the Who's Who of American pop songwriters." Their timely connection in 1956 was a breakthrough for both of them.
 Otis Blackwell was born in Brooklyn, New York, on February 16, 1931, four years before Presley's birth. Like Elvis, Otis's first musical experience involved singing gospel songs with his family. But also like Elvis, Otis's taste in music crossed cultural color lines early in life. "Tex Ritter was my idol," he declared in a 1979 interview. "In my neighborhood there was a movie theater. I used to sit from morning to night watching cowboy pictures … I would have preferred to sing country." Of country music, Blackwell once said, "Like the blues, it told a story. But it didn't have the same restrictive construction. A cowboy song could do anything."
 Blackwell's introduction to the music business began with his uncle taking him to New York City blues clubs. "I'd get up and sing a song or two," he recalled. "That's how we used to make a little change. People would throw quarters." By age 16, Otis had a manager, of sorts, who booked him into various clubs. "I started writing when I began singing," he explained. "I'd sit down and doodle and fool around but I must have been 18 when I got out and hustled the songs."
 • "Fever" put Otis Blackwell on the musical map
 His breakout tune was "Fever," co-written with Eddie Cooley in 1955. In a 1971 Presley radio documentary, Blackwell recalled how the song first got recorded.
 "We took that song over to King Records, because Henry Glover, a friend, was running the company then. He said he had a fellow named Little Willie John, and he believed this song would be good for him. And it's a funny part about that because it took us an awful long time to get Willie John to record it … he'd say, 'Who the heck wants to sing a song has to do with fever and finger-popin'?'"
 Little Willie John's recording of "Fever" was an R&B hit in 1956. It was Peggy Lee's sultry pop version, however, that Presley mimicked when he recorded "Fever" for his "Elvis Is Back" LP in 1960.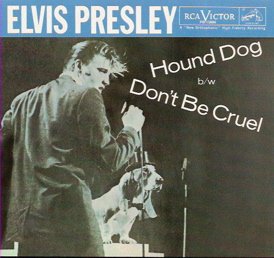 Soon after the success with "Fever," Blackwell wrote what would become his signature song—"Don't Be Cruel." Although he no longer made commercial recordings, Otis sang on demonstration records of his compositions. According to the Songwriters Hall of Fame, his singing style and catchy tunes caught the ear of Aaron "Goldie" Goldmark at Shalimar Music Publishing. "Goldmark who was already well-known in the Elvis Presley inner circle, managed to get Presley's people to hear some of Blackwell's demos, which became the great door opener every songwriter dreamt about."
 And so it happened that Blackwell's "Don't Be Cruel" was among a stack of demos RCA executive Steve Sholes presented to Elvis at a New York recording session of July 2, 1956. "From the first moment Elvis heard 'Don't Be Cruel," he just snapped on it," said Guralnick. "It was a perfect song for him." Backed with "Hound Dog," it became the biggest two-sided single hit record of Elvis's career. On its own, "Don't Be Cruel" spent 7 weeks at #1 on Billboard's "Top 100" pop chart in 1956.
 • Presley writing credit still controversial
 Half a century later, though, controversy still lives concerning the song's authorship. It was the first of three songs for which Blackwell shared writing credit with Presley. "I was told that I would have to make a deal," Otis explained. Many have argued that Presley's management virtually stole half of the writer royalties on "Don't Be Cruel," all of which should have gone to Blackwell. However, in a 1957 article in Jet magazine, Otis declared, "I got a good deal. I made money, I'm happy."
 After the success of "Don't Be Cruel," Blackwell was asked to write more songs for Elvis. RCA set up a Hollywood session in September 1956 to record material for Presley's second RCA album and a new single. Otis's contribution, "Paralyzed," seemed like a good candidate for the rhythm side of the single, but it became a cut on the LP, when "Too Much" was selected for single release instead. Blackwell explained, "The story I got was that because of the word 'paralyzed' a lot of organizations got down on the thing, so they wouldn't release it as a single." Still, as a cut on an extended 45 album, "Paralyzed" charted on the "Top 100" for 7 weeks in early 1957.
 Otis had better luck with his next song for Elvis, which would be the last for which Presley would get co-writer credit. In the 1979 interview, Blackwell explained how he got the idea for the title. "Al Stanton walked in one day with a bottle of Pepsi, shaking it … and said, 'Otis, I've got an idea. Why don't you write a song called 'All Shook Up.'' Two days later I brought the song in and said, 'Look, man. I did something with it.' After that song, the agreement about sharing song writing credit was washed. We had both proved how good we were and had a good thing between the two of us."
 Elvis recorded "All Shook Up" in RCA's Hollywood studios on January 12, 1957. Later that year it became Presley biggest chart record ever, spending 30 weeks in the "Top 100," including 8 weeks at #1.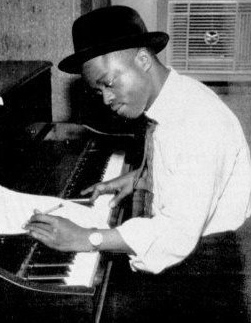 Although Presley's induction into the army in 1958 suspended their collaboration for two years, Blackwell continued to have success writing hit records for other artists. Most notably, he wrote "Great Balls of Fire" and "Breathless" for Jerry Lee Lewis. He also wrote "Just Keep It Up" and "Hey Little Girl" for Dee Clark and "Handy Man" for Jimmy Jones.
 • Elvis recorded two Otis Blackwell songs for "Elvis Is Back" LP
 After Elvis returned to civilian life in 1960, Blackwell was included among a group of songwriters who were invited to submit songs for possible use on Presley records and movie soundtracks. The first song Elvis recorded during his first post-army recording session was Blackwell's "Make Me Know It," which, along with "Fever," appeared on Presley's "Elvis Is Back" LP.
 It was two years later, though, before Presley recorded another Blackwell song. By then Otis had teamed up with the most well known of his many writing partners. "I've done a lot of stuff by myself, but I enjoy writing with other people too," he explained in the 1971 Presley radio documentary. "So I teamed up with this other guy—Robey is his name—his name is Winfield Scott, but we call him Robey." Together they submitted "(Such An) Easy Question," which Elvis recorded for his 1962 studio album, "Pot Luck." In 1965, when the song was reissued as a single, it reached #11 on Billboard's "Hot 100" chart.
 The Blackwell-Scott team got their biggest hit later in 1962 when they submitted some material for Elvis' Paramount musical, Girls! Girls! Girls! In a 1984 interview published in Elvis: The Man and His Music in 1991, Blackwell explained how "Return to Sender" got into the soundtrack.
 "In that movie they gave us all these titles to write. And there was only one title that we wrote that came into the movie—'We're Comin' In Loaded.' We also wrote 'Return to Sender,' but [it] was not one of the titles. Colonel Parker had come to New York, and I went and met him. He said that Elvis was going to do this movie, and he had some songs that he had to take back, and he asked me did we have any. So I told him that the only two songs were 'Comin' in Loaded,' which we wrote for the movie, but the other song was not a title they'd given us. He said, 'Well, you gotta play it for me anyway, 'cause Elvis loves to hear your stuff.' So … I played 'Return to Sender' for him, and he said, 'Don't worry. That will go into the movie, I can tell you that, 'cause it's a great song.'"
 • Blackwell wrote back-to-back Presley singles in 1962-63
 Of course, released as a single in 1962, "Return to Sender" became one of Elvis's most recognizable songs. It spent 16 weeks in the "Hot 100," including 10 weeks in the top 10 and 5 weeks at #2. Blackwell and Scott also penned Presley's next single. "One Broken Heart For Sale" was used in the soundtrack of "It Happened At the World's Fair" and was Elvis' first single release in 1963.
 The last Blackwell-Scott song that Elvis recorded was "Please Don't Drag That String Around," which was the B side of Presley's 1963 hit single, "(You're the) Devil in Disguise." "We figured we would put a little comedy thing into that one," Blackwell recalled in 1984. "We tried to lean a little bit toward the country side." 
 As the late sixties ushered in an era of groups and singer-songwriters, Otis Blackwell's influence on the pop music scene began to fade. And even though Elvis hadn't recorded one of his songs in 15 years, he took it hard when Presley died in 1977. "He was like a piece of the whole business," he explained. "I mean some people you just figure are never going to die. Inside man, they'll always live. When they're gone, a certain piece goes and you just can't believe it."
 In the late seventies, Blackwell recorded an album of his own hit music and went out on tour. In 1987 he sang "Don't Be Cruel" during an appearance on The David Letterman Show. In 1990 he moved to Nashville to be near the recording industry. He suffered a debilitating stroke the next year, and died of a heart attack in 2002 at the age of 70. He is interred in Nashville's Memorial Park Cemetery.
 Otis Blackwell wrote over 1,000 songs. He has been inducted into the Nashville Songwriters Hall of Fame (1986), the National Academy of Popular Music's Songwriters Hall of Fame (1991), and the Rock and Roll Hall of Fame (2010).
 • Long lost Blackwell-Scott recording by Elvis found
 In 2003 Elvis Presley and Otis Blackwell fans were surprised to learn that one more collaboration between these two rock 'n' roll pioneers had been discovered. Among his stored possessions, Winfield Scott found an acetate of an unreleased Elvis recording of a song Blackwell and Scott had submitted for use in Presley's 1964 film, Roustabout. Blackwell had discussed the recording in a 1984 telephone interview with Jan-Erik Kjeseth:
 "The only song that Elvis recorded which hasn't been released was a song we did for a movie called 'Roustabout' … Elvis would give us titles to write, and then it would be like maybe 5 or 10 of us writing the same title. They would pick what they considered to be the best title. In some cases they even went so far as to make records to see which one came out the best … We heard the tape of it over at the office, but they said that this was not going to be the one that was to be released … The way it came out, it was pretty good. You know, being a writer you sometimes tend to think, 'It's not that I find the other record so bad, but my song is better,' you know … It was a pretty good cut."
 I have to agree with Otis on this one. Elvis' recording of Blackwell and Scott's "I'm a Roustabout," first released on the Presley compilation "Second to None" in 2003, is considerably better than the song selected for the Roustabout title track in 1964.
 I'm not sure if there is an epitaph on Otis Blackwell's gravestone in Nashville. If not, a good one would the Blackwell quote used at the end of his 2002 obituary in The New York Times: "I wrote my songs, I got my money and I boogied." — Alan Hanson | © April 2013