Presley on the Charts


How Billboard and Joel Whitburn Control Elvis' Fate
Since the entertainment journal Billboard has often changed the format of its various music charts and how they are compiled, Elvis fans have long debated several controversial issues concerning Presley's chart accomplishments. For instance, there is disagreement on the number of #1 singles Elvis' should have to his credit.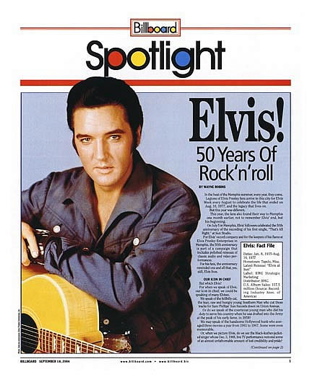 Two readers of elvis-history-blog have expressed their thoughts and concerns about the chart record of Elvis' single records. Knowing it's a topic of interest to many Elvis fans, I'm going to share their varying opinions on the topic.
First up is Eric Galati, who challenges Billboard's right to be the dominant source of record chart data over the years. Eric asked, "Why do authors and all sorts of writers, either highly cultured or just average journalists, only report Billboard charts for a performer's chart history and not Cash Box or even Record World?" Eric recalled that Dick Clark provided both Billboard and Cash Box rankings on American Bandstand, indicating that both charts received equal respect in the sixties.
For more detailed information about how the two magazines compiled their music charts, readers can refer to pages on Billboard and Cash Box on elvis-history-blog.com. Basically, though, when the rock era began in the mid-fifties, both weeklies were using multiple source data (sales, radio play, jukebox play) to compile charts for various categories (pop, country and western, R&B). In 1958, though, both journals consolidated their specialty charts into one lengthy singles chart. That year Billboard launched its "Hot 100" chart and Cash Box expanded its "Best Selling Singles" chart to create the "Cash Box Top 100 Singles." Billboard's "Hot 100" ratings were based initially on a combination of record sales and radio airplay reports. Cash Box, however, continued to compile its "Top 100 Singles" solely on record sales.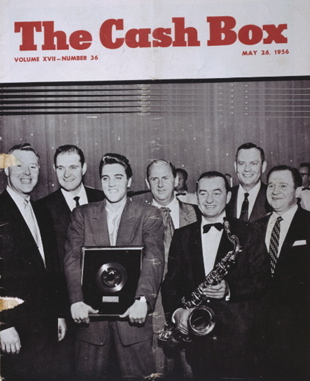 Personally, when dealing with 50's, 60's, and 70's singles, I prefer the strictly sales approach to charting used by Cash Box over Billboard's combined airplay and sales strategy. The sales only policy was objective, conclusive, and fair to every recording artist with a single on the market. You compile sales data, and the record that sold the most copies is #1 on the chart that week. The record that sold the second most copies is #2, and on down the line. Adding DJ feedback into the mix, like Billboard did, inevitably injected human bias into the system.
Those who like to look for ways to maximize Presley's chart performance should appreciate that Cash Box often ranked Elvis' singles higher on its chart than did Billboard. For instance, "Return to Sender," "In the Ghetto," and "Burning Love" were all #1 on Cash Box's chart but not on "The Hot 100."
Going back to the core of Eric's question, the reason Billboard's charts have long been accepted as the definitive source of music recording data can be summed up in two words … Joel Whitburn. A major record collector, Whitburn turned researcher in 1964. He went back to 1955, when Billboard first started its weekly "Top 100" chart, and gathered and organized information on every record that made that chart and its successor, the  "Hot 100." After five years of research, Whitburn published his first book, Record Research 1955-1969, to sell to radio stations and DJs.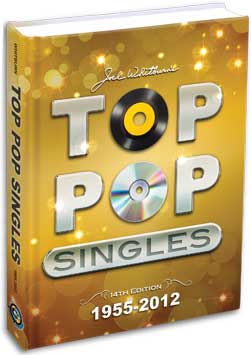 Over the four decades since, Whitburn has authored dozens of books based on Billboard's many record charts and is considered the premier authority in that field. In the genre of pop music records, authors and researchers routinely consult Top Pop Singles, Whitburn's periodically updated version of his original 1969 volume.
For the sake of uniformity, it's best that there be one standard source of data for ranking recorded music popularity through the years, and Joel Whitburn has single-handedly made Billboard's charts that yardstick. Cash Box, Record World, Variety, and all the other publications that rated vinyl records had no individual like Whitburn to champion their charts. Besides, all those other charts have long since disappeared, so we live with Whitburn's Billboard based system, however imbalanced it seems at times.
Which brings us to Sonny Star, who came to the defense of Whitburn recently after reading my archived blog disagreeing with Billboard's ranking of Presley singles. Sonny pointed out that Whitburn has a close business relationship with Billboard. "He works directly with Billboard," Sonny noted. "His Billboard Book of Records is, in fact, a publication of Billboard Books. He is writing on their behalf. His research and numbers are the figures they use in their archives."
Again, for the sake of uniformity, it's advantageous that Whitburn and Billboard work closely together and agree on their published numbers and rankings. As an Elvis fan, the only problem I have with Whitburn's listings is how he dealt with Elvis' chart history before the advent of the "Hot 100" in August 1958.
The most successful portion of Presley's career occurred in the two years prior to then, with singles like "Heartbreak Hotel," "Don't Be Cruel," "Hound Dog," "Love Me Tender," "All Shook Up," "Teddy Bear," and "Jailhouse Rock." Beginning with his initial volume in 1969, Whitburn listed only records that had appeared on the "Top 100" and the "Hot 100," ignoring Billboard's other separate charts, "Best Sellers in Stores," "Most Played by Jockeys," and "Most Played in Jukeboxes."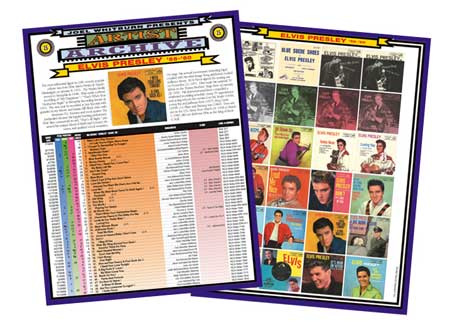 Somewhere along the way, though, Whitburn changed how he listed a record's chart history. Whitburn's publications now credit Elvis with 18 #1 singles, 4 more than he originally listed for Presley. The discrepancy results from a change in how Whitburn rates the popularity of records released before the "Hot 100" began in 1958. He now uses the "Sellers," "Jockeys," "Jukebox" charts, along with the "Top 100," to assign a chart number for records in the pre-"Hot 100" era.
For instance, Elvis'  "Hound Dog" only got as high as #2 on the "Top 100" in 1956, so Whitburn originally did not recognize it as a number one record for Presley. Now, however, since  "Hound Dog" did reach #1 on Billboard's "Most Played in Jukeboxes" chart in 1956, Whitburn lists it as being a  #1 record for Elvis.
Sonny Starr defended Whitburn's mid-stream policy change in ranking Presley's singles. "That came with understanding," Sonny explained. "He talked about you combine many charts to get the result.  He said his discounting the DJs and Jukebox in '55 through '58 was unfair because the transition was ongoing and they were still in use. By '58 the change was set and the new 'Hot 100' began. Billboard agreed with Whitburn and has always published 18 #1 singles for Elvis."
It may seem strange, but despite being an Elvis fan, I believe he should only be credited with only 14 #1 singles. Going back to 1956 and crediting a record with its highest placement on any one of four different charts just causes too much confusion. Think about it … for any week in 1956-1957, the #1 single at the top of those four charts could have been a different record, resulting in Whitburn crediting four different songs with being the #1 record for the same week.
Personally, I think Whitburn had it right originally. Start the rock era with the advent of the "Top 100" in November 1955, and rate all single recordings since then based solely on their performance on Billboard's "Top 100" and the subsequent "Hot 100." That would simplify the process, give it a sense of fairness, and eliminate much of the confusion that now exists in comparing the work of artists, such as Elvis and The Beatles.
Of course, the compulsion some have to compare recording artists across the decades often reaches ludicrous levels. We're occasionally bombarded in the entertainment press with such silly assertions as, "Mariah Carey passes Elvis in #1 records, " and "Lil Wayne tops Presley's Hot 100 record." The dramatic changes since Elvis' time in how recorded music is heard, purchased, and shared make such comparisons to the vinyl era meaningless. Still, Joel Whitburn keeps plugging away on his "1955-to-now" model. — Alan Hanson |© August 2013