"Return of the King:




Elvis Presley's Great Comeback"


by Gillian G. Gaar


A Review
Gillian Gaar's Return of the King is one of the best books about Elvis to appear in years. It's especially impressive, considering that when it comes to Elvis books, I confess to being jaded. The steady stream of volumes that have been published since his death generally have re-ploughed the same ground time and again, often contradicting each other, and usually leaving this Elvis fan disinterested and irritable. However, when I learned that Amazon.com was taking pre-orders for a new Elvis book by Gillian Gaar, I perked up.
I was familiar with her writing about Elvis in Goldmine, a record collectors' magazine. Her articles had always been both informative and entertaining, and so I expected that her book would rise above the mediocrity of most Elvis volumes.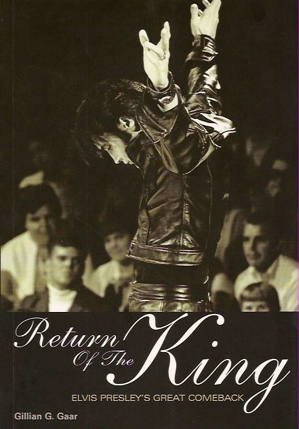 Gillian didn't disappoint me. In fact, Return of the King: Elvis Presley's Great Comeback turned out to be the best Elvis book I've read in years. It's one of those books that is hard to put down—the kind that makes you say to yourself, "OK, I'll read one more chapter before I go to bed," and the next thing you know, its 1 a.m.
The book's title refers to the resurgence in Presley's career that occurred in the period from 1968 through 1970. The attractive volume runs 270 pages in large paperback format. It opens with a 12-page photo section, featuring both color and black and white images from the targeted years. The text is then divided into a prologue and seven chapters detailing, in chronological order, the critical events that led to Presley's return to prominence in the entertainment business during that three-year period.
• Author lets the players tell the story
There's an adage in baseball that contends a good umpire is one you don't notice is there. Gaar applies similar logic in The Return of the King. Through extensive use of direct quotations, the author in effect stands aside and lets the players tell the story. In excerpts from interviews Gaar conducted mostly in 2008 and 2009, many of those who worked closely with Elvis during those crucial years provide discerning insight not only into their roles in the creative process, but also into Elvis' state of mind and his approach to his work.
It's important to note that, for the most part, Gaar mutes the voice of Elvis' inner circle. Members of Presley's entourage are occasionally heard, but only briefly. Instead, the outsider's perspective is provided by the observations of several fans, most notably that of Sandi Miller (termed a "fan-turned friend"). Miller, who is quoted in nearly every chapter, provides insight into Elvis' moods and concerns as his career underwent major changes during those years.
Return of the King portrays the events surrounding Presley's "Great Comeback" not so much like a frenzied roller coaster ride but rather more like the slower up and down motion of a sound wave. The Prologue briefly covers the oft-told story of Elvis' rise to fame in the fifties, his triumphant return after the army years, and the slow deterioration of his career through the mid-sixties. The author presents some interesting comments from Scotty Moore and Gordon Stoker, but they were destined to be minor characters in the story Gaar is about to tell.
Chapter 1 covers the year 1967, which Gaar says contained a "series of disappointments" for Elvis. Bad movies and poor performing recordings were the norm. According to Gaar, however, a critical event occurred in September that year, when Elvis recorded "Guitar Man." The record was not a hit on the charts, but it marked a change in Elvis' attitude about his music. In fact, Gaar tentatively dates the beginning of the Presley "renaissance" to that recording.
• Key events: Comeback Special, American Sessions, Vegas 1969
Chapters 2, 3, and 4 are the core of Return of the King, as they deal with the three decisive events that rejuvenated Elvis' career. Chapter 2 (by far the longest chapter at 55 pages) covers Presley's 1968 "Comeback Special." The reading here is absolutely fascinating. The intricacies of how the special came to be and how it was crafted into its final form are explained in the words of director Steve Binder, producer and engineer Bones Howe, and writers Chris Bearde and Allan Blye. The four men reveal how they, working as a team with Elvis, were able to arouse his creative instincts and undermine Colonel Parker's control over the process. This team approach obviously had a lot to do with the success of the "Comeback Special."
Chapter 3 deals with Elvis' 1968 Memphis recording sessions, which produced such hit sides as "In the Ghetto" and "Suspicious Minds." According to Gaar, "The American Sound Studio sessions were the finest of Elvis' career, not so much because of the amount of work they produced … but rather for the consistent quality of that work."
Using interview excerpts, the author allows the reader to experience the creative process in the studio. This time its producer Chips Moman and musicians Bobby Emmons, Reggie Young, Mike Leech, and Glen Spreen who reveal how they worked closely with Elvis to produce some of the best recordings of his career. It's all enthralling stuff, as is Leech's and Spreen's description of the overdubbing process. Gaar declares, " … it was the final proof that, after years of movie soundtracks, Elvis Presley had grown up."
Presley's return to live performing in Las Vegas in 1969 is the subject of Chapter 4. Since this event has been widely examined through the years, this chapter reveals little new information. However, musicians Ronnie Tutt and Jerry Scheff do provide some interesting insight into that exciting opening run in Vegas.
• Chapters 5 and 6: Elvis slowly fades away
The next two chapters outline Elvis' gradual decent from the heights achieved during his "Great Comeback." The "gradual slide into what some would see as ignominious caricature," as Gaar described it, is viewed through the eyes of Elvis band members Tutt and Glen Hardin, as well as studio musicians Jerry Carrigan and Norbert Putnam. The 7th and final chapter, then details the retooling of Elvis' legacy in the years after his death. The legal maneuvering over his estate is clearly summarized, as is the subsequent repackaging of the "Comeback Special" and other DVD and CD offerings over the years. The book ends with Elvis' image experiencing a second "Great Comeback" as a cultural icon.
Along the way in Return of the King, some players in Elvis' story fare poorly. Colonel Parker, in particular, is roundly censured by those interviewed for perceived heavy-handed attempts to derail Elvis' creative instincts. Felton Jarvis, Presley's long-time session producer, also draws fire for failing to provide Elvis with proper guidance in the studio and for discouraging musicians from interacting with Presley. Members of the Memphis Mafia also are criticized for being disruptive in the recording studio and for insulating him from healthful interaction with the outside world.
Finally, the more serious segments of Return of the King are tempered with humor at times. White House counsel Bud Krogh's remembrances of Elvis' meeting with President Nixon are amusing. And I laughed out loud when I read about the dust up that occurred when studio drummer Jerry Carrigan ate one of Elvis' pickles.
• All Elvis fans and critics should read Return of the King
Despite Gillian Gaar's attempt to remain neutral on the sidelines, she occasionally outs herself as an Elvis fan in Return of the King. That's confirmed on the book's final page, where in small print at the bottom of her Acknowledgements, she states: "This book is dedicated, with love and respect to Scotty Moore, whose stinging guitar lines on 'Hound Dog' got me started on this journey." Being an Elvis fan surely gave her the proper respect for her subject in Return of the King, but it's the author commitment to the truth that gives this book its power. Elvis fans and critics alike can learn much from it. — Alan Hanson | © June 2010


Go to Elvis Books

Go to Home Page