Roy Orbison


"Greatest 
Singer In the World," Said Elvis
One Saturday morning in the spring of 1961, I faced one of the most agonizing decisions of my young life. Earlier that morning, my mother had given me my weekly allowance of $1. With that dollar bill burning a hole in my pocket, I hurried downtown to the hot spot for record sales in Spokane, The Music Box, where I began scanning the wall racks for a "45" to buy.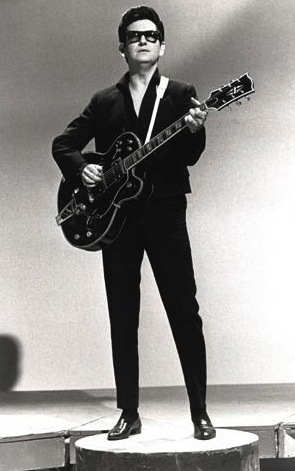 I narrowed my choice down to two records — "Surrender" by Elvis and "Blue Angel" by Roy Orbison. I only had enough money to get one, so I had to make a decision. In a booth I listened to both records over and over, and after changing my mind several times, I put my dollar bill on the counter and walked out with … the Roy Orbison record.
It wasn't just my allowance that Presley and Orbison competed for in those days. From 1960 through 1964, the two singers battled for supremacy on the pop charts. By 1963 Elvis had won me over to his side, but I remained a fan of Orbison, as well, until the "British Invasion" sent him tumbling down the charts, along with many other successful pre-Beatles American acts.
At age 12 in 1961, I was unaware of the past professional and personal relationships shared by my two favorite singers. In April 1936, Roy Orbison was born in Texas, just a little more than a year after Elvis entered the world in Mississippi. Musically, both were influenced in their youths by the wide variety of musical styles being played on the radio. There was one major difference, however, in the kind of music they heard. "Elvis was surrounded by black music almost exclusively," Roy explained years later. "Black music and country music were just beamed every day in his area. But in my area (white West Texas), that wasn't the case."
From his early teens, Roy play his guitar and sang for small audiences around Wink, Texas, where his family lived. After graduating from high school, his conservative values led him to enroll at North Texas State University at Denton near Fort Worth. He was soon infected, however, by rock 'n' roll, as it swept its way across the country. He'd heard Elvis' "That's All Right (Mama)" on the radio and heard talk about his wild stage show.
• Orbison on Elvis: "What comes out is not show"
On April 16, 1955, Roy drove the family car to Dallas to catch Presley's act at the Sportatorium. "I couldn't overemphasize how shocking he looked and seemed to me that night," Roy recalled. "He told jokes that weren't funny, and his diction was real coarse like a truck driver's. [There was] pandemonium in the audience because the girls took a shine to him and the guys were getting a little jealous." Orbison came away realizing, "what comes out is not show. There are a lot of people who are good actors at singing to that they make you think they sound good but, with Elvis, he lives it altogether."
While Presley's gaudy appearance and wild stage antics challenged Roy's conservative upbringing, the music converted him. "I really loved hearing it and couldn't wait for the next records to come out," he admitted. "At the same time, I was kind of ready to go myself." And so Orbison's local band, the "Wink Westerners," included a couple of subdued rock 'n' roll numbers in their country repertoire.
At a free college concert soon afterwards, Roy heard a song that would put an end to his book learning. It was "Ooby Dooby," written by Dick Penner and Wade Moore. After the show, they told Orbison it was "rockabilly." The Westerners added "Ooby Dooby" to their act, and the crowd reaction soon led to the band's total conversion to rockabilly. The group became The Teen Kings and Roy became Elvis for awhile. "I was very much an extrovert, sensation-seeking fellow," he said of his new persona on stage. "I moved around more than Elvis or anyone."
• Sam Phillips summoned Roy Orbison to Memphis
In 1956 Roy Orbison received his big break when Cecil Hollerfield, an Odessa record store owner, acted as a go-between with Sam Phillips. Hollerfield played a demo of Roy singing "Ooby Dooby" over the phone for Sam, who asked that a copy be sent him so that he could study it. Later Sam called Hollerfield and told him to have Roy and the Teen Kings in Memphis within three days to remake "Ooby Dooby."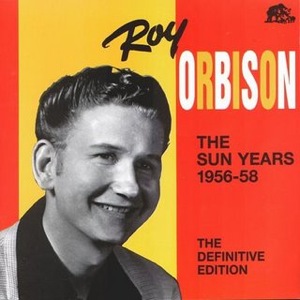 When Roy showed up at the Union Avenue studio in Memphis, Sam immediately realized that he did not have another rock 'n' roll head banger like Elvis on his hands. "I just found him to be an almost grown kid," Sam recalled. "He had so much damn innocence about him—and he never really changed from that."
Roy was not greatly impressed with Sam's assertive manner, but knowing how Phillips had built up Presley, Roy put himself in Sam's hands. "He was like quite a few people who are successful in this business who can't play an instrument, can't sing a lick, can't read a note, can't even whistle," Roy explained
Roy and the Teen Kings had recorded "Ooby Dooby" twice before in other studios, but at Sun Sam Phillips insisted it be done his way. "He wanted everything up, everything fast, everything with all the energy that was possible," Roy remembered. Sam noted, "I was very much impressed with Roy's infliction and the way he did 'Ooby Dooby.' And I think it impressed me more than it impressed Roy then."
To promote the new Sun single release, Bob Neal, Elvis' former manager, arranged a tour in the summer of 1956 for Roy and the Teen Kings, with Johnny Cash topping the bill. Roy would never forget what happened at one show in Memphis that summer. At the conclusion of Roy's set, Elvis ambled on stage. "Marvelous show," he told the wide-eyed newcomer. "Well, I'll tell you one thing," he added. "You're that good that I'll never appear on stage with you." The polaroid photo taken of the two singers that night became one of Roy's treasured possessions for the rest of his life.
• "Ooby Dooby" put Roy Orbison on pop music map
"Ooby Dooby," Sun Records #242, spend eight weeks on Billboard's Top 100 pop chart, peaking at #59 in the summer of 1956. Roy Orbison was on the road to pop music success. It wouldn't arrive in full bloom, however, for several more years. Meanwhile, Roy continued to toil at Sun Records and tour the South with the studio's other stars—Johnny Cash, Carl Perkins, and Jerry Lee Lewis. "I'd go on stage," Orbison remembers, "and I'd play everybody else's stuff—Chuck Berry's stuff, Little Richard's stuff—then I'd sing my one hit record and get off."
While working at Sun, Roy spent many evenings hanging out with Elvis. According to Orbison's biographer Alan Clayson, "Roy was enchanted to be in the King's court; a confidant of the person, only a year older than himself, who'd become the voice of teenage escapism and aspiration. Presley's fame and wealth had granted him a splendid certainty in everything he did or said. America was there solely for his pleasure."
Roy remembered one unusual episode during that summer: "One night, we went by to pick up Elvis' girlfriend in his purple Cadillac—I think he was making twenty million a year at the time. When he knocked on the door, the girl said, 'I'm sorry. You're too late,' and walked back in. We all went on to his house and had Pepsi Colas and potato chips. I couldn't believe that some woman would turn down a date with Elvis Presley."
In addition to music, Elvis influenced Roy's lifestyle in several ways. If he was going to stay within Presley's inner circle, Roy decided he needed to buy a Cadillac and diamond ring. So he used his first royalty check from Sun to buy a white Caddy. Then he upgraded. "I got a little bigger Cadillac and a little bigger diamond ring." There was no way, though, that he could keep up with Elvis. "That's foolish," he finally realized, "and I stopped."
• Elvis gave Roy a love for motorcycles
Elvis's love of motorcycles also rubbed off on Roy. "It was Elvis who, without knowing it, made me a motorcycling fan. I saw a cycle outside Sun Records studio … somebody told me it belonged to Elvis. I finally managed to get to take a cycle ride with the fellow who bought that machine from Elvis and that was the start of it."
At Sun, Roy was never again able to match the success of "Ooby Dooby." The three other Orbison records released on Sun went nowhere. Roy became discouraged. "I'd sort of quit recording," he explained. "Sam had released a couple of songs that I didn't think he should have … I lost all interest and quit, for seven months I just ambled around." In addition to artistic differences, money and copyright conflicts arose. "Sam sounded like he … wanted a little too much," Roy explained. "So I left then. I left Sun."
Roy moved to Nashville, where he signed on with Monument, a fledgling label that opened for business in September 1958. His second record for the label, "Uptown," co-written by Orbison with Joe Melson, reached #72 on the Hot 100 in 1960. It was his next single that year for Monument, however, that became his breakout hit. "Only the Lonely" spent 21 weeks on Billboard's chart, peaking at #2. "I was fortunate that I had been playing and singing for 13 years when success came," Orbison noted. "It touched me deeply but it didn't make me crazy."
Between 1960-1964, Roy Orbison placed 28 songs in Billboard's Hot 100. Two of them, "Running Scared" in 1961 and "Pretty Woman" in 1965, got to #1. Others reaching the top 10 were "Blue Angel" (#9), "Crying" (#2), "Dream Baby" (#4), "In Dreams" (#7), "Mean Woman Blues" (#5), and "It's Over" (#9).
• Roy Orbison: "Vegas is no place for an artist"
With the arrival of the British acts on the American charts in the mid-'60s, Orbison's record sales dropped, causing him to concentrate on touring for income. He appeared all across the U.S., but crowds in England and Australia were more receptive to his brand of music. Unlike Elvis, Roy found Las Vegas a heartless place to work. "If you do well in Las Vegas, they cut the show short because they want to get the customers to the tables," he noted. "Vegas is there for the gambling; it's no place for an artist despite the big money you can make.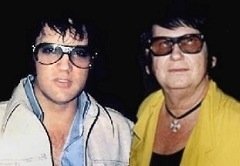 It was in Las Vegas, though, that Roy Orbison and Elvis Presley met for the last time. One night in December 1976, Orbison was closing his show at Caesar's Palace, when Presley suddenly came on stage. Elvis announced to the crowd that Roy Orbison was "quite simply, the greatest singer in the world." The remark was probably born more in his admiration for Roy than reality. (Elvis had made similar claims about several other entertainers in the past.) It is certain, though, that a friendship and a mutual feeling of admiration existed between the two Sun Records artists, dating back to that first on-stage meeting in Memphis 20 years before.
"We hadn't seen each other in years," Roy noted. "He hugged me. We talked about everything … He was a little overweight but looked really good." When Presley died eight months later, Roy said, "I know Elvis had a strong faith, but it was just that there was no one close enough to him, that loved him enough, to tell him what he was doing to himself."
• Roy Orbison returned to his roots
In his shows over the next decade, Roy Orbison honored his years at Sun. "We didn't play our Sun records onstage for a long time—until about 1970, I think, when it became instant history, you know. All the information coalesced to the point where everybody thought that was a beginning—and so I took it more seriously myself because I had a few years to reflect—and Presley started singing 'That's All Right' and I started singing 'Ooby Dooby.'"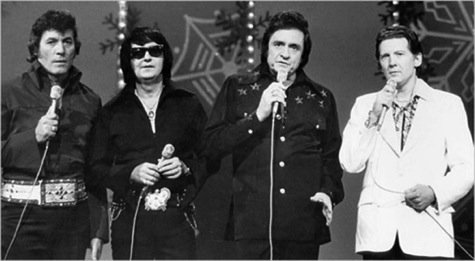 In 1986 Orbison returned to Sun Studio along with Johnny Cash, Jerry Lee Lewis, and Carl Perkins. In what was billed as a "Million Dollar Quartet" reunion, the four Sun legends recorded an album with Roy sitting in for Elvis. The following year, in just its second induction ceremony, The Rock 'n' Roll Hall of Fame opened the door for Roy Orbison, with Bruce Springsteen making the presentation speech.
By then, though, time and a weak heart were catching up with Roy Orbison. In 1978 he had undergone triple-bypass heart surgery. On December 6, 1988, his heart gave out for good. He was dead at the young age of 52.
Roy Orbison never became a rampaging rock star like his fellow Sun Records mates Elvis and Jerry Lee. He lacked the sultry looks that attracted girls, and his conservative values wouldn't allow the drug use, womanizing, and bizarre behavior common among rock stars. With just his music alone, he made a place for himself in pop music history.
When Roy Orbison died, Jerry Lee Lewis remembered the man he met in the studio on Union Avenue. "Roy minded his own business, stayed in his place … he might come by just to say hello, hug your neck real nice, and get out of your hair. He was that kind of person. He was a pretty nice guy, wasn't he?" — Alan Hanson | © August 2014