Sam Phillips' Impact on Elvis 
Peter Guralnick's Biography Sheds Some Light
Sam Phillips was clearly an important figure in the early career of Elvis Presley. However, the passage of years inevitably resulted in some conflicting memories and interpretations among the handful of witnesses present in the small Memphis studio when Elvis recorded his first records in 1954 and 1955. A shadowy dividing line between legend and reality made the extent of Sam Phillips' influence on the young Elvis a matter of debate. Now, however, a recently published comprehensive biography of Phillips sheds new light on not only his activities but also, more importantly, his motivations while working with Presley during those two critical years.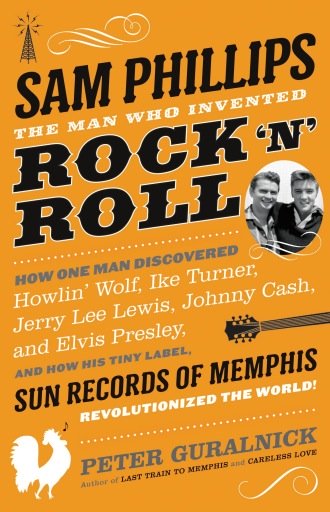 Author Peter Guralnick says Sam Phillips began telling him his life story on the first day they met in 1979 and kept up a running dialogue with him for almost 25 years until Sam's death in 2003. And, although the voices of others present in those early Presley years are included, what comes through in Guralnick's Sam Phillips: The Man Who Invented Rock 'n' Roll is principally Sam's vision of his relationship with many recording artists in the era when rhythm and blues gave birth to rock 'n' roll. His work with Elvis lasted a mere 18 months, which in itself begs the question, "How much influence could he really have had on Elvis over such a short period of time?" Guralnick concludes that it was momentous, not only for Elvis, but also for Sam himself and for the color line in popular music. Focusing the discussion on Elvis, here are some of the ways Sam Phillips helped shape the young Elvis Presley, according to Peter Guralnick. (All quotations that follow are from Gurnalnick's book.)
• Sam gave Elvis his first opportunity
When Elvis entered The Memphis Recording Service for an audition on June 26, 1954, he was a very different singer from those who had come through those doors since Sam Phillips opened the studio in 1950. Not only was he white, but also he sang pop and country ballads, not the rhythm and blues Sam was used to hearing. Still, Sam saw something in him. Guralnick explained:
"What struck Sam most was his quality of genuine humility, humility mixed with intense determination. He was, innately, Sam thought, one of the most introverted people who had ever come into the studio, but for that reason one of the bravest, too. He reminded Sam of many of the great early blues singers who had come into his studio, 'his insecurity was so markedly like that of a black person.' What Sam sensed was a breadth of knowledge, a passion for the music that didn't come along every day."
Sam's sense about Elvis quickly led to a string of crucial events. First Sam called guitarist Scotty Moore and asked him to audition the boy and give an opinion. On July 4, 1954, Elvis, Scotty, and Bill Black met at Scotty's home for a jam session. The next day Scotty told Sam he wasn't blown away by Elvis, "but the boy's got a good voice." Sam responded, "You know, I think I'll just call him, get him to come down to the studio tomorrow—we'll set up an audition and see what he sounds like coming back off of tape."
What happened that night in Sam's tiny studio launched Elvis Presley's career. Would Elvis still have made it without Sam Phillips giving him that first opportunity? Possibly. But it's very possible, too, that the world outside Memphis would never have known the name "Elvis Presley" had Sam not acted on his instinct at that critical moment.
• Sam brought Elvis together with Scotty and Bill
When Sam told Scotty he wanted him and Bill Black to come in for Elvis's audition, Scotty asked if Sam wanted them to bring their band, The Starlight Wranglers. Sam responded, "Just you and Bill, just something for a little rhythm." Scotty and Bill were not great musicians, but Sam knew what he was doing in choosing them.
"He was happy enough with the interaction between the musicians. There was a reason he had chosen them to accompany the boy. Scotty was the best-natured person in the world … Bill, on the other hand, was a cutup. He was a natural mixer who could get a laugh out of a perfect stranger." 
In Elvis, Sam saw a boy of 19, low in confidence and high in insecurity. He knew Scotty and Bill would be sidekicks whose loose demeanors would be a calming influence on Elvis. The trio worked well together in the studio and on the road throughout Elvis's rise to fame, until a breakup over money occurred in 1957.
• Sam was the perfect producer for Elvis' first records
During all of Elvis' recording sessions in Sam's studio in 1954 and 1955, Sam directed the musicians with a calm hand, while encouraging them to work hard to get results. Sam had been producing records for his Sun label for over three years before Presley walked in the door, and he had developed a style that worked for him.
"I knew that the worst thing I could do was to be impatient, to try to force the issue—sometimes you can make a suggestion, just one bar, and you kill the whole song. And sometimes you can be too cocky around people who are insecure and just intimidate them."
Guralnick explained that Sam was particularly sensitive concerning Elvis' frame of mind during recording sessions. "He knew that he could never let any doubt intrude into the boy's world … most of all, Sam was aware, Elvis had to believe in him if he was going to believe in himself." 
Sam had one overriding objective for every record he produced—the experience should be fun. "Every time we did a number, I wanted to make sure to the best of my ability that everybody enjoyed it," he explained. If the mood were right, though, Sam pressed the trio to work hard, says Guralnick.
"That didn't stop Sam from pushing them to deliver something they weren't always certain that they had. It was all about that feeling of camaraderie. It might have been easier to use a drummer, but he never wanted to intrude on their sense of shared experience."
"Sam would push us in the studio," Scotty said. "Once you got a direction, he'd work you so hard you'd work your butt off, but he wouldn't let go until he got that little something extra sometimes you didn't even know you had."
• Sam worked hard to promote Elvis
When the Sun single of "That's All Right" and "Blue Moon of Kentucky" came out in July 1954, it quickly became the best selling record Sam had ever released. "It was as if he had been caught up in a whirlwind," noted Guralnick. "He put every penny, every ounce of energy he had into the record." Sam went out on the road to pitch the record to radio stations in neighboring states, without much luck at first. He worked his connections in Nashville to get Elvis an appearance on The Grand Ole Opry, just so he could say the boy had worked country music's greatest stage. 
Ironically, the success of Elvis' Sun label records caused financial problems for Sam. Some distributors were holding back payment on their Presley record orders, knowing they wouldn't have to pay at all if Sam's tiny company went out of business. Sam also had expenses involved in a Memphis radio station he planned on starting up. His financial troubles made him work even harder to promote the only artist he had who was selling records. "Sam was forced financially to focus on Elvis," Guralnick explained. "He didn't like it, he refused, in fact, to admit it even to himself—he'd be damned if he let himself become known as a one-artist label. But the reality was, he had no choice."
• Sam individualized Elvis' Sun recordings
Sam Phillips released five Presley singles on his Sun label in 1954 and 1955. Today all five are considered classic two-sided records. The two titles on the first single, "That's All Right" and "Blue Moon of Kentucky," were chosen spontaneously in studio by Elvis and Bill Black. The other eight songs that appeared on the following four Sun singles were brought to the studio by Sam Phillips.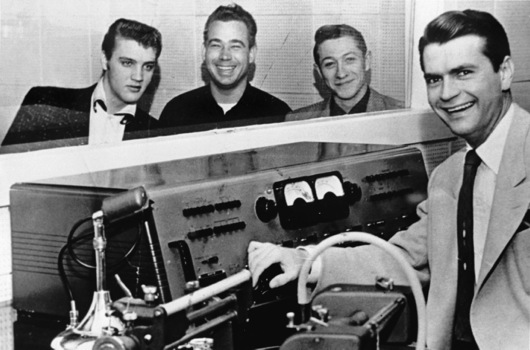 Sam resisted the notion of putting out Presley records one after another just to keep the ball rolling. To continue building Elvis' popularity, Sam believed each succeeding single needed to stand on its own and expand the singer's appeal to wider markets. Guralnick explained Sam's approach:
"Each one of his records had its own individual character, each had a different indicator for where the voice should be, what the pre-emphasis curve should be—if he was going to entrust his records to anyone, what he expected was an individualized approach to every one."
One example was Elvis' third Sun single. It was, Guralnick explained, "a bright country novelty original ('You're a Heartbreaker') Sam had picked up from a theater manager in Covington, Tennessee, and an old blues number, 'Milkcow Blues,' to which Sam appended the word 'Boogie' and got Elvis to add a spoken introduction to the speeded-up boogie part."
Another tune Sam brought in was "I'm Left, You're Right, She's Gone." Elvis didn't like it; it sounded too straight country to him. Sam brought in a drummer and made other changes to bring it more in line with Elvis'sstyle. "Sam knew he hadn't sold Elvis on the song completely," says Guralnick, "but it was the kind of thing they could use to help diversify his appeal."
Another country tune Elvis resisted became one side of his last Sun single—"I Forgot to Remember to Forget." Again, though, Sam thought it was good to "underscore the breadth of Elvis' talent for distributors and record buyers alike." Sam recalled how he instructed the drummer to make the song more appealing to Elvis. "'What I want you to do is do your rims hot snare on the offbeat, but keep it four-four until we go into the chorus. Then you go in and go with the bass beat at two-four.' And by doing that, it sounds like 'I Forgot' is twice as fast as it really is. And Elvis really loved it then."
Sam called "Mystery Train," the other side of that final Sun single, "the greatest thing he had ever done on Elvis." According to Guralnick, "Sam knew, with Elvis' acoustic guitar just ringing out and driving the rhythm and a sense of spontaneity so unforced that at the end you can hear Elvis laughing … It was, in Sam's mind, the very essence of perfect imperfection."
But Sam added a new aspect of sound to "Mystery Train" by asking for a primitive "mix" of the recording. Guralnick explained:
"Within days of the session he had shipped the tape off to be mastered by Bill Putnam at Universal Recording in Chicago with the words, 'Give me 'hot' level on both 78 and 45/s and as much presence peak and bass as possible!' written boldly on the Scotch Magnetic Tape box … Bill Putnam … had the kind of equipment that was needed to get the levels that Sam wanted for this record … Elvis' record was the first one that he sent to Putnam, and it came back sounding exactly the way it was supposed to sound."
• Financial woes finally forced Sam to sell Elvis' contract
Sam Phillips summarized his company's alarming financial status to his brother Jud in a letter dated January 28, 1955:
"Sun's liabilities are three times the assets and … I have been making every effort possible to keep it out of bankruptcy. As you know well, we have had only Presley, and with his Union contract of 3% of the 89¢ price, plus the fact that the songs cost 4¢ per record, it has been virtually impossible to make anything … Anybody less interested in saving face would have given it up long ago, but I intend to pay every dollar the company owes … even while I know that there is no possible way to even get out with a dollar."
Even though Presley's records continued to sell well (an estimated 100,000 copies in 1955), Sam could see no way out of his money problems unless Sun could develop other artists who could sell records like Elvis. He had singers waiting in the wings, but he lacked the resources to record and promote them. He couldn't even pay Elvis the record royalties he owed him. Slowly, insidiously, the temptation of selling Elvis' contract crept into his mind. During the year, he had turned down offers from the MGM, Dot, and Mercury labels. Then, on October 24, 1955, Sam received the following telegram from Colonel Tom Parker:
"Elvis Presley and his parents Mr. and Mrs. Presley have requested and authorized me to handle all negotiations on an exclusive basis towards affecting a settlement of the Elvis Presley recording contract with you and the Sun Record Company … Please advise me your best flat price for a complete dissolution and release free and clear."
Sam was angry at first, partly because he couldn't stand Tom Parker. But he knew this was the only way to keep his company going. Desperately needing an influx of cash, he called Parker and set the price for Elvis' contract at $35,000, plus $5,000 to pay Elvis for back record royalties. Parker got RCA to pony up the money, and Sam Phillips officially severed his ties with Elvis Presley during a ceremony in the Sun studio on November 21, 1955.
• Sam's final words of advice for Elvis
As Elvis prepared to move forward in his career, Sam Phillips offered him the following words of counsel, paraphrased by Gurnalnick: "Don't ever stop believing in yourself, he told Elvis. Don't ever let anyone make you doubt what you know to be true. They'll throw all this shit at you, but you let them know what you feel and what you want to do. Just be prepared to 'go down trying, and if you do, I'll guarantee you're going to change some things.'" 
As for Sam Phillips, he then had the resources to continue following his dream of promoting Carl Perkins, Johnny Cash, Jerry Lee Lewis, and other little known singers who, seeking to have their voices heard, came to the door of his Memphis studio after Elvis left the building. All of those stories are also included in Peter Guralnick's Sam Phillips: The Man Who Invented Rock 'n' Roll. — Alan Hanson | © February 2016