A Review of Scotty Moore's
"That's Alright, Elvis"
Scotty Moore did his 20 years after Elvis' death, but the trend started 20 years earlier, shortly before Elvis died. Three of his bodyguards — Red West, Sonny West, Dave Hebler — became the first of Elvis' acquaintances to publish a book delving into Presley's private life. The three decades since have seen a steady stream of books authored by a whole range of people who knew Elvis personally. Many, if not most, of them are flawed, either through bias, superficiality, or inaccuracy. The best of the bunch, in my opinion, is still Scotty Moore's That's Alright, Elvis, first published in 1997.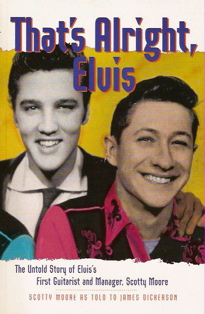 To be sure, Scotty had an advantage over all the other amateur Presley biographers. As the last remaining eyewitness to Elvis' rise from obscurity to fame, Scotty was with Elvis on nearly a daily basis during those critical 18 months from the time the two first met in the summer of 1954 until Elvis signed with RCA at the end of 1955.
Although this is Scotty Moore's book, he did not actually write it. That was the work of James Dickerson, Scotty's collaborator. Dickerson's role in the project is critical. In the bodyguards' 1977 book, writer Steve Dunleavy made no attempt to temper the bitterness his clients felt toward Elvis, and the entire book's credibility suffered because of it.
Dickerson made no such mistake with Scotty Moore's story. For the most part, he stayed in the background and let Scotty's relaxed nature rule the narrative throughout. From the beginning, the reader develops faith in Scotty's honesty, a feeling missing in many of the pseudo-biographies put out by Elvis' acquaintances.
Those interested primarily in Elvis can skip the first three chapters of That's Alright, Elvis, as well as the final two chapters. The opening section covers the pre-Elvis portion of Scotty Moore's life, while the final chapters deal with his life after Elvis. However, the opening chapters are useful in revealing how Scotty's character and musicianship developed prior to his collaboration with Elvis. Scotty talks about growing up during the Depression and how his father introduced him to the guitar.
Scotty gives some interesting insights into his guitar-playing style at the time he first met Elvis. "I was never an instrumentalist," he explains. "There's not a song that I could sit down and play you the melody all the way through." On how he came up with his famous guitar licks, he says, "I was stretching, out on a limb, and that's what came out."
• The historic first gathering of The Blue Moon Boys
The first meeting with Elvis, according to Scotty, happened at Scotty insistence. Marion Keisker, Sam Phillips' secretary, had suggested Elvis to her boss as a possible singer to work with Scotty, but Sam seemed disinterested. It was only after Scotty kept pestering Sam that he finally gave Elvis' phone number to Scotty.
That led to the fateful phone call on July 3, 1954, that brought Elvis to Scotty's house the following day. Scotty invited Bill Black over, and the trio played together for the first time. Scotty's story thus gives him, and not Sam Phillips, the credit for bringing the trio together for the first time. Then comes the critical part of the book, for in it Scotty Moore parcels out the credit for the eventual rise of Elvis Presley.
Presley didn't impress Bill Black at that first meeting at Scotty's house. However, Scotty says he still decided to recommend Elvis to Sam Phillips for a studio audition. So, if we accept Scotty's story, and I do, he deserves most of the credit for bringing the trio together and getting it into the recording studio for the first time.
Once there, however, Scotty gives Elvis much of the credit for what happened musically. Elvis had a "great sense of rhythm" and "great vocal control" says Scotty, and it was Elvis who came up with the unique sound used on their historic recording of "That's All Right, Mama." And Scotty gives Elvis all the credit for his stage movements. "He just started adding a little more to it and made it into a fine art," recalls Scotty. "But it was a natural thing for him to do."
According to Scotty, Bill Black also deserves some credit for Elvis' early success. It was he who started slapping his bass in an uptempo version of "Blue Moon of Kentucky," which resulted in the recording on the flip side of Elvis' first Sun record. On stage Bill served as MC, and his comedy was responsible for much of the group's early success. "Many early shows would've died without Bill Black's antics," says Scotty.
As for Scotty, he says he had to compensate for the group's inability to write new songs in the Sun days. To give each old song a new sound, Scotty played each one "differently" and in what he called "counterpoint" to Elvis' singing. Scotty learned, says Dickerson, "that the good studio musician plays only when he thinks he can make a difference."
• Teamwork key to success of The Blue Moon Boys
What emerges from Scotty Moore's book, then, is the view that all members of the trio made contributions to the studio and stage successes of that early period. Sam Phillips acknowledged that teamwork among the three musicians was the most important factor in those early recording sessions. Dickerson cites Nashville producer David Briggs, who "views the Blue Moon Boys as a band that succeeded not just because of Elvis' star power, but because of their ability to work together as a unit."
While he spreads around the credit for the rise of The Blue Moon Boys, Scotty issues shared blame as well for the group's eventual demise. It all started for Scotty on February 6, 1955, when he first met Colonel Parker. There was something about Parker's demeanor that bothered Scotty, and he instinctively didn't trust him. Scotty thinks that Parker's scheming eventually turned Elvis against him and Bill Black.
Of course, it's well known that Elvis didn't bring Scotty and Bill along when he hit it big financially. Scotty documents the woefully low compensation he received from Elvis down to the penny: $139.25 in 1954; $8,052.24 in 1955; and, most revealing, only $8,193.58 in 1956, a year in which Elvis made over $1 million. And yet, it wasn't until September 1957 that Scotty and Bill had finally had enough and quit Elvis.
Scotty Moore admits that he and Bill Black were at fault for not being assertive enough in their dealings with Elvis. They trusted his promises and didn't get things down in writing.
Scotty tells of one final lesson he received in "Elvis economics." In 1968 Elvis called Scotty and asked him to play with him on his upcoming TV special. Scotty agreed, but the pay he received didn't even cover travel and lodging expenses for Scotty and his fiancé.
• Scotty's disappointment is evident
The title of the book implies that Scotty had finally laid aside any resentment he might have felt toward Elvis. And yet the disappointment still comes through occasionally in the narrative.
You feel the disappointment when Scotty recalls how Elvis gave cars to other people but never replaced the '54 Bel Air Chevy that the trio drove to its death during their gigs throughout the South in 1954-55. (The car belonged to Scotty's wife.) You feel the disappointment when Elvis failed to provide for Scotty and Bill when he left to join the army. ("We were supposed to be the King's men. In reality, we were court jesters. People only laughed at us.") You even feel the disappointment when Scotty recalls Elvis' 1969 return to the stage in Las Vegas. It came as a blow to Scotty when Elvis didn't invite him to be part of his band then.
The real value of That's Alright, Elvis, lies in Scotty Moore's account of earlier, happier times. It changed the way I looked at Elvis in the early days. Certainly, he was a shooting star in the entertainment business, but now I appreciate more how important Scotty Moore and Bill Black were in getting Elvis started.
Several years ago I was looking for an Elvis print to frame and hang in my home. The photo I chose was one taken during an Elvis appearance on the Dorsey Brothers TV show in 1956. Elvis is in the spotlight, to be sure, but in the background, in the shadows, stand a guitar player and a bass player. Scotty Moore's book taught me that without The Blue Moon Boys, the scene, and Elvis, would have been incomplete. That's Alright, Elvis is certainly a book that belongs in every Elvis enthusiast's library. — Alan Hanson | © February 2008

Go to Elvis Books

Go to Home Page