A "Self-Indulgent" Elvis Blogger
Decides to Change Course
"Not everyone has your high brow taste. I have been a fan of Girl Happy since I first saw it years ago at my grandpa's. There is something to be said for escapism. Thank God I can still watch something without picking it apart, which is what you do. Just once watch an Elvis film without asking what part of his career he was in. Enjoy short, fun lyrics that move the story line or just move time, and see where you wind up. It is not always necessary to see art or feel an event. Sometimes it is cool to just hang out with a truly talented musician/actor in a great story and just take in the music." — Carole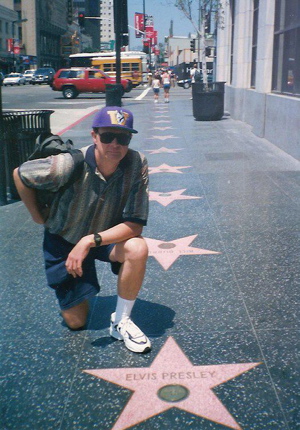 Carole's  comments concern my review of Elvis' movie Girl Happy. Obviously, she didn't care for my assessment of that 1965 Presley film. Many Elvis fans — me included — have strong feelings one way or the other about his movies, and so I don't mind when, occasionally, someone vents about something I've written about Elvis' films.
Actually, I admit reacting similarly at times when I read an article appearing in another Elvis forum. For example, recently in an issue of Elvis: The Man and His Music, I saw a review of Elvis: The Movies, the recently published book on which Erik Lorentzen and I collaborated. I started to read the review, but something in the very first sentence brought me to a sudden stop. In a brief opening assessment, the reviewer declared the book, "Comprehensive in its scope, packed with detail and richly illustrated, but also lacking in certain departments and very self-indulgent."
As the author of all the text in Elvis: The Movies, it appeared that the label "very self-indulgent" was aimed at me. Just to make sure, I stopped to take another look at the book's cover. Yeah, there it was … my name on the front cover, and on the spine as well. You'd think any reader of the book would realize, before they even opened it, that the narrative inside was going to reflect the author's experiences and opinions about Elvis' movies. Apparently, though, some readers of my book — and this website — found my views on Elvis' movies so disagreeable that it warranted labeling me "high brow" and "very indulgent."
• Is a decade of Elvis blogging enough?
However, I can honestly say that such comments really don't bother me … well, not much anyway. Many comments, both positive and negative, have come to me over the years through elvis-history-blog, and I truly appreciate readers who take the time to share their observations with me. The critical comments by Carole, the EMM reviewer, and others are not the reason I've begun considering putting an end to my Elvis blogging.
A recent health scare and each day bringing me closer to my seventieth birthday have brought thoughts of reordering life's priorities. You know, things like getting a dog and spending more time with old friends and less sitting in front of a computer screen. When I mentioned the possibility of ending my Elvis blogging, my wife said, "You can't do that! That's what you do." She had a point. Over the past 10 years, I certainly have spent more time writing about Elvis related topics than anything else. Still, I wanted to give more time to the non-profit and charitable work in which I've been involved. But I knew it would be difficult to abandon completely sharing with others the enjoyment of my life-long relationship with Elvis Presley.
For the record, I launched elvis-history-blog in 2008 as a forum for selling Elvis '57: The Final Fifties Tour, the book I had written during the two years after I retired from teaching high school in 2005. I posted my first blog on the site on March 13, 2008, in an effort to draw readers who might potentially buy my book. (That didn't work out. In the past 10 years, I've sold fewer than 20 copies of Elvis '57 through elvis-history-blog.)
For the first four years, I posted new Elvis blogs every week on Thursdays. I already had over 200 blogs in the bank by April 2012, when I cut back to blogging twice per month, a schedule I kept up for the past six years. This blog is the 354th I've posted on elvis-history-blog.com over the last decade. Almost all of them are still available through the archives links at the bottom of this main blog page.
• Elvis blog topics are getting harder to come by
As you can imagine, it has becoming more and more difficult to come up with subjects to blog about. It was easy for a long time. Elvis' career, rich as it was with music, movies, and personal appearances, provided lots of blog fodder. Lately, though, I often sit down at the computer on blog weeks without the slightest idea what to write about. Sometimes I'd do a Goggle search for "Elvis Presley news" and see what pops up. Sometimes I'll quickly read an Elvis book and post a review. Meeting a bi-monthly deadline has become a struggle.
So here's what I've decided to do. I'm not going to stop blogging about Elvis, but starting now, I'll only be blogging once a month. Instead of blogging twice monthly on Thursdays, I'll be posting my blogs on the first day of each month. So my next blog will be on Tuesday, May 1. I've already got a topic for that one. On Saturday, April 14, HBO will broadcast the opener of a new two-part documentary film entitled, Elvis Presley: The Searcher. The network's website says the film "focuses on Elvis Presley the musical artist, taking the audience on a comprehensive creative journey from his childhood through the final 1976 Jungle Room recording sessions."
The last comprehensive Elvis biopic was 1981 film, This Is Elvis. Hopefully, Elvis Presley: The Searcher will rise above that flawed MGM effort of 37 years ago. I worry that it will lack the honesty required to be a true depiction of Elvis's complex life and career, but we'll see. My review will be posted here on May 1. 
• A long overdue return to Memphis
The topic for my July 1 blog is also decided. In mid-June, I'll be in Memphis for my first visit there since 2008. I'm looking forward to staying at the new Guest House at Graceland and touring the newly remodeled Graceland mansion. I'm most anxious, though, to explore the new "Elvis Presley's Memphis" entertainment complex. I'll share my Memphis experience in this space on July 1.
Stretching out my blogging schedule will allow me to do some long overdue maintenance on the wider elvis-history-blog website. Currently, there are 427 pages on the site. I will probably delete some pages that get little to no traffic, while adding addendums to those pages that are visited most often. By addendums, I mean adding new information that I was unaware of when I first posted a page. As an example, I recently came across an interesting 1961 Time magazine review of Elvis' film Wild in the Country. I plan to post some of that review as an addendum at the end of that movie's review, which I first posted in 2008. In each monthly blog, I'll alert readers to any new information recently added to pages. I also have plans to add more photos to many of the pages on elvis-history-blog.com.
Finally, please forgive the "self-indulgence" displayed in my choosing a personal picture to accompany this blog. — Alan Hanson | © April 2018