Rex and Elisabeth (Stefaniak) Mansfield

Separate Relationships With
Sgt. Presley Brought Couple Together
In 2008 Rex and Elisabeth Mansfield were scheduled to appear at Elvis Week in Memphis. They had reserved a booth at Elvis Expo and were scheduled to make a guest appearance at the Elvis Insiders Conference. As I also had plans to be at the trade show to sell copies of my book, I looked forward to meeting these two important, but often overlooked, figures in Elvis' life. Unfortunately, though, due to health problems, Rex and Elisabeth had to cancel their plans to be in Memphis for Elvis Week.
I first became interested in Rex and Elisabeth, and their connection with Elvis after finding a copy of Andreas Schröer's book, Private Presley (1993), at a used book store. Since I have always been a fan of Elvis the entertainer, the details of his two years in the army had never held much interest for me. Still, Private Presley drew me in, and after finishing it, I wrote and posted a review of it in the "Elvis Books" section of Elvis-History.com.
Rex Mansfield and Elisabeth Stefaniak both figure prominently in Schröer's book, since both had close relationships with Elvis while he was in the army. After Elvis was discharged and returned to Memphis in 1960, Rex and Elisabeth left his entourage and got married.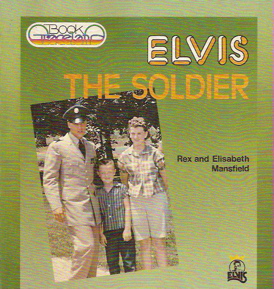 It turns out that one of Schröer's majors sources was an earlier book, entitled Elvis the Soldier, written by the Mansfields. On Amazon.com I was able to purchase a copy of the out-of-print book. It's an odd volume, actually first printed in German in the early 1980s by a West German Elvis fan club. Later it was translated into English. Most of the text in the 160-page book is written by Rex, with Elisabeth contributing several chapters.
The two of them certainly were positioned well to observe Elvis during his two years in the military. Rex was inducted into the army with Elvis and the two were close friends throughout their two-year hitches. Elisabeth met Elvis soon after his arrival in Germany. In addition to their personal relationship, she served as his personal secretary during much of his time in the army.
However, over the years I've learned to suspect the accuracy of such books written by people who wandered in and out of Elvis' life. And so I was suspicious when I started reading the Mansfields' book. After all, they were writing strictly from memory about events that happened over 20 years before.
After reading Rex's preface, however, I decided to give the Mansfields the benefit of the doubt. First of all, Rex pointed out that he and his wife were writing without a ghostwriter. Although this resulted in a fair number of misspellings and grammatical errors, it also guaranteed that their observations were not run through the filter of a biased collaborator. Also, Rex asserted that the book was "truthful and straight forward" and that it included the "whole truth and nothing but the truth." Add to that his self-professed deep religious faith, and I was convinced that what I was about to read would be an honest record of their experiences with Elvis.
"Fair and balanced" is an overused expression these days, but I think it fits the Mansfields' book. Among the many stories they share about Elvis the soldier are some that reflect well on him and others that reflect poorly. First we hear about Elvis getting mad at a young hotel doorman in Dallas and getting him fired, but then later we see him willingly give his time to produce and direct a troop ship talent show on the way to Germany. Rex tells how Elvis loaned money to many of his fellow GIs, but then Elisabeth tells how Elvis got angry with her over a harmless comment on a shopping trip. On one hand, there are stories of Elvis's generosity, his sense of humor, and his kind-hearted treatment of his fans. On the other hand, there are anecdotes that show he could be selfish, possessive, suspicious, and threatening.
Despite Rex's declaration that the book told "the whole truth and nothing but the truth," there is one obvious omission from their narrative. That is the nature of Elisabeth's personal relationship with Elvis. In the second volume of his Presley biography, Peter Guralnick quotes Elisabeth as saying that she and Elvis slept in the same bed for over a period of months. In Elvis the Soldier, however, she never addresses the issue, and Rex only hints at it.
I applaud them for refusing to discuss this highly personal side of Elvis' life—and their own. Some of Elvis' so-called friends have chosen to write accounts of his sex life. The worst was a particularly crude article in Playboy magazine a few years ago. For me it's not a morality issue. I just don't understand why some people feel entitled to expose the most private part of Elvis' personal life. I respect Rex and Elisabeth for refusing to do so in Elvis the Soldier.
The Mansfields have marketed a book entitled Sergeant Presley. I haven't read this volume, but from the description given on the book's web site, the content of Sergeant Presley appears to be much the same as in Elvis the Soldier. If you're an Elvis fan interested in learning more about his army years, I recommend reading either Elvis the Soldier or Sergeant Presley by Rex and Elisabeth Mansfield. It's a highly entertaining account of how two young people once fell under the spell of Elvis Presley. — Alan Hanson | © July 2008


Go to Army Elvis

Go to Home Page