Sunday Night, July 1, 1956 …
Elvis Presley on "The Steve Allen Show"
The Taming of Rock 'n' Roll and Its Biggest Star
"Steve Allen … he was out to humiliate an entire culture he would have called hillbillies. It was all a smear."— Writer Dave Marsh in "Elvis: The Searcher"
---
It's doubtful Steve Allen had that specific goal in mind when he signed Elvis Presley to appear on his new Sunday night variety show in the summer of 1956. After two years as the host of NBC's late night talk show, Allen jumped into the network's Sunday 8 p.m. prime time slot on June 24 directly opposite Ed Sullivan on CBS. Neither man cared for Elvis Presley's act, but Allen realized he needed a quick rating boost if he was to compete with Sullivan's top rated program. After Presley drew so much attention with his earlier appearances on the Dorsey Brothers and Milton Berle shows, Allen decided Elvis was what he needed and signed him to appear on his Sunday evening show on July 1, 1956.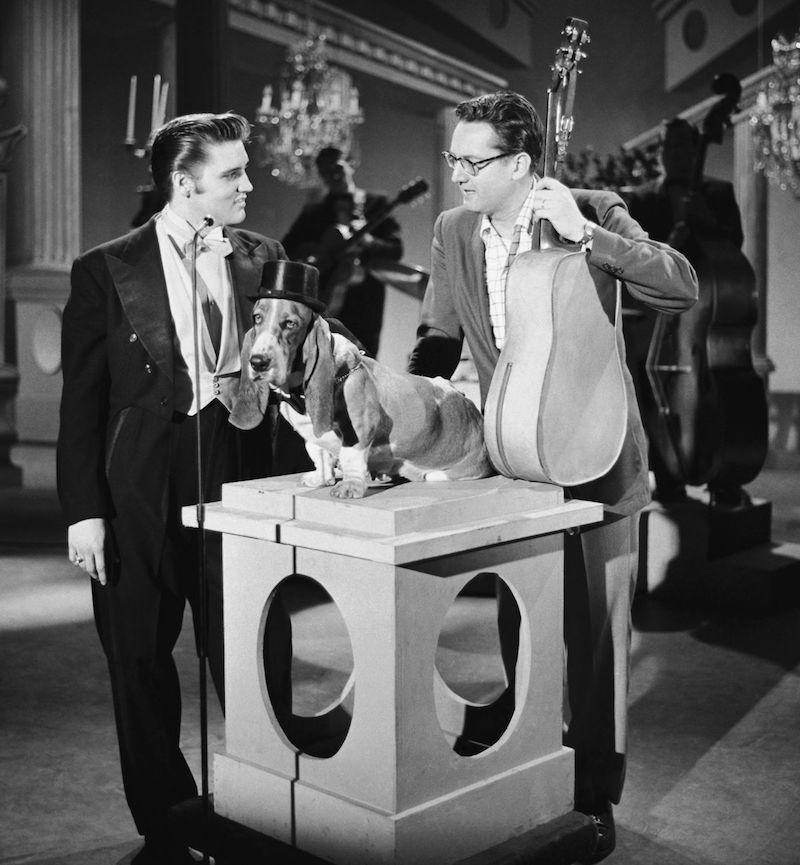 The ratings potential for Allen's show with Presley skyrocketed when Elvis's "bump and grind" version of "Hound Dog" on the June 6 Berle show brought widespread condemnation from the TV entertainment press. Columnist Charles Mercer was among those who urged Steve Allen to cancel Presley's appearance on his show. NBC even weighed in on Elvis' shenanigans. "We think this lad has great future," a network spokesman said, "but we won't stand for any bad taste under any circumstances."
On his late night show, Allen responded, "There has been a demand that I cancel him from our show. As of now he is still booked for July 1, but I have not come to a final decision on his appearance." In reality, of course, Steve Allen had no intention of canceling Presley and missing out on the monster TV audience he needed. On June 20, NBC announced, with assurances of moderation by Allen, that Elvis' appearance was a "go" on the network for July 1.
• Allen revealed his Presley strategy in an open letter
In a  June 22, 1956, open letter to Steve Allen, syndicated columnist Charles Mercer asked Allen why he was planning to book Presley on his NBC-TV show on July 1. "I'm not taking a moral stand in this case," Mercer explained. "My purpose in asking why you're booking Presley has another basis. Your television career has been marked by a high sense of humor and a great respect for talent. Presley certainly is not funny—though that is not my complaint against him. My  argument against his appearance is simply lack of talent. I can't for the life of me see why you want to have such an untalented guy on your program."
In an open letter of response to Charles Mercer, Allen explained why he was rejecting the columnist's plea to cancel Elvis' appearance.
"To start at the beginning I didn't book Elvis after the Berle incident. He was set for my new Sunday evening program several weeks before he appeared on Milton's show and I have therefore a legal commitment to employ him on Sunday, July 1, on NBC-TV at 7 p.m. Secondly, the anti-Presley arguments I've been hearing seem a bit illogical. You see, he has made many TV appearances before the Berle show, all without arousing any hue or cry, so there can be no firm basis for keeping him off TV altogether."
It seemed that Allen, long a conservative advocate in the television business, was championing Elvis Presley's right to bring his wild act to the small screen. But Allen went on to make it clear in his open letter that he intended to keep Presley's urges under control on his show.
"He thoughtlessly indulged in certain dance movements on his last TV appearance which a number of people thought objectionable … He knows he made a mistake with the Milton Berle business and I think he's smart enough not to do it again … So the thing to do, it seems to me, is to allow him to appear on television any time he wants, but to make certain that he conducts himself in a gentlemanly manner, and that is precisely my intention."
Of course, Steve Allen's assertion that Elvis knew "he made a mistake" on the Berle show was nonsense. Allen had never spoken with Elvis at this point, and in an interview with syndicated columnist Hy Gardner the same night as his appearance on the Allen show, Elvis declared, "I'm aware of everything I do, at all times. It's just the way I feel." Still, Elvis had no input on his Steve Allen show appearance that evening. In an agreement that foreshadowed his later movie contracts, when Elvis took the money, in this case $7,500, he surrendered complete control to everything he said, sang, and did to the host of "The Steve Allen Show." 
For starters, it's certain Steve Allen didn't sign Elvis for his talent as a singer, because he didn't believe Elvis had any such talent. In the "Elvis: The Searcher" documentary, Allen is heard saying, "The reason I booked him … I recognized right away that he had something. A cuteness, chiefly his face, but a beautiful sound, he never really had."
• "Presenting low culture in a high-culture setting"
Allen had already begun formulating his plans to emasculate Elvis before he got the go-ahead from NBC in mid-June. He closed his open letter to Charles Mercer with, "Let me assure audiences again that they will not be offended by Elvis on any program over which I have control." In the 1971 radio documentary, "The Elvis Presley Story," Allen recalled his plan to make Elvis' appearance on his show a comedic double-take.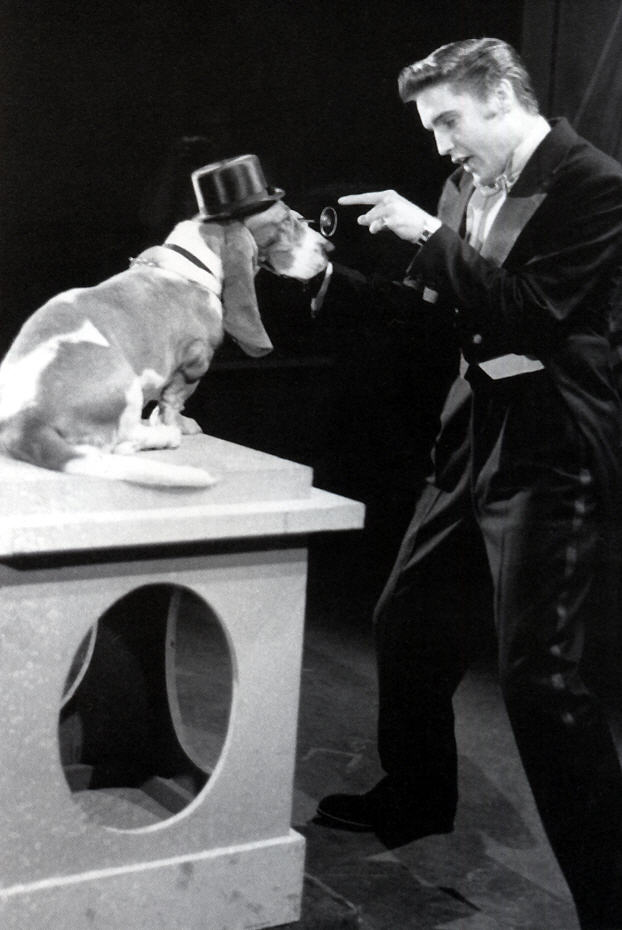 "Back in 1956, the kind of thing that is so common now was considered scandalous by some. It never bothered me any, but, in any event, we had to take some kind of recognition of all this publicity, if only for comedy purposes. So I decided to put Elvis in evening clothes. We put him, in fact, in tails, and we built a very dignified set, which consisted, I think, chiefly of Greek columns and perhaps a sky in the background and billowing, gossamer curtains. It was something of that sort. It was very dignified. We might even have had a chandelier in evidence. And we put this marvelous basset hound, I think it was, on a low Greek column, and had Elvis sing to him in this very dignified kind of Carnegie Hall context, and the contrast between the somewhat inane lyric of that particular song and the wild way in which Elvis sang it, with the attire and scenery, made for a funny set up."
Presley biographer Peter Guralnick called it, "Allen's comedic concept of presenting low culture in a high-culture setting."
• Columnists anxiously awaited Allen's scheme for Elvis
Many in the TV entertainment press awaited with disdain Elvis' reappearance on the small screen. One was columnist Nick Kenny.
"Will Elvis rock and wriggle on Steve Allen's Show tonight??? While thirty million teenage fans applaud in wild delight??? And will he shake his torso like a trotter with the heaves??? Will Presley's fans all rally at the nearest TV set??? While mom and pop retire just as far as they can get??? Will maidens swoon and lads grow faint when Elvis starts to squeal??? 
"This is the question of the hour … in just so many words … Is good taste just a mockery??? Is talent for the birds??? Some guys don't care what they air when ratings are too lean … But I'm convinced that Presley should be heard and never seen."
In contrast, columnist Harriet Van Horne had heard enough through the grapevine to make her fear Elvis was about to be muzzled on the Allen show. "Revamped, purified and somewhat abridged," she feared, "He'll wear white tie and tails, glory be. And he'll stand reasonably still while singing … With so much Bowdlerizing, he may well sing 'Come Sweet Death' as far as his career is concerned." 
Fortunately for history's sake, an unbiased observer was close to Elvis throughout the day and evening of Sunday, July 1, 1956. Alfred Wertheimer, a young photographer who RCA assigned to take publicity shots of Presley, recorded his observations in his 1979 book, "Elvis '56: In the Beginning." In the early morning hours of July 1, Wertheimer rode the train with Elvis from Richmond, where Elvis appeared the night before, to New York's Pennsylvania Station. A cab took them to the Hudson Theatre, an old Broadway show-house now converted into a studio from which NBC broadcast "The Steve Allen Show."  Wertheimer noted the studio's tight quarters. "The stage, which had been extended to accommodate both sets and television cameras, jutted deep into the seating area leaving no more than a dozen rows. The balcony had been given over to the lights."
Elvis' company, including Scotty, Bill, D.J. and the Jordanaires, took seats halfway toward the back. Wertheimer recalled how, "Steve then took to the aisle, and as he paced back and forth, detailed the outline of the show … He listed the order of the acts and mentioned appearances by Eydie Gorme, Steve Lawrence and Milton Berle, in addition to Andy Griffith, Imogene Coca, and Elvis." 
After a 10-minute break, the first run-through began. When Elvis and his troupe were called to the set, which Wertheimer judged could have been "designed by Aristotle and Liberace," he sang "I Want You, I Need You, I Love You" without passion or body movement, Wertheimer noted. After Allen complimented him, Elvis responded, "Thank you, Mr. Allen." Then a trainer led a female basset hound onto the set and dressed her in a bow tie, top hat, and collar. After the dog was placed on a stand by the microphone, Elvis was instructed to sing to her. When the dog ignored the singer, Allen suggested Elvis try to make friends with her.
• Elvis unhappy on being told to stand still
Once Elvis had established some rapport with the basset hound, the rehearsal moved to the skit with Steve, Elvis, Andy, and Imogene. Unsure of himself at first, Wertheimer noted, "Elvis relaxed into the natural fellow I had come to know" with the support of his "lighthearted and easygoing" costars.
After answering some questions for New York reporters in his dressing room, Elvis wandered away from the theatre without telling anyone where he was going. RCA's Anne Fulchino found him playing pinball in a penny arcade a few blocks away. She told Wertheimer that Elvis was unhappy that he had been told not to move while singing on the show. After the photographer changed his clothes and replenished his film supply, he returned to the dressing room to find Elvis "resigned to his fate" and donning a "starched baby blue shirt, matching bow tie, tails and blue suede shoes" in preparation for the dress rehearsal. "The elegance of his formal attire might have qualified him for an ambassador's ball," Wertheimer observed, "but his slicked hair and leering smile made him look like a party crasher."
While waiting his turn in the dress rehearsal, Elvis, hands in his pockets, was approached by Milton Berle. After straightening Elvis bow tie, Berle said, "Good luck, kid." Elvis smiled and responded, "Thank ya, Mr. Berle."
At eight o'clock eastern daylight time that evening, Elvis watched a monitor backstage as Steve Allen and his other guests went through their paces in the first half of "The Steve Allen Show," being broadcast live from the Hudson Theatre on Broadway. Mid-show Steve Allen stood alone at center stage and spoke to his audience.
"Well, you know, a couple of weeks ago on the 'Milton Berle Show,' our next guest, Elvis Presley received a great deal of attention which some people seemed to interpret one way and some viewers interpreted another. Naturally, it's our intention to do nothing but a good show … We want to do a show the whole family can watch and enjoy and we always do and, tonight, we're presenting Elvis Presley in his … what you might call his first comeback."
• Handshaking and backslapping after the show
What followed over the next thirty minutes needs no description here, as its controversial scenes have been viewed and commented upon often over the decades by Presley fans and critics alike. In "Elvis: The Searcher," record producer John Landau recalled his reaction as a teenager watching Elvis sing "Hound Dog" to a hound dog on the Allen show in 1956. "As a child, I was deeply offended. There was something wrong there." Landau wondered, "Elvis, why you letting them do that to you?"
Immediately after the show, everyone involved seemed more than pleased with the results. Wertheimer noted the handshaking and backslapping.
"After the show, Allen congratulated Elvis on a job well done, Milton congratulated Steve and the stagehands congratulated each other … On his way to the dressing room, Elvis was intercepted by the William Morris agent … Shaking Elvis' hand, he said, 'I think the show was terrific. You did a marvelous job. We really ought to get a good reaction to this one.' Tom Diskin, the Colonel's lieutenant, stood by with a wide smile."
Steve Allen got what he was looking for. The show topped Ed Sullivan 20.2 to 14.8 in the Trendex ratings. You'd think Elvis' critics would be doing a victory lap and spouting their roles in taming Presley, but instead they doubled-down on their scorn. In The New York Times, Jack Gould wrote, "Insofar as this corner is concerned the young man has lost none of his indescribable monotony as a singer." Jack O'Brien, writing in the New York Journal-American, agreed. "Elvis Presley was a cowed kid on Steve Allen's opus last night … NBC's promise to de-gyrate the controversial hip-swingin' singer was kept … It proved Presley's excitement is not his voice but his erotic presentation … Once his gears were shifted into a picture suitable for a Sunday evening, it was plain he couldn't sing or act a lick."
Elvis found a defender in John Lardner, who wrote the following in "Lardner's Week," a regular column in Newsweek.
"Allen's ethics were questionable from the start. He fouled Presley, a fair-minded judge would say, by dressing him like a corpse, in white tie and tails. This is a costume often seen on star performers at funerals, but only when the deceased has specifically requested it in his will. Elvis made no such request—or for that matter, no will. He was framed."
• "Those people in New York are not gonna change me"
And what did Elvis think of his appearance on the Steve Allen's show? In a telephone interview in his room at the Warwick Hotel a couple of hours after the show, Herald-Tribune columnist Hy Gardner asked Elvis if he had "fun" on the Steve Allen show. Elvis responded, "Yes, sir, I really did. I really enjoyed it." Of course, in the moment Elvis was wise enough to know when dishonesty was more appropriate than telling he truth. In "Elvis: The Searcher," Priscilla observed, "It was humiliating. After that, he didn't like Steve Allen at all." 
In his Newsweek article, Lardner prophesied that Elvis' humiliation was short-lived.
"It was a gag from which no ordinary twitching vocalist … could be expected to recover. Elvis recovered. As he left the hall, more dead than alive, he found the street hip-deep in bobby-soxers. And he bloomed like a rose, they tell me, and writhed again as of old."
The next night, Elvis was back in his natural element, on stage for a performance in his hometown of Memphis. "You know, those people in New York are not gonna change me none," he promised the crowd. "I'm gonna show you what the real Elvis is like tonight."
In Steve Allen's mind, his strategy to tone-down Elvis had succeeded. So much so, that he was planning to do it again. But, as he explained in the 1971 Presley radio documentary, his Sunday night adversary stepped in to foil his plans.
"Ed called Elvis backstage and offered him $50,000 to make, I don't know, three or four appearances on Ed's show. Our top then was what the top price throughout television was, $7,500 a week, and I wasn't interested in paying anyone any more than that. So by this bold stroke, Ed simply took Elvis away from us."
Despite how he kept Elvis under control on his show, Steve Allen later praised Presley in a TV Guide article. "Opinions may vary as to the scope of his talent and the duration of his popularity," he said, "but I happen to think that he is a very solid performer, and will be around a lot longer than his detractors think."
Still, there is no doubt that many senior Elvis fans still hold a grudge against Steve Allen for belittling their idol that Sunday evening in the summer of 1956. No need for that, though. Elvis' appearance on the "Steve Allen Show" was merely a speed bump on Presley's rocket ride to super-stardom in 1956. Ed Sullivan may not have liked Elvis' act anymore than Steve Allen, but he was smart enough to let Presley be himself on his program. Elvis on Ed Sullivan became the lasting image of Elvis Presley in the 1950s. Elvis on Steve Allen became a minor blip along the way, and justly remains so. — Alan Hanson | © June 2018