"Stuck on You"


The Elvis Record That Sold
A Million Before it Was Recorded
When Elvis left the army in March 1960, no one knew that "Stuck on You" would be his next single record release. In its March 7, 1960, issue, Billboard reported the following: "RCA Victor has devised a most elaborate piece of distributive machinery for handling what is expected to be a smash hit—but the record hasn't been recorded yet. Moreover, there is reason to believe that the song hasn't even been chosen. The disk in question is the first by Elvis Presley since his return to the United States."
Billboard also reported that RCA predicted the unnamed, unrecorded Presley single would sell about two million copies, but the company "conservatively" decided on an initial pressing of one million copies.
One million copies—instant Gold Record status—a phantom record to be manufactured and distributed to a public expected to buy it no matter what it sounded like. In 1960 such a circumstance in the recording industry was unheard of. Up until then, when recording companies released single disks—even by the most popular artists—success depended on two factors. First, getting radio stations to play the single on the air, and second, hoping the tune caught on with the public. With Elvis' first single release of 1960, RCA simply assumed both would happen and prepared to manufacture a million copies.
• Colonel Parker, solid fan base saw Elvis through his army hitch
To understand how Elvis Presley could rate such royal treatment, you have to go back two years, to March 24, 1958, when Elvis was inducted into the U.S. Army. Many civic and religious leaders, along with a whole host of parents of teenage girls, were relieved that Presley's corrupting influence on American culture was finally coming to an end. Surely the Elvis fad would die after two years of exile in the army.
There were two factors in play, however, that Presley's detractors didn't count on. First, through his 1950s movies and personal appearances, Elvis had built an enormous loyal fan base. They were mainly young teenagers, and, as older teenagers, they would be waiting for him when he came home from the army. The second factor was the marketing brilliance of Colonel Parker. He kept his boy's name alive in the music business by periodically releasing Elvis records during his two years in the service. Most of the singles from this period came from recording sessions in February and June 1958.
However, there were no movies or appearances on stage or TV during Elvis' stint in the army. Colonel Parker correctly surmised that keeping his boy out of sight for those two years would heighten public anticipation when Elvis returned to the entertainment spotlight in 1960. Putting the hottest property in the history of show business under wraps for two years was a risky strategy, but that it worked in Presley's case is just another example of Tom Parker's genius in guiding Elvis' career in its formative years.
• Elvis hit the ground running after army discharge
After Elvis was discharged from the army on March 5, 1960, his show business career immediately began clicking on all cylinders. That same month a TV appearance on Frank Sinatra's special was filmed, and two months later he was in Hollywood filming a movie, G.I. Blues.
The first order of business, however, was to get some new recordings on the market. Elvis hadn't been in a recording studio for 21 months, and the cupboard was bare at RCA. The main objective was to produce the phantom single that Billboard had reported on in its March 7 issue. RCA had prepared well in advance for the new single, whatever it might be. A record number—7740—had been assigned to the disk while Elvis was still in the army, and Billboard reported that sales quotas for each of RCA's 21 major distributors were already set. Quotas for some leading markets were: New York, 72,000; Chicago, 56,000; Detroit, 42,000; San Francisco, 38,000.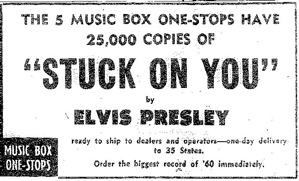 "The initial pressing of a million surprises no one," Billboard reported, "considering the hoop-la expected to accompany the disk. Soon after Presley became established as a phenom three years ago, his standard first pressing was 1,300,000 copies. Shortly before his Army induction, when Elvis platters settled down to an average sale of 1,300,000, initial pressings were proportionally cut to 700,000."
• Generic picture sleeve didn't mention "Stuck on You"
The phantom record's picture sleeves were also ready to go, as Ernst Jorgensen explained in his 1998 book, Elvis Presley: A Life in Music. "RCA had already printed generic sleeves for the new 45 with two pre-army photos and a hole in the center so record-buyers could read the label; the only legend on the cover itself read 'Elvis' 1st New Recording for His 50,000,000 Fans All Over the World,' just in case Elvis decided to substitute a different song at the last minute."
Although in early 1960 no one knew the title of the new single, Billboard speculated on the nature of the tune in its March 7 article. "The big question unanswered by the detailed plans was 'What kind of tune will Presley's first be?' Admirers of the Elvis Presley-Tom Parker genius for doing the unexpected were up a tree trying to outguess the pair. But one Mid-western distrib took a safe and sound position: 'I'll bet you it'll be a rock tune on one side and a slow one on the other.'"
The distributor was right on. "Stuck on You," a rocker, was chosen for the A side, and a ballad, Fame and Fortune, was selected for the flip side. Elvis recorded both in the early morning hours of March 21, 1960, at RCA's Studio B in Nashville. The master was rushed to RCA's pressing plant, and a million copies were churned out. The records were sleeved, boxed, and rushed to distributors. Incredibly, Elvis' new single began showing up on record store racks barely a week after it was recorded.
• "Stuck on You" symbolizes Elvis' enduring popularity
On March 30, 1960, Variety reviewed the new record as follows. "Elvis Presley's 'Stuck on You' takes over where he left off before the Army hitch, despite the intervening furor over rock 'n' roll. It's a swinging natural that won't be stopped anywhere on the spinning circuit."
Today "Stuck on You" is recognized as one of Elvis' biggest hits of the 1960s. Within a month of its release in late March 1960, it sat atop Billboard's Top 100 chart and stayed there for four weeks. Forgotten is the significance of the record, that it was a million-seller, a Gold Record, before anyone even knew the song's title, much less heard it. Like no other song he ever recorded, Stuck on You testifies to Elvis Presley's enduring and overwhelming popularity—that he could be exiled from the entertainment world's spotlight for two years and return every bit as popular as when he left it. Can you think of any other recording artist that could have done the same? I can't. — Alan Hanson (© May 2009)
Go to Elvis Music

Go to Home Page