"Suspicious Minds"
The Making of Elvis' Last #1 Record
When Elvis Presley's recording of "Suspicious Minds" topped the Billboard's "Top 100" pop chart on November 1, 1969, it was the culmination of the singer's return to prominence  in the pop music field. Presley hadn't had a #1 record in seven and a half years. After "Good Luck Charm" became Elvis' 13th chart topper in April 1964, RCA released 32 Presley singles until "Suspicious Minds" became Elvis' 14th and last #1 record on the "Top 100." Of course, Presley's ride back to the top of the chart was boosted by his TV special the year before and his successful single "In the Ghetto," but nothing says "You're Back!" like sitting atop the Billboard singles chart.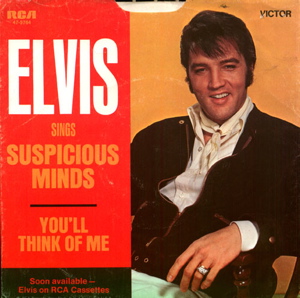 "How 'Suspicious Minds' Found Its Way to Elvis Presley" was the title of an article posted on the USA Today website on September 28, 2017. It's mostly a transcript of an interview with songwriter Mark James conducted by Bert Herbison of the Nashville Songwriters Association International. In it, James describes the series of events that led to Presley recording "Suspicious Minds" in a Memphis recording studio in the early morning hours of January 23, 1969.
• "Suspicious Minds" … "The idea came to me one night."
The story began a year earlier, when James wrote "Suspicious Minds." "The title came to me one night," he said in the interview. "I was playing organ base pedals at an apartment I was living in, and I was getting kind of a riff thing, same riff, and I was getting the groove of it, playing the pedals. And then when I got a certain portion, I went to the studio and finished it up on grand piano."
When producer Chips Moman at American Studios in Memphis heard it, he was excited about recording the song with James doing the vocal. James' version came out on Scepter Records in 1968, but despite enthusiastic promotion from the label, the record went nowhere. Disappointed, James moved on. When he heard Elvis was booked into American for two weeks of recording in early 1969, the songwriter decided to write a new song for Presley to record. When he couldn't come up with something, James and Moman decided on trying to get Elvis to record "Suspicious Minds." 
They knew it wasn't going to be easy. Presley's producer and publishing people already had 40 songs lined up for Elvis' consideration, and management usually kept outside writers away from Presley. When Chips played the song for him, James says Elvis listened to it several times and had Chips make him a copy to take home. James knew, though, that was no guarantee that Elvis would record it, so he recruited some allies from Presley's inner circle to help persuade their boss to record his song. He urged George Klein and Marty Lacker to "get him to cut this. This is a great one for him!"
• Elvis not sure about "Suspicious Minds" at first
James tried to stay away from the Presley recording sessions, but his curiosity drew him into the studio one day during a break. "I went in there and he happened to be leaning up against the baffle. I said, 'Hey Elvis, I heard you might cut 'Suspicious Minds.' And he said, 'Hey Mark, been thinking about it.'" In "Revelations from the Memphis Mafia," Marty Lacker said "Elvis listened to it, and he wasn't too sure of it, but Joe Esposito talked him into recording it." (In his 1995 book, "Good Rockin' Tonight," however, Esposito never mentions talking to Elvis about "Suspicious Minds." He does take credit, though, for talking Elvis into recording "In the Ghetto.")
George Klein tells a slightly different story in his 2010 book, "Elvis: My Best Man." He says about halfway through the two-week long sessions, Chips played "Suspicious Minds" for Elvis in the control room. According to George, Elvis responded, "That's not bad. Can we put a hold on that?" Even if that's not exactly what Elvis said, Klein's version backs up Lacker's contention that initially Elvis "wasn't too sure" about "Suspicious Minds." It was set aside while Elvis continued recording song after song fed to him by Freddy Bienstock of Hill and Range Publishing. Tom Diskin, Colonel Parker's assistant, was on hand to make sure Elvis recorded H&R material, from which Elvis received a share of the publishing royalties. "Suspicious Minds" was not on Bienstock's list. Chips Moman owned the publishing rights to that one.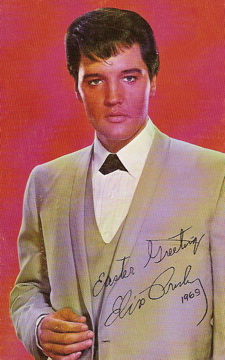 Late in the evening of January 22, 1969, George Klein says he started to worry. The session was winding down with "Suspicious Minds" still on the shelf. George approached Joe Esposito. "Joe, I'll put my whole show-business career on the line for one song—'Suspicious Minds.' Mark wrote it and I had nothing to do with that one, but I know it's a smash hit for Elvis. I've been waiting all through these sessions for him to cut it, and now I'm afraid it's going to get overlooked." George says when the two of them approached Elvis about it, he snapped his fingers and said, "Yeah—'Suspicious Minds.' We forgot that one. Let's cut that thing right now." In his Presley sessions book, Ernst Jorgenson notes that Chips Moman and Marty Lacker also urged Elvis to "give it a shot."
• A "magical moment when everything had gone right."
Elvis recorded "Suspicious Minds" in the early morning hours of January 23, 1969. It was the last of 20 songs Elvis recorded in those January sessions at American Studios in Memphis. In their books, George Klein, Ernst Jorgenson, and biographer Peter Guralnick all describe the positive feeling in the studio as Elvis recorded "Suspicious Minds." George saw it this way:
"The musicians had no trouble kicking into gear, as they already knew the arrangement from having recorded it with Mark James. Elvis spent some time working over the lyrics, and then, after three or four takes, nobody could think of any way the track might be improved. Chips played it back over the loudspeakers, and the studio just went nuts. It was a great song, given an awesome performance by Elvis; it was one of those magical moments when everything had gone right."
However, just because Elvis had recorded "Suspicious Minds" didn't assure that it would be released on record. There was still a war to be fought over the publishing rights. When it became clear Elvis was going to record the song, Tom Diskin and Freddy Bienstock cornered Chips Moman and told him he would have to give up a portion of his publishing royalties on "Suspicious Minds" or the recording would never be released. Chips stood his ground, and by all accounts the conversation got pretty heated. According to Marty Lacker, Chips finally drew a line in the sand.
"Gentlemen, I thought we were here to cut some hit records. Now, if that's not the case, let me tell you what you can do. You can take your f…ing tapes, and you and your whole group can get the hell out of here. Don't ask me for something that belongs to me. I'm not going to give it to you."
• Dispute didn't stop Elvis from recording "Suspicious Minds"
Of course, all of these direct quotes that Elvis' boys have provided in their books should be taken as paraphrasing, but in this case all agree that Chips Moman was quite angry. George Klein says he urged Chips to talk it over with Elvis before Diskin got Colonel Parker involved. Elvis didn't often interfere with his manager's business arrangements, but he did so this time. "Elvis declared that he wouldn't let a publishing dispute stop him from recording and releasing a song he liked," explained Jorgenson. And so the American Studios January sessions ended with enthusiasm and anticipation.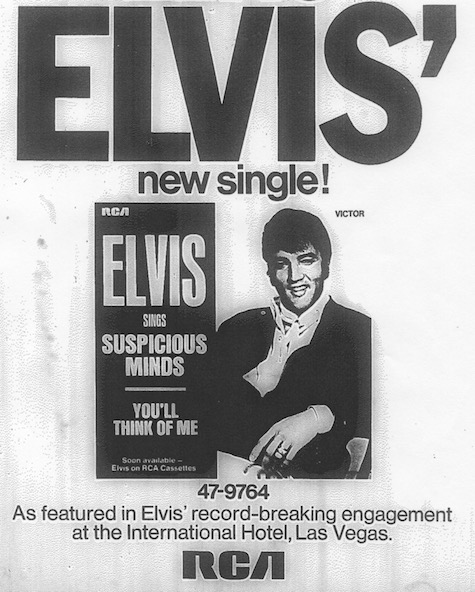 However, "Suspicious Minds" would not be released until seven months later. In the interim, Elvis' recording underwent some significant and controversial changes. Marty Lacker gave his take on what happened.
"When 'Suspicious Minds' came out in September, it had a surprise on it. Because after Chips turned over the master tapes to RCA, somebody took 'Suspicious Minds' back to Nashville or to California and remixed it. They put all these other voices on it … and went back to that Nashville crap. And then they stuck a phony fade-and-bump ending on it, where it drops down and then pops back up."
Elvis used "Suspicious Minds" as the climax of his Vegas act in the summer of 1969, and whoever decided to add the fade-and-return to the record obviously was trying to capture the exhilarating stop-and-go treatment Elvis gave the song on stage. But it didn't work well for disc jockeys. First, it pushed the play time to 4 minutes and 22 seconds, well beyond the 3-minute limit pop stations usually put on records. And, since most radio listeners hadn't seen Presley's stage show in Vegas, neither they nor most DJs understood why the phony fadeout was used on the record. Lacker quotes Bill Gavin of "The Gavin Report" as saying, "Why did they do that? It was a great record, but I can't tell you how many program directors said they wouldn't play it unless they cut it off themselves. It almost killed that record."
• Elvis always remembered songwriter Mark James
It didn't though. "Suspicious Minds" entered Billboard's "Hot 100" at #77 on September 13, 1969. Five weeks later, it was in the top 10, and on November 11 it pushed aside The Temptations's "I Can't Get Next to You" and took over the top spot on the chart. It was only at #1 for one week, but it completed Elvis' return to relevance in pop music that had begun with his TV "Comeback Special" almost a year before.
And what about Mark James? He was not in the studio when Elvis recorded his song, but in Chips Moman, George Klein, Marty Lacker, and Joe Esposito he had a platoon of foot soldiers who worked together to encourage Elvis to record it. Certainly Elvis never forgot who was primarily responsible for his last #1 record. In his recent interview, Mark James recalled Elvis inviting him to Las Vegas when "Suspicious Minds" was moving up the charts. "He was at a table in a long room talking with two people, way across the room. And I came in the room and he walked clear across the room and said, 'Hi Mark. How you been doing?'" — Alan Hanson | © October 2017