"(Let Me Be Your) Teddy Bear"
A Chartbuster for Elvis Presley in 1957
In August 1978, just a year after Elvis' death, RCA released the most nonsensical Presley album ever to appear on its label, before or since. Most of the 10 tracks on "Elvis Sings for Children and Grownups Too!" had been recorded for use in Presley's movies. Included were kiddie tunes and lullabies such as "Five Sleepyheads," "Old MacDonald," "Cotton Candy Land," and "Have a Happy." Incredibly, RCA demeaned one of Elvis' biggest hit records by including "(Let Me Be Your) Teddy Bear" in that trivial collection.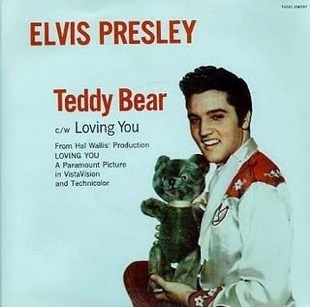 Although "Teddy Bear" was one of Elvis' most successful singles on the charts and in record sales, it has continued to be dismissed in every serious discussion of Presley's most important recordings. When Rolling Stone magazine published its "500 Greatest Songs of All Time" a few years ago, "Teddy Bear" was not among the 11 Presley recordings on the list. Nor is the song among the 6 Elvis titles on the Rock and Roll Hall of Fame's "500 Songs That Shaped Rock and Roll."
In his Presley recording sessions book, Ernst Jorgensen identified what has kept "Teddy Bear" from being taken seriously as a rock 'n' roll classic. "The catchy, upbeat tempo made up for the silly lyrics, and it made the perfect extension of what the band had done with 'Don't Be Cruel'." The song's silly lyrics were written by lyricist Kal Mann, who partnered with composer Bernie Lowe to create many fifties pop hits, including Charlie Gracie's "Butterfly," Bobby Rydell's "Wild One," Chubby Checker's "Limbo Rock," and Pat Boone's "Remember You're Mine."
"Teddy Bear" was the only Mann-Lowe tune that Presley recorded, and it is believed they wrote it specifically for Elvis, due to his alleged fondness for stuffed animals. During a Vancouver, B.C., press conference in 1957, Elvis was asked about his collection of teddy bears. "It got started from a rumor," he explained. "It was an article came out that I collected stuffed animals, and I was swamped with 'em. Actually, I mean naturally I keep 'em because the people give 'em to me, but I never even thought of collecting stuffed animals in my life … I have 'em all over the walls and in the basement and in the chairs, and everywhere else."
During his final Ed Sullivan Show appearance on January 6, 1957, Elvis revealed how the rumor resulted in a flood of teddy bears arriving at his Memphis home. "We'd like to thank everybody for the wonderful Christmas presents and Christmas cards, and birthday presents that came in. I got exactly two hundred and eighty-two teddy bears over the Christmas holidays. We have the walls lined with them."
• "Teddy Bear" included in Loving You soundtrack
 Later that January, Elvis was in Hollywood recording music for his second film, Paramount's Loving You. "Teddy Bear" probably wasn't on the original list of songs, but, according to Jorgensen, producer Hal Wallis "loved" the song so much that it was added to the soundtrack. Elvis recorded it the morning of January 16, 1957, at Paramount's huge Scoring Stage in Hollywood.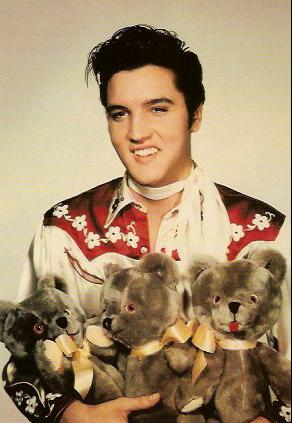 According to Jorgensen, Elvis found that venue an uncomfortable one for recording: "One request Wallis didn't want to grant Elvis was permission to record at the Radio Recorders studio he now favored. Before long it became obvious that Elvis resented recording on the big soundstage, whether he had sound reason to or not. He had gotten his start recording in a room that was barely twenty by thirty-five feet; the intimacy that had become part of his creative process was complexly absent in the huge, hangar like facility."
The session was produced by Walter Scharf with musicians Scotty Moore and Hilmer "Tiny" Timbrell on guitar; Bill Black on bass; D. J. Fontana on drums; and Dudley Brooks on piano. The Jordanaires provided prominent vocal backing (no doubt irksome to Colonel Parker, who always felt background singers should remain far in the background of a Presley recording). The group dashed through "Teddy Bear" in a mere one minute and 46 seconds, making it the shortest hit single of Elvis' career.
RCA ticketed "(Let Me Be Your) Teddy Bear" for release as a single in June 1957 to promote the national opening of Loving You the following month. In the interim, though, "Teddy Bear" became the focus of side story that had a profound effect on Elvis Presley's personal life. In May 1957, when Elvis returned to Hollywood to work on Jailhouse Rock, he invited Memphis DJ Dewey Phillips to join him for a California vacation, all expenses to be paid by Elvis. (Dewey had been the first DJ to play Elvis' "That's All Right" on the radio in 1954.)
It was to be an eventful and fateful holiday for both men. Elvis set Dewey up in a hotel suite and planned a number of activities for his guest. Near the end of the DJ's stay, Elvis let Dewey listen to a recording of "Teddy Bear," scheduled for release in June as his new single. Elvis warned Phillips not to take one of his few sample discs, but Dewey secretly stuck one in his suitcase. When he got back to Memphis, Dewey played the record on the air, jumping RCA's release date. The label was livid, as were local distributors, who were getting early demands from retailers that they couldn't meet.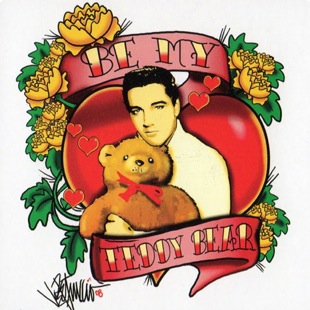 Elvis was upset, as well. On his return to Memphis, Dewey apologized, and their friendship was reportedly repaired during an evening they spent together. But Elvis had been burned before, and the incident with Dewey Phillips and "Teddy Bear" helped convinced him of the need to create a wall between him and the press. That wall would be manned by a phalanx of men sworn to absolute loyalty to Elvis. Henceforth, those admitted to his inner circle knew that giving any information about Elvis to the press was an unforgivable breach of allegiance.
• Elvis' new single became an instant hit
Backed with "Loving You," the title song of his new movie, RCA released "(Let Me Be Your) Teddy Bear" on June 11, 1957. Reviews predicted certain hit status for the record. On June 10, Billboard put its "Review Spotlight" on the pairing: "Both tunes are from Presley's forthcoming movie, 'Loving You.' 'Teddy Bear' is a sock rockabilly item, while flip features a tender reading of the film's poignant title theme. Special sleeve, spotlighting Elvis and a teddy bear, is powerful display material." In its June 12 issue, Variety put the new record at the top of its "Best Bets" list and its "Jocks, Jukes and Disks" reviews: "'Teddy Bear' is a rhythm number in the standard Presley style making it a natural for a big payoff. 'Loving You' sets the crooner in a comparatively quiet romantic mood which should also do well on all spinning levels."
"Teddy Bear" entered Billboard's Top 100 chart at #47 on June 24, 1957, and shot to the top in short order. In its second week, it rose to #4, where it stayed for a second week before taking over the #1 spot from Pat Boone's "Love Letters in the Sand" on July 15. "Teddy Bear" then settled in at the top of the chart for 7 weeks. (In Elvis' career, only "All Shook Up," at 8 weeks, spent longer at #1 than "Teddy Bear.")
On the flip side, meanwhile, "Loving You" began its own lengthy run on the Top 100. It entered the chart at #81 on June 24 and climbed steadily upward until it peaked at #28 on August 19. Although it never reached the upper tier of the chart, "Loving You" had amazing staying power. It stayed on the Top 100 for 22 weeks, a total exceeded by only eight other Presley songs. In the end, the combined chart runs of "Teddy Bear" and "Loving You" made in the second biggest two-sided hit single in Elvis' career, behind only "Hound Dog" and "Don't Be Cruel."
• "Teddy Bear" record sales soared in 1957
Elvis' single sold like hotcakes throughout the summer of 1957. On July 3, Variety noted that, "Presley's latest RCA Victor platter, 'Loving You' and 'Teddy Bear,' has become the singer's eighth disk to enter the golden circle. One week after its release, the disk passed the 1,250,000 marker and Victor execs say sales are still mounting steadily." In its issue that same week, Billboard reported that, "By Victor's count, the phenom now has had eight gold-plated platters. The latest is his coupling of 'Teddy Bear' and 'Loving You' which tallied 1,600,000 sold just two weeks after its June 11 release."
That summer in 1957, "Teddy Bear" dominated the "Cashbox Best Selling Singles List." It was the top selling record in the country for 3 weeks and among the top 4 for over two months. It remained on Billboard's Top 100 pop chart for 25 weeks. It was #1 for all of July and August 1957, and remained in the top 5 for a total of 12 weeks. Although "Teddy Bear" finally fell off the chart at the end of November 1957, it reappeared on the Top 100 for a couple more weeks in January 1958.
"(Let Me Be Your) Teddy Bear" played a major role in Elvis Presley's amazing chart success in 1957. The three-record run of "All Shook Up," "Teddy Bear," and "Jailhouse Rock" held the #1 spot on the Top 100 for an incredible combined total of 22 weeks that year. As the bridge between two more esteemed Presley iconic recordings, "Teddy Bear" more than held its own in chart performance and sales in 1957. It's about time that Elvis' recording of the "sock rockabilly" song with the "silly lyrics" received some long overdue recognition for its place in history of rock 'n' roll. — Alan Hanson | © February 2015