Elvis Fan "Sucker Alert!" …
"That's The Way It Is" Box Set
"In 1970, Elvis Presley fans were thrilled by the arrival of two cultural milestones: one an album, the other a full-length concert/documentary and each of them called 'Elvis: That's The Way It is.' Since then, aficionados of Elvis have been clamoring for a package that included both the album and the film."
For starters, the above opening paragraph in the press release for the "Elvis: That's The Way It Is (Deluxe Edition)" box set contains a couple of dubious statements. The 1970 album, containing as it did a jumble of studio and live Las Vegas recordings, was no "cultural milestone" by any stretch of the imagination. And I believe I can speak for my fellow Elvis aficionados in affirming that none of us have ever "clamored" for the album and film to be packaged together in a commercial offering. Most of us already own the LP and movie separately. Why would we demand the opportunity to buy them again together?
On initial reading, the press release's description of the new box set sounds exciting—the "original LP, six complete shows from Elvis' electrifying summer of '70 Las Vegas season, rare and insightful rehearsals, the 1970 theatrical edit AND the 2001 Special Edition of 'Elvis: That's The Way It Is,' 80-page booklet featuring rare photographs, memorabilia and recording data." But just a brief scan of the set's contents reveals that this package is just another dodge to get Elvis fans to pay big bucks for what they already have.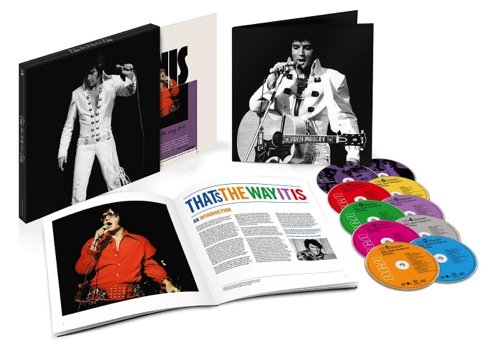 Sony Music and Warner Brothers Home Video are co-conspirators in the latest scam to fleece Elvis' loyal fans. Two of the 10 discs in the set are DVDs containing the two versions of Elvis's first documentary film. These have been available for over a decade, and, as noted, are already in the film library of most Elvis fans. (Why didn't the producers include Blu-ray versions in the set instead of standard DVDs? Silly question! If they had, they wouldn't be able to sell them separately and hustle Elvis fans yet again!)
The press release teases that the eight music CDs in the package contain "previously unreleased performances, rehearsal highlights and other rare recordings." Again, however, a review of the track lists for the CDs exposes the real story. The first CD simply regurgitates the original LP's 12 recordings, along with 4 studio songs released as singles back in 1970, and 4 studio outtakes. The whole lot on CD #1 has long been available on previously released Sony products.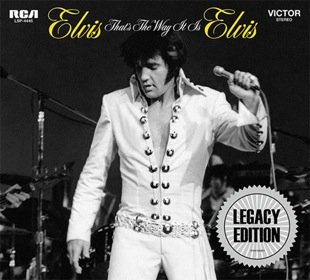 That brings us to the final music CD, where we expect to find the "rehearsal highlights and other rare recordings," as promised in the press release. Well, instead of rehearsal recordings, the track list is filled with Presley jam session classics, such as "Froggy Went A-Courtin'", "Cotton Fields," "Farther Along," and "Santa Claus Is Back in Town." Those, along with 16 other tracks on the CD, have all been previously released!
So here's the bottom line on the new "That's The Way It Is" package. The suggested retail price of $150 on Amazon.com gets you 2 DVDs of Elvis films and 6 CDs of Elvis music, all of which has been previously released, and 2 other CDs with a mix of previously released and unreleased tracks. On the music side, of the 129 tracks in the set, only 19 live Vegas performances have not appeared on earlier Sony Presley CDs. And all of those 19 are songs that we've heard Elvis perform multiple times in other concerts. They include TWO versions each of "I Got a Woman," "Love Me Tender," "Polk Salad Annie," "Blue Suede Shoes," "Suspicious Minds," and the perennial concert closer "Can't Help Falling in Love."
To be fair, let's allow that the set's 80-page booklet may include some interesting photos and noteworthy information about the 1970 documentary and Elvis' music that year. But, if you already have, as I do, all the previously released music in the package and DVDs of the documentary's two versions, you have to ask yourself, "Is it really worth $150 to get 19 new Elvis Las Vegas recordings and a booklet?" Sony is betting there are enough Presley suckers … I mean "aficionados" … who will do so to make the project profitable. And there probably will be, or the company wouldn't continue to recycle Presley's music in a variety of formats as it has over the 37 years since Elvis's death.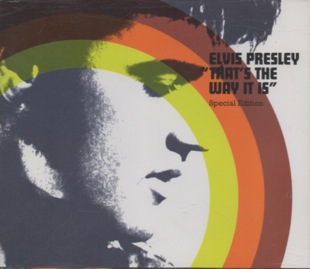 Actually, the concept of enticing Elvis fans to buy his recordings multiple times goes all the way back to Presley's breakout year of 1956. His first RCA album, "Elvis Presley," containing a mixture of Sun Records and RCA recordings, was released in late March 1956. Five months later RCA rereleased all 12 of the LP's tracks on six 45 rpm singles. When they all sold well, Colonel Parker and RCA realized  that Elvis had a fan base willing to consume Presley's recordings over and over again. Over the remainder of Elvis's career, then, no opportunity to rebundle and resell his music was ignored.
It was after his death in 1977, though, that the repackaging of Elvis' music went into overdrive. Among the first LPs released at that time were two volumes titled "Our Memories of Elvis," which contained recently released Presley recordings, stripped of much of their original instrumental and vocal background. Through the years since, Sony/RCA has used the term "remastered" repeatedly to imply that their tinkering with Elvis' original recordings somehow made them sound even better. To me, though, his music has never sounded better than putting a new 45 on the record player and listening to the magic that issued from between the grooves.
Those days are gone, however, and as aging Elvis fans, all that we have to look forward to are flashy and expensive repackaged versions of the same music which some of us have been listening to now for over to 50 years. Maybe someday those who package Elvis' music will come up with simpler, less expensive alternatives for older Presley fans on fixed incomes. Until then, though, we can expect more of the expensive, flashy box sets that contain little to nothing new. For now, "that's the way it is." — Alan Hanson | © August 2014
Reader Comment: I do love the King and his music. But one thing I do not need for sure is this huge set as I've probably already got at least 92% of it in some form or another. I'm agreeing with you as to the upsurdity of having to purchase all of these albums again but in all fairness, I can understand why they want us to. I'm going to spring for the 2 CD set although I already own the previous incarnations of "That's The Way It Is" along with the superb Mobile Fidelity Ultra-Disc. 
Being a collector since 1963, I didn't really start amassing everything on LP until 1974 or so. But when CDs hit, I've made sure to get as much as I could handle. But now the great powers at Legacy are asking even we CD owners to buy it all again. How much more perfect can it get?  Anyway, I do join you in the refusal to pony up for stuff we own already and I'm hoping that somewhere someone can see that there's no reason to flood the music market like this. But as a dealer I visit often says: "Elvis will always sell." Truth is: he's right in that respect! | Bill (August 2014)