Tickle Me


The Elvis Movie That Saved a Hollywood Studio
"Presley As Top-Money Star"—That was the headline of an article in Variety on July 28, 1965. Writer Vincent Canby estimated Elvis' income from motion pictures that year at $2,700,000. That easily surpassed the earnings of such established Hollywood heavyweights as Cary Grant, Elizabeth Taylor, and Audrey Hepburn. Presley had completed 18 pictures at the time, all but one for major studios—7 for Paramount, 5 for MGM, 3 for 20th Century-Fox, and 2 for United Artists. His current movie in theaters was Tickle Me, produced by Allied Artists.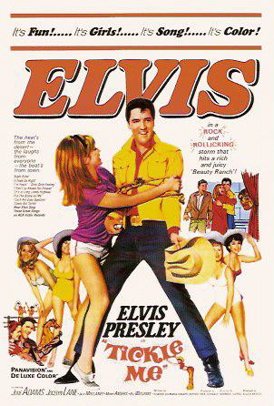 Allied Artists was a struggling Hollywood studio in 1965. Under the name Monogram Pictures, the company started out specializing in low budget features in the early 1930s. With the days of economical films coming to an end, studio head Steve Broidy formed Allied Artists in 1946, hoping to compete with the bigger studios. Allied couldn't keep up, though, and fell back on the kind of low-budget thrillers that Monogram had produced.
By 1964 the company was on life-support. "You might say they were ready to wheel the patient out," Broidy commented in another July 28, 1965, Variety article, this one by Thomas M. Proyor. Broidy needed a successful movie to put Allied back on its feet financially. Noting that producer Hal Wallis had said that the only "sure thing" in Hollywood was an Elvis Presley picture, Broidy made an offer to Abe Lastfogel, who represented Presley at the William Morris Agency.
• Colonel Parker took a chance on Allied Artists
Lastfogel discussed the proposal with Colonel Parker, who had always preferred long-term deals for Elvis with major studios. Parker had always trusted Lastfogel, however, and when the agent assured the Colonel that Broidy would meet his terms—$750,000 guaranteed for Elvis and 50% of the profits—Parker approved the deal with Allied for one picture, originally named Isle of Paradise, but later changed to Tickle Me.
When asked, "Why Allied Artists?" Parker reponded, "Mr. Lastfogel had confidence that Mr. Broidy would deliver everything he promised and since he agreed to meet our terms, that was good enough for me."
Soon after inking the deal, however, Parker began hearing "whispers" that Allied was having trouble raising the money for production. When the rumors persisted, the Colonel told Broidy he would let him out of the deal, if that would help Allied. According to Pryor's Variety article, Broidy assured Parker that the money was available and that "if Allied never made another picture under his leadership he would in any event make 'Tickle Me.'"
• Tickle Me came in under budget
With Ben Schwalb producing and Norman Taurog, one of Elvis' favorites, directing, Tickle Me was shot in six weeks in October and November 1964. Production costs actually came in a little under budget at $1,480,000, which included the $750,000 payment to Elvis. Broidy praised both Parker and his star for their cooperative attitude during production. Pryor paraphrased Broidy:
"Their procedure is unbelievably direct and uncomplicated: they don't interfere with actual production; Presley is before the camera when he is supposed to be there, knows all his lines and movements in advance; all that is expected from the Presley organization in terms of publicity and other promotion activities is carefully mapped out and when agreement is reached everything is carried out to the letter. If they have had any problems at any studio, it has been kept very quiet. Chances are, however, they haven't for the Presley-Parker approach is crisply businesslike, and as the Colonel says, 'It's not too hard to get along with people when you make a profit.'"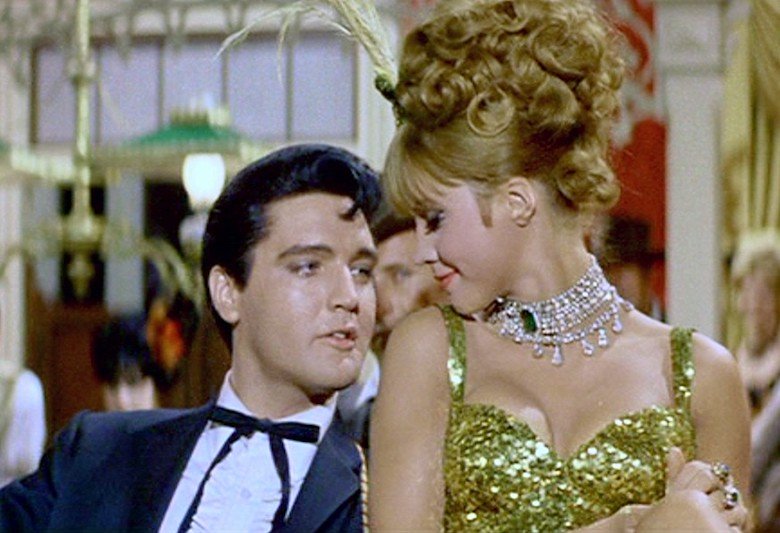 Broidy was particularly pleased with Parker's help in booking the film in theaters. "You couldn't ask for more cooperation than we have gotten from Elvis and the Colonel," Broidy explained. "Our organization is doing a very good job, and our organization is capable of doing a good job of selling, but when you get an extra plus like they've given us on this picture it makes the job much easier. The Presley organization has helped us tremendously." And when Allied's full-page ad for Tickle Me appeared in Variety on June 16, 1965, it was headlined at the top with, "Thanks to 'The Colonel' and R.C.A. Victor Records for a Fabulous Promotion Assist!"
• Tickle Me quickly returned more than double production costs
Tickle Me opened nationwide on July 7, 1965. Pryor summarized the film's bookings and income in Variety. "With a total of 5,800 to 6,000 bookings scheduled to skim the cream of the summer audience before the Labor Day holiday weekend, the bulk of the estimated $3,000,000-U.S. earnings will be in the till within three months of the initial playdates. Broidy figures on not less that $250-300,000 film rental from Canada. First week in Toronto multiple returned $62,339 and, on the basis of early returns from London, looks for a British gross of at least $425,000."
At year's end, Tickle Me, with estimated domestic earnings of $3.4 million, came in 29th on Variety's list of "Big Rental Pictures of 1965. The picture was not a critical success. (The New York Times called it, "the silliest, feeblest and dullest vehicle for the Memphis Wonder in a long time.") And by Presley standards, the film was an average earner. Still it turned out to be the third highest grosser in Allied Artists' history at that time, behind only 55 Days At Peking and El Cid. Steve Broidy confirmed that Elvis had indeed "saved" Allied Artists from going under in 1965.
• Elvis saved Allied Artists—but only temporarily
When Tickle Me was in release, Colonel Parker told Pryor that, while there was no commitment for a second Presley picture at Allied, there might be one in the future if Elvis's other commitments allowed it. That was not to be in the cards, however. Parker had just recently signed on to continue Elvis' films for Hal Wallis at Paramount, and Allied was forced to cease film production in 1966.
The company later resumed production, releasing Cabaret in 1972 and Papillon the following year. However, although both were critical and commercial successes, high production costs left little income for Allied. The company struggled on until 1979, when inflation and operating costs led to bankruptcy. Today, the Allied Artists library, including Tickle Me, is owned by Warner Brothers Entertainment. — Alan Hanson | © April 2010
Go to Elvis in Hollywood

Go to Home Page