"Too Much"




A Disappointing Million-Seller for Elvis in 1957
Recently I attended a local high school's production of All Shook Up, the Broadway musical featuring the music of Elvis Presley. I wondered how Elvis' music would play to such a young audience, many of whom weren't even born until long after Presley died. The crowd responded enthusiastically, though, especially when the cast performed his early big hit songs—"Heartbreak Hotel," "Hound Dog," "Don't Be Cruel," "Love Me Tender," "All Shook Up," "Teddy Bear," and "Jailhouse Rock." It struck me, though, that one Presley song from his glorious string of hits in 1956-57 had been left out of All Shook Up's score. It's one that is often overlooked when Presley's early hits are counted.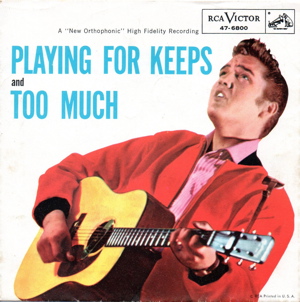 "Too Much," released in January 1957, was Presley's fifth regular single record issue on the RCA Victor label. It followed "Love Me Tender" and preceded "All Shook Up," both mega #1 hits for Elvis. Perhaps one of the reasons "Too Much" has been given little respect is that, unlike all of the titles listed above, it did not reach #1 on Billboard magazine's "Top 100" pop chart. During that explosive period in Elvis' career, any record by him that did not top the charts could be comparatively labeled a failure. "Too Much" only got to #2! 
Elvis's first contact with "Too Much" probably came when he was preparing for a July 1956 recording session at RCA Studios in New York City. RCA exec Steve Sholes, who had signed Presley to the label, provided a stack of demonstration records for Elvis to search through for possible material to record during the session. The only one that Elvis really liked was "Anyway You Want You," which he recorded at the July 2 session, which also produced "Hound Dog" and "Don't Be Cruel." He did, however, select four other demos from Sholes' stack and took them home with him to Memphis as potential material for an upcoming September session designed to record songs for his second RCA album. "Too Much" was one of those four demos.
• "Too Much" made the single scene by default
During a break in filming of Love Me Tender, Elvis recorded 13 tracks at Radio Recorders studio in Hollywood on September 1-3, 1956. Two of songs were to be designated for Presley's next single release, while all the rest would be tracks on the new LP. "Playing for Keeps" was an easy pick for the single's ballad side, but none of the rock 'n' roll numbers really stood out for the all-important rhythm side. Elvis' versions of "Long Tall Sally" and "Ready Teddy" had the required energy and sex appeal, but both had been hits for Little Richard and so were eliminated as single releases for Elvis. "Too Much" was chosen, then, more by default than from confidence that it was hit material.
"It wasn't much of a song," Ernst Jorgensen judged in his 1998 Presley sessions book, "but it did have a nice drive and the kind of rhythm that teenagers like." Elvis recorded "Too Much" the evening of September 2. The musicians had difficulty keeping the rhythm going all the way through for a complete take, and since the pressure was on to finish the session so that Elvis could return to work on Love Me Tender, a splice of two takes was finally used on the master.
• Scotty's guitar solo gives "Too Much" its character
Elvis' vocal on "Too Much" is an energetic but simple, repetitive chant. What gives the recording its distinctive character, instead, is Scotty Moore's unusual guitar solo. In the 1971 radio documentary, The Elvis Presley Story, Scotty recalled how it came about:
"I don't remember now exactly what I had nailed down for the solo instrumental part. It was in an odd key … well, for most guitar players, I would say. When my instrumental part came, I absolutely just got lost. I didn't know where I was at. But from the experience we had already gained in these months behind us, in playing on stage, you go ahead, you just keep on going, and this is what I did. And this was the take that was released."
In his 1997 book, That's Alright, Elvis, Scotty again described his guitar solo, this time attributing spitefulness to Elvis in his decision to use that particular take: "We did several takes, but on this particular one, I just got lost. I just kept chunking away. I didn't make any mistakes, but it wasn't the same solo I played on the other takes. Somehow I came out of it exactly where I was supposed to be."
When the song was over, Elvis called for a playback. As he listened, he looked at Scotty with a grin. "He knew I had gotten lost, but he loved the way it turned out," said Scotty. "When the song ended, he raised up and said, 'That's it,' and he did it for damned meanness. He knew I had gotten lost and he knew damned well I would have to live with it."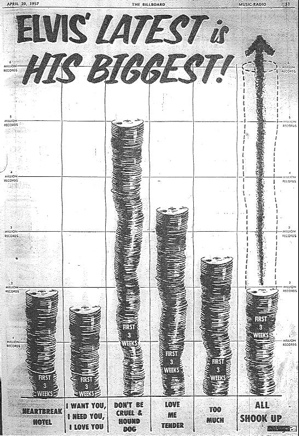 RCA shipped the single pairing of "Too Much" / "Playing for Keeps" on January 4, 1957. Two days later, when Elvis sang "Too Much" during his last appearance on The Ed Sullivan Show, he jumbled up the lyrics. The simple chant of the rhythm, however, allowed interchangeable phrases, and so it was not apparent to viewers that Elvis had gotten lost along the way.
• Trade magazines knew Elvis was on cruise control
In its January 12, 1957, issue, Billboard reviewed Elvis' new single in its "Review Spotlight on Pop Records" column. The writer acknowledged that any record with Presley's name on it would be an automatic hit:
"As heavily pre-ordered as this record is, not much description of it is necessary to sell the trade on it. For the record, 'Playing for Keeps' is a ballad with an easy, loping melody akin in spirit to 'Love Me Tender.' Presley's moaning delivery has the usual endocrinal punch. 'Too Much' is closer in style to some of his early rockabilly hits; its lurching, groovy rhythm is spell-binding on teen-agers, as is all too well known. To spur sales, the disk is being merchandised in a special jacket with a color photo of Presley-cum-guitar. 'Snuffsed?"

On January 16, Variety put Elvis' new single at the top of its "Best Bets" list. Herm Schoenfeld offered his assessment of the new single in his "Jocks, Jukes and Disks" column:
"This disk, of course, is an automatic hit. The only question with this phenom is not whether, but how much. This platter should follow its predecessors into the multi-million sales class. 'Playing for Keeps,' a slow ballad, is a solid number for the genre and the teenagers will dig it. 'Too Much' is on the upbeat side, showcasing Presley in his trademarked staccato vocalisthenics."
• Single chart record only moderate for Elvis in '57
On January 26, 1957, "Too Much" entered Billboard's "Top 100" at #30. Two weeks later it was in the top 10 at #7. On March 2 it reached #2 and seemed destined to be another chart-topper for Elvis. But Tab Hunter's awful, multi-spliced recording of "Young Love" would not yield the top spot, and after four weeks in the runner-up position, "Too Much" slipped to #8. Five weeks later it dropped off chart. In the end, it spent 17 weeks in the "Top 100." It would have been fantastic for any other artist at the time, but the run of "Too Much" seemed anemic compared to the other Presley singles that surrounded it: "Hound Dog" 28 weeks, "Don't Be Cruel" 27 weeks, "Love Me Tender" 23 weeks, "All Shook Up" 30 weeks, "Teddy Bear" 25 weeks, and "Jailhouse Rock" 27 weeks.
Although it missed the top spot on Billboard's major pop chart, "Too Much" did reach #1 on the magazine's separate "Top Sellers" pop chart. And it spent three weeks at #1 on Cashbox magazine's "Best Selling Singles" chart.  Additionally, it peaked at #3 on both of Billboard's "Hot Country Singles" and "Hot Rhythm and Blues Singles" charts.
Whenever Elvis Presley's "Greatest Hits" have been gathered into a collection for vinyl or CD release, "Too Much" has almost always been included. Its chart and sales successes certainly justify it a place alongside Presley's other hits of the fifties. Still, it's a recording that probably always will be seen as a "little sister" in the string of colossal hit records Elvis Presley fed into the stream of American pop culture during the years of 1956 and 1957. — Alan Hanson | © March 2013