The Top 10 "Wish I Had Been
There" Moments in Elvis' Career
"If you could travel back in time, to a specific event or time in Elvis' career, what would it be and why?" That was the question posed recently to "Elvis Insider" members by administrators of the forum on web site sponsored by Elvis Presley Enterprises. In my nearly 50 years as an Elvis fan, I've often imagined myself in attendance at certain events in Elvis' career. Below I've listed, in descending order, the top 10 Elvis events I would most like to have witnessed. It was difficult to cut the list down to 10, as there were so many memorable moments in Elvis' career.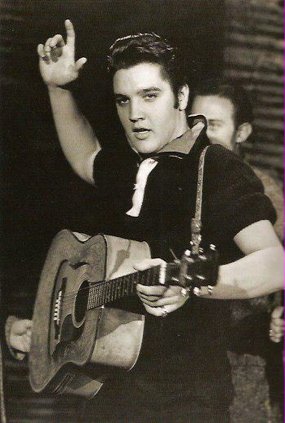 10. "All Shook Up" recording session — January 12, 1957
It's not only because "All Shook Up" is one of Elvis' signature rock 'n' roll hits that I would like to have been there that day at Radio Recorders in Hollywood. I'd like to see how this classic Elvis song was recorded. Jordanaire Gordon Stoker, who sang a duet with Elvis on the chorus, has said Elvis tried to break him up throughout the recording by sticking his finger in Gordon's mouth and so on. It's also been claimed that Elvis slapped the back of his guitar to create the beat on the song. But how could he have done both things at the same time? (Ernest Jorgensen has said the guitar slaps were overdubbed later.) Also, no one knows for sure who was playing the piano on that recording. All questions could be answered if I could just go back in time to January 12, 1957, just 12 days before I turned 8 years old.
9. King Creole location shooting in New Orleans — March 3-11, 1958
Elvis never looked nor acted better than he did in King Creole. But it's not just Elvis that I would have enjoyed watching work against the background of the French Quarter. How interesting must have been his interaction, both on and off camera, with that great group of costars—Walter Matthau, Carolyn Jones, Vic Morrow, Jan Shepard, Paul Stewart, Dolores Hart, and Dean Jagger.

8. The Ed Sullivan Show — October 28, 1956
I'll take a front row seat, thank you, to this, the second of Elvis' three appearances on the Sullivan show. Elvis sang four of his classic songs—"Don't Be Cruel," "Love Me Tender," "Love Me," and "Hound Dog." Sullivan was present, unlike for Elvis' first appearance on his show when he was recuperating from an automobile accident. As long as I'm making the trip back in time, I'll take a cue card with me to hold up at the moment that Elvis forgot the lyrics while singing "Love Me."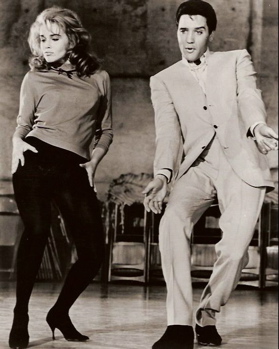 7. Viva Las Vegas dance scene — August 1963
Remember when Elvis and Ann-Margret met at the University of Nevada-Las Vegas to dance? Ann did her thing, and then Elvis took the stage to sing "C'mon Everybody." Boy, I'd like to have felt in person the sexual energy produced by that sequence. AP writer Bob Thomas reported, "They hold hands. They disappear into his dressing room between shots. They lunch together in seclusion." I'm sure they wouldn't mind me following them around and looking over their shoulders.

6. Stage Show on CBS — February 11, 1956
This was the third of Elvis' six appearances on Stage Show, hosted by Tommy and Jimmy Dorsey. Elvis only did two numbers, but they were whoppers—"Blue Suede Shoes" and "Heartbreak Hotel." He had recorded the latter just a month earlier, and this was the first time he sang it on national TV. A month later it was at #1. Another reason I'd like to have been there was that it was just the combo at that time. Just four good ol' boys—Elvis, Scotty, Bill, and D. J.— playing rock 'n' roll.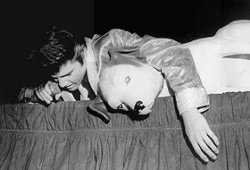 5. Los Angeles, Pan Pacific Auditorium — October 28, 1957
At the end of his concert that evening, Elvis grabbed the plaster statue of Nipper, RCA's dog symbol, and rolled around with it on stage while singing "Hound Dog." Dick Williams of the Mirror-News called Elvis a "sexhibitionist" who made love to Nipper like it was a girl. Gordon Stoker said Elvis did nothing suggestive or off-color that night. The police were concerned enough to film Elvis' show the next night. Wish I'd been there to set the record straight.
4. Million Dollar Quartet, Sun Studio — December 4, 1956
Surely in that little studio I could have found a corner in which to stand quietly and listen to Elvis, Carl, and Jerry Lee jam on that legendary afternoon. Its charm is that it was totally spontaneous. Nothing was planned. Just three of rock's young innovators doing what came natural.
3. International Hotel, Las Vegas — July 31, 1969
It was Elvis' very first live appearance after eight years of Hollywood movies. Everyone in the invitation-only audience that evening has testified to the energy and excitement in the room. If I could go back to that event, I wouldn't have to imagine today how Elvis's confidence grew with each song, and how the crowd exploded at the end. Where was I instead? I was at my grandmother's house in Portland, Oregon, being enthralled by the flight of Apollo 11. I had no idea that an even bigger event than the first moon landing was happening in Las Vegas at the same time.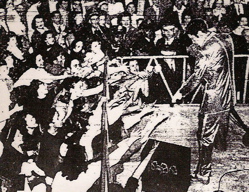 2. International Amphitheatre, Chicago — March 28, 1957
The opening show of Elvis' 1957 spring tour, it was the first of only three times he wore his full gold lamé suit in public. He performed on a small, raised, square stage with diagonal iron bars to hold the girls back. Still, dozens of them pressed against the stage, stretching their arms through the bars as Elvis beckoned, just out of reach. Thirteen girls fainted and had to be carried by police to the first aid station. What a spectacle it would have been to see! Never again would a crowd be allowed to get that near to Elvis on stage. Colonel Parker saw to that.
1. Sun Studio, Memphis — July 5, 1954
This is by far my biggest "Wish-I-had-been-there" Elvis moment. Can you imagine being there for that historic event when Elvis, Scotty, and Bill spontaneously created the sound that would change the course of pop music for decades to come? I think I'm going to take my video camera back with me to record the event. On second thought, I wonder if an event of such great cultural significance might be best left as it is—in our collected imagination. — Alan Hanson | © March 2009