Tuesday Weld




A Free Spirit Passed Through Elvis' Life
One summer evening in 1960, a sixteen-year-old girl caused a ruckus in the lobby of Beverly Wilshire Hotel when the staff wouldn't allow her to go up to Elvis Presley's room. Not unusual behavior for a teenage girl then, except that this particular girl claimed to be Tuesday Weld. She looked nothing like a movie star in her dungarees, however, and so the hotel security didn't believe her. She threw a fit. After a call was made to Elvis' room, he sent one of the boys down to bring Tuesday upstairs.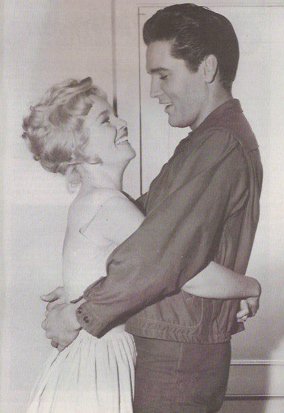 After entering Elvis' suite, "she pranced around the room like a angry little cat spitting expletives," according to Joe Esposito in his 1994 book Good Rockin' Tonight. "'Those f***ing security people," she raged, "I told them I was Tuesday Weld and wanted to come up to see you. The stupid bastards didn't believe me! That just pisses me off.' Elvis sat back and enjoyed her tantrum."
Such scandalous behavior was right in keeping with Tuesday Weld's Hollywood reputation in 1960. "Eyebrows have been lifting and tongues wagging since petite, blond Tuesday Weld came to movieland in 1958, a full-blown 15," noted Datebook magazine in November 1961. "Gossips have chronicled romance after romance, one with an actor nearly three times her age. They picture her as no stranger to liquor, tobacco, gay parties and late hours. She gets more publicity than most of the screen's senior sirens—just about all of it bad." Danny Kaye said Tuesday was "15 going on 27." Gossip columnist Louella Parsons observed, "Miss Weld is not a very good representative for the motion picture industry." Tuesday herself described her favorite sport as "shooting pool at a pool hall run for special delinquents."
Tuesday's upbringing hardly prepared her for a normal adolescence. Born Susan Ker Weld in New York City on August 27, 1943, she worked as a child model to support the family after her father died when she was four. The name Tuesday came from "Tu-Tu," a childhood nickname. After some television commercial work, she was an understudy on Broadway in 1957. The next year the family moved to Hollywood, where Tuesday gained fame for her role in the 1959 TV series "The Many Loves of Dobie Gillis."
• Tuesday went out on her own at age 16
Her rebellious behavior, including dating much older men, distressed her mother, who tried to rein her in. Tuesday responded by moving out and buying her own house at the age of 16 in 1960. It was about that time that she first met Elvis Presley, who was living it up that summer at the Beverly Wilshire while making his first two post-army movies, G.I. Blues and Flaming Star. Tuesday had a film coming up too. She was cast as an incest victim in Return to Peyton Place.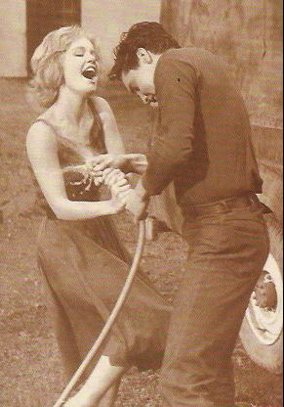 "Elvis dated her a little," noted Elvis insider Lamar Fike in his 1995 tell-all book. "She had the ass and legs, and Elvis liked that, and she'd baby-talk with him, but that was about it."
Joe Esposito explains why the relationship never got serious. "Elvis and Tuesday hit it off immediately, but their affair lasted only a short while before it mellowed into a friendship. Tuesday was a free spirit; she would never have put up with Elvis, who liked to control his women. 'You stay here, I'm going out tonight' or 'Do this for me, I want it done right now' typified his attitude. Tuesday would never fall in with that program … Tuesday hung out with us like one of the boys. She definitely had a wild streak, but she was a pleasure to be with despite her reputation around Hollywood for being 'difficult.'"
It's not that Tuesday's wild reputation wasn't deserved. Joe saw several instances of her impulsive behavior. "Once, on a double date, we were driving," he recalls, "Tuesday next to Elvis in the front, my date and me in the back—and Tuesday began throwing anything she could find in the car at people in nearby cars. Another time, she decided to chuck a quart of milk out the window of our top-floor suite in the Beverly Wilshire just because she wanted to see it splatter."
• Tuesday played a tramp in Wild in the Country
Tuesday saw a lot more of Elvis and the boys when she was cast in his 1961 film, Wild in the Country. (Also in the cast was actor John Ireland, whom Tuesday had dated when she was 15 and he was 44.) She played the role of Doreen, called a "fast moving piece of fluff" by reviewer Justin Gilbert. As a rebellious teenage unwed mother, Tuesday's Doreen offered Elvis' character a trampy alternative to the conservative women played by Millie Perkins and Hope Lange.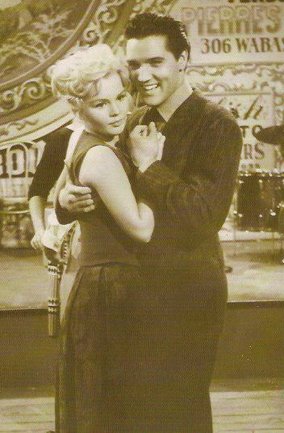 Although critics generally panned Wild in the Country and Elvis' work in it, Tuesday received praise for her part. Variety noted, "Tuesday Weld, steadily improving as an actress, contributes a flashy and arresting portrait of a sexy siren enamored of Mr. P." Reviewer Craig Butler added, "Tuesday Weld does very well, demonstrating once again that she is a talented and often surprising actress who has rarely been given the chance to show what she is really capable of."
However, in a contemporary assessment, writer Jason Ankeny suggests the film was a drag on Tuesday's Weld's budding career. "Successive roles in Return to Peyton Place and the Elvis Presley vehicle Wild in the Country further crippled her attempts to mount a serious acting career," says Ankeny.
Elvis and Joe Esposito both enjoyed having Tuesday around during the period both before and after Wild in the Country. However, she apparently rubbed Lamar Fike the wrong way. "Tuesday Weld came over to the house a few times on Wild in the Country," he recalls. "She was only seventeen then, and very smart, but she had an edge to her. I never got good vibrations from her, and neither did anybody else in the group, except Alan."
• "She was unbelievably sweet to us"
Alan Fortas, another one of Elvis' boys, literally gushed about Tuesday in his 1992 book, Elvis—From Memphis to Hollywood.
"I kept my crush on Tuesday Weld all the way through 'Wild in the Country,'" he wrote. "It wasn't hard to do, because she was unbelievably sweet to us, sending cases of local vintage wine over to our motel.
"Tuesday was probably one of the nicest people we ever worked with. I'd put her at the top, right along with Ann-Margaret and Ursula Andress. In a lot of ways, Tuesday was like Elvis. She'd led a special life. She'd never had a little-girl life, because she'd been an actress from almost the day she was born. We got pretty close to Tuesday, and in fact, she was one of the few people in Hollywood who could come over to Elvis' house anytime she wanted, even after she and Elvis stopped dating. Their romance never was a particularly big one. They … dated only occasionally. Mostly they were just good friends."
Alan claimed he and Tuesday developed a special relationship because of a dog. He explained:
"During the movie, Tuesday used to bring her big white German Shepherd, Wolf, over to the house … I was pretty crazy about the dog, and because of that, Tuesday and I had a kind of bond. Of course, I'd had that big crush on her, but now I valued her in a different way. Sometimes she'd come over and not even see Elvis. We'd just sit in my room and talk." To Alan's surprise, one day Tuesday gave him as a present a white German Shepherd puppy that cost her about $500.
Eventually, like most women in Elvis' life, Tuesday Weld faded from the scene. Closing in on her twentieth birthday in 1963, she told Life magazine she wanted to find the childhood she never had. "I'd rather be a child now than when I was one," she announced. Her dream?—"a big house where I can put a bumper car system in the basement." In 1965 she married the first of her three husbands.
• Tuesday checked into Heartbreak Hotel
Over the next four decades, she continued to appear in a diverse assortment of films, including an Elvis-themed vehicle in 1988. In Heartbreak Hotel she played an alcoholic mother who had been a big Elvis fan since the 1950s. Her son kidnaps Elvis, who later helps Tuesday's character through some troubling times. The son convinces Elvis to give up his phony Las Vegas image and return to his roots. According to All Movie Guide's Dan Pavlides, "This implausible but entertaining feature was given the go-ahead by the Presley estate and contains none of the legendary excesses that led to the king's death in 1977."
In the decades since their lives intersected, she has rarely spoken publicly of her relationship with Elvis Presley. The following comments concerning Elvis are often attributed to her.

"He walked into a room and everything stopped. Elvis was just so physically beautiful that even if he didn't have any talent … just his face, just his presence. And he was funny, charming, and complicated, but he didn't wear it on his sleeve. You didn't see that he was complicated. You saw great needs." — Alan Hanson | © October 2010
Go to Elvis in Hollywood

Go to Home Page