A Review of Erik Lorentzen's …
"Ultimate Elvis"


The Complete & Definitive Recording Sessions
On a cold Memphis morning, "hundreds of fans from around the world" gathered on Graceland's front lawn for a ceremony marking Elvis Presley's 80th birthday on January 8. In his wire service report on the event, John Beifuss included comments from three Elvis fans who had travelled great distances to watch Priscilla Presley cut an eight-tiered birthday cake. One woman came from Pennsylvania, but the other two crossed an ocean to be there. One came from Germany and the other from The Netherlands.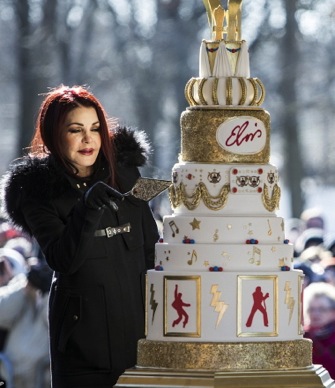 The presence of Europeans in the crowd was not surprising. For many years now, it has been obvious that Elvis' most devoted enthusiasts reside "across the pond." Certainly American fans outnumber those in Europe, but Presley's homegrown followers are not nearly as fervent and dedicated as those residing in the countries of northern Europe.
The only Elvis magazine to which I currently subscribe, "Elvis: The Man and His Music," is published in the United Kingdom. And with the demise of "Elvis International" a couple of years ago, I'm aware of no quality Elvis magazine that is currently being published regularly in the United States.
While Trevor Cajiao does a great job with "Elvis: The Man and His Music," the most prolific producer of impressive Presley publications these days is Norway's Erik Lorentzen. An Elvis fan since 1956, Lorentzen co-founded the Norwegian Elvis Presley Fan Club in 1964. Presley's 1972 concert at Madison Square Garden was the first of many Elvis shows Lorentzen attended. He even met Elvis twice backstage in 1973 and 1975.
These days Lorentzen oversees a Presley publishing house under the brand "The Elvis Files." Through his website, he markets "The Elvis Files Magazine," published quarterly, and an impressive lineup of Presley books, including volumes on Elvis in Jailhouse Rock, King Creole, Hawaii, and Las Vegas. Starting in 2011, Lorentzen began the formidable project of publishing a seven-volume compilation covering Presley's entire career. The first six books have now been published, each with over 500 pages seemingly covering every major and minor event in Elvis' life using hundreds of photos and articles.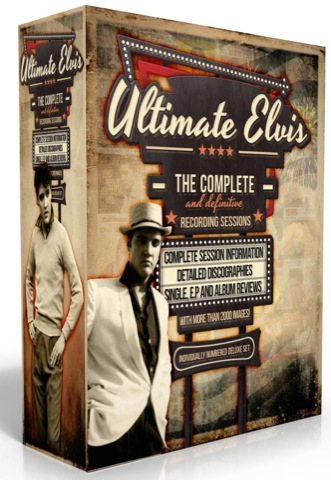 As impressive as are The Elvis Files books, however, Lorentzen has gone to another level with his latest publishing effort, "Ultimate Elvis—The Complete and Definitive Recording Sessions." After receiving the three-volume set in the mail late last month, it took me two weeks to go through the books, and even that was only enough time to scratch the surface.
Erik Lortentzen is listed on the title page as the work's executive editor and photo editor, followed by the credit line: "Researched, compiled, written and edited by Keith Flynn, Gordon Minto and Piers Beagley." More on their contributions to the content of "Ultimate Elvis" in a moment, but first a quick visual tour of the set.
Its initial impression is one of enormity in appearance and content. The three books in an accompanying slipcase weigh over 23 pounds, with each volume coming in at 7½ pounds. Each book is a large 9¾ by 11¾ inches in size, and collectively the set runs a whopping 1,712 pages. Several hundred of those pages are filled with full-page photos of Elvis. The publisher claims there are "approximately 1,500" photos of all sizes in the books.
The photos alone might be enough to persuade some Elvis fans to obtain "Ultimate Elvis," but they are not the main focus of the set. That is stated in the work's introduction as, "Elvis' recording sessions (including live work) and where the material listed and discussed first appeared officially and can be readily accessed by collectors." The research and compilation of all Presley recordings in all settings, including studio sessions, TV appearances, concerts, and informal settings, is the work of Keith Flynn. Extensive data is provided in all cases, including dates, locations, musicians, various "takes," and official release information. Informative notes, which accompany the listings to provide context and background, make for interesting reading.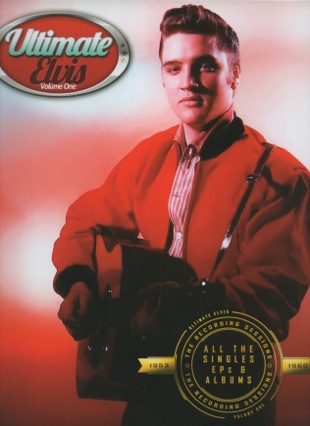 For those Elvis fans not particularly interested in all the recording data, there is a ton of interesting articles to read in "Ultimate Elvis." The bulk of writing is the work of Piers Beagley and Gordon Minto.
Beagley, whose byline appears over 34 articles, was given the assignment of reviewing all of Elvis's movie soundtrack releases. Not content to give basic information about Presley's movie songs, Beagley provides strong personal opinions about many of them. His views often reach the far ends of the approval spectrum. For example, of "How Would You Like to Be" from the It Happened at the World's Fair soundtrack, Beagley laments, "With songs like this, one really wanted Elvis to scream, 'Why am I singing this crap?'" But when Beagley likes a song, such as "In the Ghetto," he gushes with praise: " … in the end the song is carried by the heroic vocal with Elvis injecting drama, pain, poignancy and hope in a way that nobody else ever could." I found myself often wanting to argue with Beagley's strident opinions, which made the reading of his reviews all the more engaging.
Gordon Minto contributed about 25 articles, most of them reviews of Elvis' non-soundtrack music and albums in the fifties and sixties. He is not shy, either, about expressing his opinions. His conversational style, however, is less confrontational than Beagley's. In discussing Elvis' music, though, Minto often engages in speculation concerning Elvis' work in the studio. Words such as "possibly" and "perhaps," troublesome terms to an Elvis historian like me, often appear in Minto's articles about Presley's recordings. But, as with Beagley's in-your-face style, Minto's theories contribute to the enjoyment of reading his articles.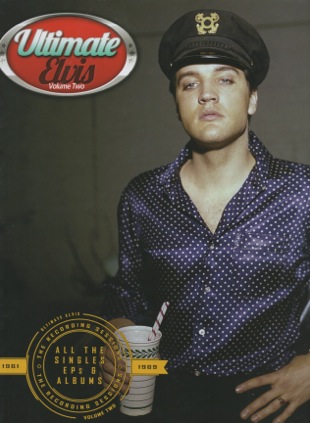 Though the most prominent, Minto's and Beagley's voices are not the only ones heard in "Ultimate Elvis." Some of my past blogs are also included in "Ultimate Elvis." My historical approach to Elvis' music adds a third point of view in the set. And there are others, as well. Five of James V. Roy's excellent articles about various studios in which Elvis recorded over the years are included in "Ultimate Elvis." Also, brief reviews of Elvis' single record releases in the seventies are gathered from a variety of sources, including magazines like "Elvis Monthly," "Strictly Elvis," "Rolling Stone," and "Cashbox;" and websites like elvisnews.com and elvisinfonet.com.
Lorentsen's decision to feature a variety of perspectives on Elvis's music in "Ultimate Elvis" was a wise one. Relying on just one or two voices throughout a work this lengthy surely would have become tedious eventually.
In addition to the photos, the data on recordings, and the massive amount of text, there are other interesting elements to be found in "Ultimate Elvis." Cover photos of original U.S. Presley sheet music from the '50s, '60s, and '70s are included, as are transcribed interviews with Scotty Moore, D.J. Fontana, Charlie Hodge, James Burton, Ronnie Tutt, Glen D. Hardin, and Myrna Smith and Estelle Brown of the Sweet Inspirations.
Two comprehensive lists at the end of Volume 3 close out "Ultimate Elvis." First is a 44-page "Complete Official Release Discography," listing all of Presley's U.S. record releases chronologically from July 1954 through December 2014. Product title, label, record number, and release date are provided for all entries. Following that comes an 18-page "A- Z Song Index," with title, author, type (studio, live, rehearsal, home recording, etc.) for every song that Elvis recorded.
As to be expected with a massive project like "Ultimate Elvis," some errors slipped past the editors. There are some typos here and there. While my byline appears over 17 articles in "Ultimate Elvis," I actually wrote only 16 of them. Unfortunately for the real writer, I was wrongly credited as being the author of a lengthy article about the legendary Million Dollar Quartet session at Sun Records in December 1956.
While it's clearly finicky to nit-pick such an extraordinary endeavor as "Ultimate Elvis," there are several additions that would have increased the project's "Wow Factor." First, there are a dozen or so articles for which no author is listed. Especially for those written in the first person, the reader deserves to know who "I" is.
The inconsistency in using captions is also a bit frustrating to self-proclaimed Elvis historians like me. For Elvis portraits and publicity shots, no caption is needed, but when other people appear prominently with him in the scene, every effort should be made to identify them, as well as where and when the photo was taken. For many such photos in "Ultimate Elvis," that was done, but for many others it was not.
Finally, a set of books as nice as this one deserves to be housed in a sturdier slipcase. The flimsy cardboard case provided is not up to supporting 23 pounds of reference books, which will probably be consulted over and over again through the years. With the cost of "Ultimate Elvis" being as high as it is, adding $20 or so for a nice, durable slipcase wouldn't have hurt sales.
But, really, these are only minor criticisms of what is certainly the most impressive study ever done of Elvis Presley's music. I highly recommend "Ultimate Elvis" to any serious fan willing and able to clear the two barriers needed to obtain it. The first hurdle is availability. Only 2,000 copies of "Ultimate Elvis" were printed, and when they're gone, it's doubtful it will be reprinted.
How long they last will be a factor of the second hurdle—price. These books are not cheap, and, as far as I can tell, the set can only be purchased through Erik Lorentzen's "Elvis Files" website (see below) or through one of his retail agents in Europe.
A bit of good news is that the euro is currently valued at an all-time low against the U.S. dollar. As I write this on January 14, 2015, the "Ultimate Elvis" set is priced on the "Elvis Files" website at 189 euros plus shipping costs of 60 euros anywhere in the world. At today's exchange rate, that converts to a total of $294. If you're a serious Elvis fan, you might want to consider cashing in all those gift cards you got for Christmas and put the proceeds toward a copy of "Ultimate Elvis – The Complete and Definitive Recording Sessions." It's well worth it. — Alan Hanson | © January 2015
Comment on This Review