Alfred Wertheimer's Elvis Photos   Still Astound After Half a Century
Growing up an Elvis Presley fan, I was familiar with some of Alfred Wertheimer's photographs. Cover sleeves of some Presley records, most notably that of the "Hound Dog"/"Don't Be Cruel" 45 single, featured Wertheimer's images. More of his work appeared through the sixties and seventies in fan magazines and on post cards and posters. In wasn't until after Elvis' death in 1977, though, that I first took note of the name "Wertheimer" and connected it with many of the classic black and white Elvis photos from 1956.
Amid the flood of publications that appeared on bookracks in the late seventies following Presley's passing was Wertheimer's Elvis '56: In the Beginning. Published in 1979, the volume contained 93 images that the photographer had taken of Elvis during his breakout year. Most of them were being published for the first time in Elvis' 56. In his introduction, Wertheimer revealed that his collection of an astounding 3,800 negatives of Elvis had remained undisturbed in boxes in his cellar for over 20 years:
"Not until I had the opportunity to see all the publications churned out after his death did I suspect how unique my photographs were. Most of the pictures that had been published were public photos—Elvis onstage, at an airport, leaving a car, or publicity poses produced by Hollywood and the record business. There seemed to be very little that was natural and personal."
Wertheimer's Elvis photos tell a story in themselves, of course; that's why they remain so compelling all these years later. Also fascinating, however, is the photographer's accompanying narrative in Elvis '56. It not only reveals where and when the photos were taken, but also explains how Wertheimer and Presley's informal relationship helped create a relaxed and trusting atmosphere for both photographer and subject.
For the record, in March 1956 RCA commissioned Wertheimer, then a 27-year-old freelance photographer, to shoot Presley's fifth appearance on the Dorsey Brothers' network TV show. Three months later RCA again gave Wertheimer the job of recording on film Elvis' appearance on the "Steve Allen Show." On his own initiative, Wertheimer travelled to Richmond the night before the Allen show to get some shots during Elvis' concert there. On July 2, the day after the Allen program, Wertheimer set up his gear at the legendary RCA recording session that produced "Hound Dog" and "Don't Be Cruel." After Wertheimer spent July 4 in Memphis photographing Elvis at home and in concert that night at Russwood Park, his extraordinary access to Elvis in 1956 came to an end.
Between those public events, Wertheimer was allowed to take photos of Elvis in private settings—dressing rooms, restaurants, hotel rooms, train cars, restrooms, and Elvis' home in Memphis. These candid and private photos have forever elevated the Wertheimer collection above the work of all other Presley photographers. In Elvis '56, Wertheimer revealed that RCA publicity executive Anne Fulchino told him that the label's publicity files for Presley were handed over to Colonel Parker in late 1956. "From that point on," Wertheimer noted, "the Colonel controlled all media access to the private Elvis." Precious little of such access was ever allowed again as the walls went up around Presley's private life for the rest of his career.
From a technical point of view, many of Wertheimer's Presley photos are works of art. His paintbrushes were two small 35-millimeter Nikon S-2 Rangefinder cameras, loaded with black and white film. "I was never encouraged to use color film to photograph Elvis," Wertheimer explained. "People at RCA didn't think he would last for more than six months. Shooting color was expensive; black white was all that was necessary." Most people then viewed Elvis in black and white anyway—on television and later in three of his four movies in the fifties. Today Wertheimer's stark black and white images suggest the simplicity of the mid-'50s and the innocence of Presley, who had not yet been crowned the "King of Rock 'n' roll."
Wertheimer worked almost exclusively with "available light" in shooting Elvis. "Flashbulbs had to be avoided," he noted. "The darker your environment, the more people let it all hang out." Under such conditions, the photographer had to be creative in finding angles to make use of ambient light. At the Dorsey show, he shot up at Elvis in the spotlight and let fading rays illuminate the shadowy figures of Scotty and Bill in the background. At Russwood Park he worked from the back of the stage, framing Elvis and the crowd between the musicians working behind him. At times slow shutter speeds and a steady hand surely were required to get enough light through the aperture to form an image on the film.
Along with technical skills, Wertheimer possessed the social skills needed to put his subjects at ease. Before the start of Presley's recording session on July 2, Wertheimer made a point of introducing himself to everyone in the studio. "My introduction was more than professional courtesy," he explained. "In order for me to shoot freely I had to get people accustomed to my presence."
Of course, getting Elvis Presley accustomed to his presence was critically important, and this he found very easy to do. "He was the perfect subject for a photographer," Wertheimer explained, "unafraid and uncaring, oblivious to the invasion of my camera." Still, he didn't presume to be Presley's constant shadow, and carefully picked his opportunities to enter Elvis' personal space. He declared, "I wasn't looking for an opportunity to probe. If I asked the wrong question I might lose him. I wasn't a reporter, I was a photographer and tagging along was just fine with me. He didn't mind at all."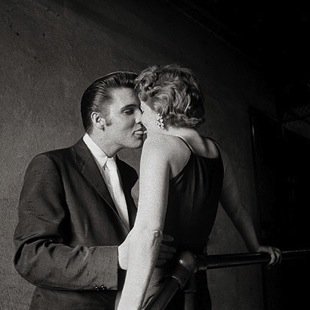 In fact, Elvis didn't seem to mind Wertheimer taking pictures of him practically anywhere. "Eating is an experience people usually prefer to enjoy without the intrusion of a photographer, but Elvis didn't seem to care," he revealed. The same went for Presley's bathroom mirror routine in the Warwick Hotel prior to the "Steve Allen Show."
The most remarkable example of Elvis seemingly being unaware of Wertheimer's presence occurred backstage at the Mosque Theatre in Richmond. Descending an iron staircase from the restroom above, Wertheimer unexpectedly came upon a couple sharing a private moment.
"Halfway down I came to an abrupt stop, for at the edge of the stairwell leading to the dressing rooms stood Elvis and the blonde in the black chemise … I was busy taking pictures, moving from the shadows into the light until I was so close I could touch them. Elvis knew I was there but couldn't have cared less."
Wertheimer kept moving as he worked his camera, soon leaving the two to continue their rendezvous in private. He came away, though, with one of the most well known of personal Presley images, one simply called, "The Kiss."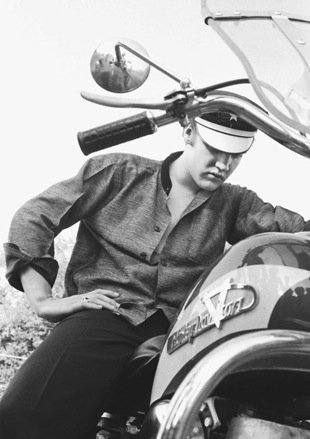 Wertheimer's tempered assertiveness also proved productive on July 4, 1956, when he spent several hours at the Presley home on Audubon Drive in Memphis. When Elvis decided to take his motorcycle out for a spin, Wertheimer asked if he could ride along. The low angle shot taken that morning of Elvis on his Harley is one of the most published of Wertheimer's Presley images. Later that day, he even borrowed a swimming suit from Mrs. Presley and waded into the family swimming pool. "Everybody carried on like I was just another relative taking snapshots," he recalled.
In Elvis '56 Alfred Wertheimer described his relationship with Elvis in 1956: "To me he was an enigma. I was close and yet I can't pretend to say I knew him. I was just his shadow for a short period of time at the beginning of his career. I was not a friend, really; I was a reporter whose pen was a camera."
Wertheimer's collection of Elvis photos from those few months in 1956 is a gift that just keeps on giving. According to the publisher of Alfred Wertheimer: Elvis and the Birth of Rock and Roll, the most recent compendium of Wertheimer's Elvis images, about half of the photos in the 400-page volume were being published for the first time. One wonders how many of the photographer's over 3,000 Presley photos are still waiting to be revealed in future publications. However many it may be, Elvis fans will never tire of seeing the recorded evidence of what happened when the lives of Elvis Presley and Alfred Wertheimer intersected during a few brief months in 1956. — Alan Hanson | © September 2013