The King of Rock 'n' Roll
Meets The King of the Jungle
At the age of 13 in 1962, I discovered two American icons who became my constant companions for the next 50 years—Elvis Presley and Tarzan of the Apes. During my teen years, when I wasn't listening to Elvis' music and watching his movies, I was reading Tarzan books and watching his movies. Although one was a real person, the other a fictional character, I've drawn equal measures of enjoyment from both through the years.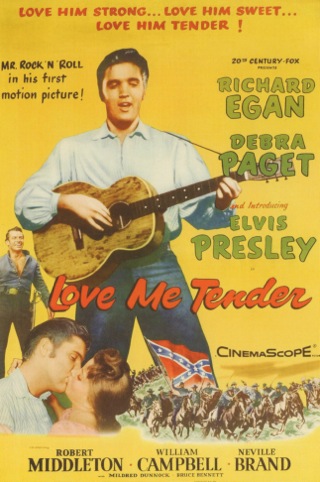 Elvis made 31 movies between 1956 and 1969. Over 50 Tarzan movies have been made, starting in the silent era in 1918 and continuing up to this year's surprisingly successful The Legend of Tarzan. On the surface, it seems ridiculous to suggest these two film genres have anything in common, but Scott Tracy Griffin's new book, Tarzan on Film, has helped me realize that there are some connections between Elvis and Tarzan movies.
First, there are the studios that made the films. Elvis Presley is most associated with Paramount Pictures. Included among the nine movies he made for producer Hal Wallis at Paramount are his best film, King Creole (1958), and his biggest grossing film, Blue Hawaii (1961). During the same years Elvis was working in Hollywood, Paramount also released three Tarzan films—Tarzan's Greatest Adventure (1959), Tarzan and the Green River (1967), and Tarzan and the Jungle Boy (1968).
While Presley is most known as a Paramount actor, he actually made more films, 12 of them, plus 2 documentaries, for Metro-Goldwyn-Mayer. Although most were formula musical comedies, MGM did produce two of the singer's best known films, 1957's Jailhouse Rock and 1964's Viva Las Vegas. Griffin's book reveals that MGM produced nearly an equal number of Tarzan films, 11 total, starting with the Johnny Weissmuller classic Tarzan the Ape Man in 1932 and running through Bo Derek's Tarzan, the Ape Man in 1981.
Two other studios also produced both Elvis and Tarzan films. First, 20th Century Fox released Tarzan's Revenge, staring Glenn Morris, in 1938 when Elvis Presley was only three years old. In 1956 Fox produced the 21-year-old rock 'n' roll phenom's first film, Love Me Tender. All of the marketing for that movie focused on Presley's presence, but he actually had a supporting role to lead actors Richard Eagen and Debra Paget. Another member of the supporting cast of Love Me Tender also played the lead role in a Tarzan film. More about him in a moment.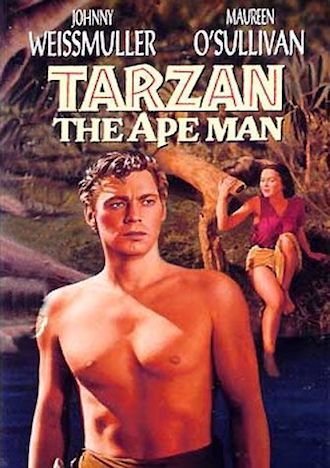 The other Hollywood studio to produce both a Tarzan and an Elvis movie was National General. National General Pictures was a production company active from 1967 to 1973. In 1969 it released the western Charro!, unique among all of Presley's films, in that it was the only one of his 31 movies in which Elvis did not burst into song. National General also released two Tarzan films in 1970—Tarzan's Deadly Silence and Tarzan's Jungle Rebellion.
Tarzan and Elvis Presley films also are connected in the career of Richard Thorpe, a long-time director of MGM films. Thorpe directed four Weissmuller Tarzan features—Tarzan Escapes (1936), Tarzan Finds a Son! (1939), Tarzan's Secret Treasure (1941), and Tarzan's New York Adventure (1942). Most of Thorpe's films were adventures and westerns, but in 1957 he stepped out of his comfort zone to direct Elvis Presley in Jailhouse Rock. In 1963 he worked with a tamer Elvis in Fun in Acapulco. That was one of Thorpe's last films. He only directed four more before retiring in 1967. 
• One Tarzan appeared in Love Me Tender
Of all the actors who played Tarzan over the years, only one also had a role in an Elvis Presley movie—Herman Brix (aka Bruce Bennett). After playing the ape-man in The New Adventures of Tarzan in 1935 and Tarzan and the Green Goddess in 1938, Brix changed his name to Bruce Bennett and worked as a character actor in dozens of feature films and TV shows in the '40s, '50s, and '60s. In 1956 he was cast in Love Me Tender as Major Kincaid, a Union officer tasked at the end of the Civil War with tracking down a band of former Confederate soldiers, including the brothers of Presley's character.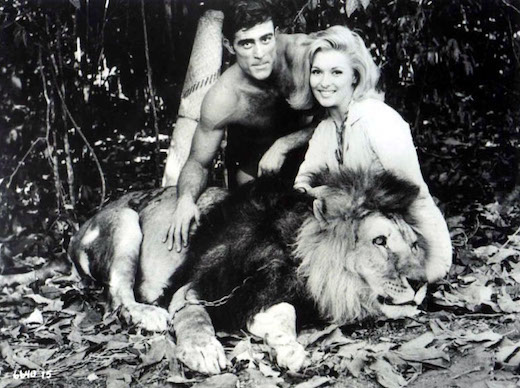 No actress who played Jane in a Tarzan movie ever appeared in a Presley film, but one non-Jane female lead in a Tarzan movie did. As Sophie Renault, Nancy Kovak played opposite Mike Henry in 1966's Tarzan and the Valley of Gold (above). Earlier that same year, Kovack played the role of Nellie Bly in the Presley movie Frankie and Johnny (below). In Kovack's career, her roles in the Tarzan and Presley films are usually considered footnotes. She's better known for her appearances on the Star Trek and Batman TV shows in the sixties.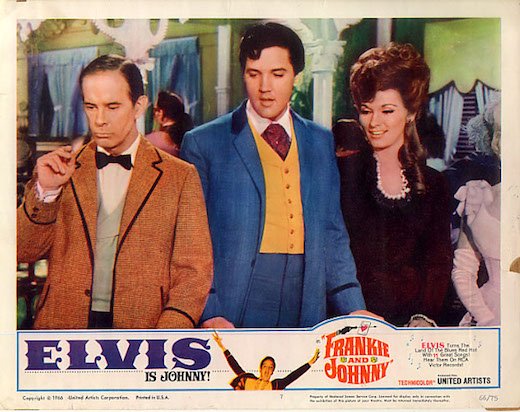 Another actor who appeared in both Tarzan and Presley movies was Cesare Danova. The Italian-American actor played the role of Harry Holt in MGM's 1959 feature Tarzan, the Ape-Man. According to Griffin, Danova "brought his wife, British actress Patricia Matthews, to help him master the dialogue" in the film. Five years later, Danova would help Elvis Presley master his accent in the lyrics of "Santa Lucia," one of a half dozen Presley songs included in the soundtrack for MGM's Viva Las Vegas. In the film, Danova played Count Elmo Mancini, Elvis' rival in the Las Vegas Grand Prix and for the affections of Ann-Margret. Elvis' character, Lucky Jackson, won both competitions when the count apparently died in a fiery car crash on screen near the end of the movie. Surprisingly, though, the count, apparently in perfect health, reappeared as a guest at Elvis and Ann's wedding in the film's final scene.
• The James Bond-Elvis Presley connection
Two other actors, Sean Connery and Ursula Andress, combine to form another connection between Tarzan and Elvis movies. In 1959, Connery was already a known actor when he played the part of O'Bannion, one in a quartet of villains, in Tarzan Greatest Adventure, but he wouldn't become a world-wide star until three years later when he landed the role of 007 in Dr. No, the first James Bond film. Ursula Andress, on the other hand, was an unknown in major films until she played the first "Bond girl," Honey Rider, in Dr. No. 
Her exposure in that 1962 film landed Andress the role of leading lady opposite Elvis Presley in his 1963 film, Fun in Acapulco. In the Presley film, she played Margarita Dauphine, the social director in an Acapulco resort where Presley's character doubled as a singer and a lifeguard
The Connery-Andress-Presley link, in turn, leads to another connection between the Tarzan and Presley films—the locale of Acapulco. Location shooting for a couple of Tarzan films took place in and around the Mexican resort city. For 1948's Tarzan and the Mermaids, locations included the famous La Quebrada Cliffs used by cliff-diving locals. In 1966, Tarzan and the Valley of Gold also used locations around Acapulco. A final Tarzan connection with Acapulco is that Johnny Weissmuller's grave is there. Late in life he moved to Acapulco, where he died on January 20, 1984.
Presley's 1963 film, Fun in Acapulco, is set entirely in the Mexican resort city. Elvis is seen arriving in the city's harbor, visiting its tourist sites, riding a bicycle through its streets, performing in its nightclubs, even diving from the La Quebrada Cliffs. It's all an allusion, though, as Elvis was never in in Acapulco. All of his scenes for the film were shot at Paramount's Hollywood studios. Producer Hal Wallis had footage shot in Acapulco to be used as backdrops to make it appear Presley had actually been in Mexico. 
• Location shooting in Florida
One location in Florida was used by producers of several Tarzan movies and one Elvis film. For 1939's Tarzan Finds a Son, "MGM executives decided a location shoot would enhance the storyline," Griffin explained in his book. "Florida was chosen because the clear water in Crystal Springs and Silver Springs, near Ocala, was perfect for underwater filming." Two years later, the crew of Tarzan's Secret Treasure shot on location in Wakulla Springs.
On July 6, 1961, Elvis Presley arrived by chartered bus at the Port Paradise Hotel in Crystal River, Florida, for location shooting for his ninth film, Follow That Dream. Principal photography, which took place at several locales in the area, including in a bank in Ocala, lasted five weeks. In appreciation for the cooperation of the officials and people in North Central Florida, the world premiere of Follow That Dream was held in Ocala on April 11, 1962.
• Coming to a theater near you … Tarzan Presley
As a fan of both Elvis and Tarzan movies, I'd love to see Nigel Cox's 2004 novel Tarzan Presley adapted for the big screen. The novel merges the characters of Elvis Presley and Tarzan of the Apes into one rock 'n' rolling, vine-swingin' dude. A blurb on the book's back cover reveals the story's premise.
"Through its hypnotic fusing of two mythic lives, Tarzan and Elvis, this novel takes on some of the touching fables of our culture. In the guise of a joyous adventure story, it slyly poses questions about genius, fame, failure and love. Raised by gorillas in the wild jungles of New Zealand, scarred in battles with vicious giant weta, seduced by a beautiful young scientist, discovered by Memphis record producer Sam Phillips and adored by millions—the dirt-to-dreams life story of Tarzan Presley is as legendary as his 30 number one hits."
If you think I must be kidding about wanting this novel made into a movie—you're right! But it's a real book. Published by Victoria University Press in New Zealand, the book was squashed in 2004 by the "Tarzan" copyright owner, Edgar Rice Burroughs, Inc. The publisher put it out again in 2011 under a new title, Jungle Rock Blues. — Alan Hanson | © November 2016