Girls! Girls! Girls!


Behind the Scenes of Elvis Presley's 1962 Movie

On March 26, 1962, Elvis Presley reported to Paramount Studios in Hollywood. He was there to fulfill his obligation in a January 1961 contract negotiated by his manager Tom Parker and movie producer Hal Wallis. The five-picture deal called for Elvis to receive $175,000 for each of the first three pictures and $200,000 for each of the final two. Blue Hawaii was the first film under the contract, and Elvis was about to begin work on the second one.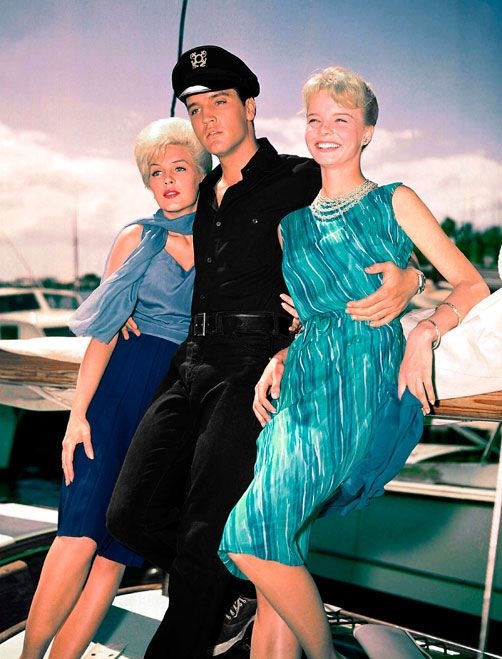 Columnist Louella Parsons was the first member of the Hollywood press to reveal details about Elvis' new movie. The title would be Gumbo-Ya-Ya, a Creole expression meaning, "Everybody talks at once," used in connection with shrimp boats in Louisiana. Edward Anhalt was writing the screen play from an original story by Allen Weiss. Filming was scheduled to begin in March.
More details came out of Paramount two weeks later. Elvis would report to producer Hal Wallis in the spring for work on Gumbo Ya-Ya, a romantic comedy with music, to be filmed in New Orleans and nearby Gulf Coast locations. The picture would have Elvis playing a fishing boat skipper with a yen for a craft of his own. According to Paramount, the story would involve "high adventure and any number of pretty girls."
Just three weeks before Elvis showed up on the Paramount lot, word had gotten out in the press that both the setting and the title of the new movie had been changed. On March 5, 1962, the Honolulu Star-Bulletin reported that, "another Elvis Presley movie, yet unnamed, will be made in Hawaii beginning March 28." Then in her March 19 column, Louella Parsons revealed the title of Elvis' new movie was now Girls! Girls! Girls!
• Cast and crew come together
That spring, Hal Wallis had been busy putting together a cast and technical crew for his new Presley movie. Since Elvis and director Norman Taurog had worked well together in Blue Hawaii, Wallis put Taurog at the helm of Girls! Girls Girls! On March 9, 1962, the director arrived in Honolulu to do "advance work" for the film. One particular prop that Taurog needed before filming started proved elusive. In his "Sport Fishing" column in the Star-Bulletin, Martyn Chase explained:
"The producers of Elvis Presley's latest picture are getting anxious about it. The movie people badly need a dead Marlin weighing between 150 and 200 pounds for use in the filming of Girls! Girls! Girls!, most of which will be shot around the Ala Wai Yacht Harbor. Seems they plan a scene with Elvis battling a marlin. The film makers can splice that into the film without much difficulty, but they also want shots of Elvis hauling the fish onto the dock … Can anybody help?"
Meanwhile, Hal Wallis was signing up Presley's supporting cast. First, he needed first and second leading ladies and a second male lead backing up Elvis. The latter came easily. Jeremy Slate appeared briefly with Elvis in Wallis' 1960 film, G.I. Blues. Wallis brought Slate on board with a bigger part as Elvis foil in Girls! Girls! Girls!
Wallis then brought in a well-known 23-year-old actress as the film's second female lead. A dateline HOLLYWOOD article in early February 1962 announced the director's choice.
"Blonde, lissome Stella Stevens goes to Producer Hal Wallis on loan-out from Paramount to play one of Elvis Presley's two leading ladies in Girls! Girls! Girls!, a romantic comedy drama with music. Miss Stevens will play a nitery singer with a torch for Elvis, a young man who spends his days skippering a fishing boat and his evenings as a night club entertainer. In addition, he finds time to romance not one but two girls, for Stella will have a rival — still to be cast — for Elvis' attentions."
According to an article in the Chicago Tribune, Wallis may have considered bringing back a young actress for a third time as Elvis' leading lady. According to the article, Dolores Hart could have had the job if she wanted it. "Hal Wallis wants her to play opposite Elvis Presley again and she's tempted, for it's a wonderful part, 'But I've done two with Elvis and I'm not sure it's wise' Miss Hart explained. If Hal insists, she'll do it. She likes her boss."
Instead, though, Wallis decided to match Elvis with another beginning actress as he had with Hart in Loving You in 1957. Louella Parsons revealed the director's leading lady pick in her March 19 column.
"Nineteen-year-old Laurel Goodwin — blond, hazel-eyed and completely unknown— is here to play in Elvis Presley's next movie, 'Girls! Girls! Girls!' She said she hadn't met Elvis yet, and she hadn't talked to Hal Wallis, her new boss. 'It all started last year,' Laurel said. 'I was appearing in stock at Redding, Cal., near the location of Paramount's 'Hell Is for Heroes.' Marty Racking flew from Hollywood to see me and signed me."
Later she told columnist Vernon Scott: "I arrived on Thursday and by Friday I'd signed a seven year contract. Then I sat around for eight months until this Presley picture started."
• Supporting Cast Members Brought Aboard …
Eventually Wallis brought in a variety of actors to complete the supporting cast. Guy Lee, just starting what would be a decade-long career as a TV character actor, was signed to play Elvis' pal and sailing mate, Chen Yung. Roles as Chen's parents went to Benson Fong and Beulah Quo. In the film, the Yung family sheltered Elvis and Laurel during a stormy night at Paradise Cove.
In late April 1962, an article out of Hollywood mentioned Miss Quo's previous career before turning to acting.
"A native of Stockton, Calif., Miss Quo attended College of the Pacific, the University of California and University of Chicago before becoming a faculty member of Ginling College, Nanking, China. When the Communists were able to take over there, she was evacuated with her month-old son aboard a U.S. destroyer."
Others in the supporting cast included Ken Becker, who would play an unruly drunk who heckles Elvis. (In previous Presley films, Loving You and Blue Hawaii, Becker lost fights he picked with Elvis' characters.) Broadway and continental actress Lily Valenty signed on to play the part of Mama Stavros and Frank Puglia, who played ethnic roles during a career of over 150 films, would be Papa Stavros, owner of the boat Elvis had his heart set on buying. A November press release named two other cast members.
"The picture also marks the screen debut of Ginny Tiu, 8-year-old Chinese girl, who is already a TV, stage and recording star, and her sister, Elizabeth, age four, a pair of tiny performers, who dance and attempt to steal scenes with Lilliputian glee."
 • Elvis Flies to Honolulu
When Elvis arrived in Hollywood on March 26, 1962, he spent the first three days recording 15 soundtrack songs at Radio Recorders studio in Los Angeles. Then on April 7, he boarded a flight to Honolulu, where principal photography was scheduled to begin on the island of Oahu two days later.
Honolulu and studio officials had a plan in place to control the anticipated crowds at the airport when Elvis arrived. Although the studio carefully planned events around Elvis' arrival in Honolulu, Presley's attraction in the islands taxed the security forces on hand. The security plan and Presley's schedule was shared with the public in the Honolulu Advertiser and the Honolulu Star-Bulletin two days before Elvis' arrival.
"Presley is scheduled to step off Pan American airways Flight 817 at 12:20 p.m. Saturday and into an Inter-Island Air Service helicopter which will lift him to Duke Kahanamoku Beach. Thus the airport apparently will avoid the crush of screaming teenagers who descended on it last year to greet Presley when he arrived for shooting of the movie "Blue Hawaii." At Kahanamoku Beach heliport Presley will be met by his manager Tom Parker, and escorted along a roped off path to the Hilton Hawaiian Village. Shooting for the new movie is expected to start Monday. Location work will be done both on Oahu and the Big Island. Photographs of Elvis will be sold Saturday for the benefit of crippled children. Parker said 600 photos of Elvis will be sold at a table by the Hawaiian Village Lagoon for whatever the buyers want to pay. Proceeds will go to the Easter Seal campaign of the Oahu Society for Crippled Children and Adults." (HonoluluAdvertiser)
"Because of his star status with starry-eyed members of the school book set, Elvis Presley's handlers will be doing their best to keep the masses away. For instance, a member of the Village's handcuff brigade will be stationed round the clock at the elevator exit on his floor. If some determined fan tried to breeze up to Presley's room — No. 1405 — guard will put an immediate end to the pilgrimage. And, oh my, you should hear tell of the plans for his reception on Saturday. Immediately after exiting his aircraft Saturday Presley will hop into a helicopter (chartered by K-POI) then windmill to landing pad near the Village grounds. A frilly floral banner saying 'Welcome' meets him there and a triumphal procession will then take the South's gift to young girlhood into the hotel itself. It is, of course, anticipated that quite a crowd will meet Presley upon his arrival at the village. So large a crowd, in fact, that one hotel official observed with obvious anxiety: 'Can you just see 5,000 kids here — tripping over chairs, falling into the garden pond, every last one of them tittering and giggling?'" (Honolulu Star Bulletin)
• Elvis walks the beach gauntlet
After the brief helicopter flight from the Honolulu airport to the Hilton Hawaiian Village heliport, Elvis faced an estimated crowd of 5,000 people on the beach outside the resort. An Advertiser writer reported what happened on his walk to the resort's front entrence.
"After he had been weighed down with leis at the 'copter pad, Presley, wearing a sailing cap, olive suit and swirl-patterned tie of gold and sliver began a 300-yard-long walk that would have daunted a man encased in armor. Thousands of screaming teenagers pressed in on the roped walkway, trying to reach through and around the five-man cordon of helmeted police."
Elvis reached out to touch many of the hands extended out from beyond the ropes. Most wanted merely to touch him, but a few were souvenir hunters. When he finally reached the end of gauntlet, Elvis was missing a ring, his watch, and a tie clasp. The watch and tie clasp could be replaced, but the diamond and sapphire ring was a special gift from a friend. Surprisingly, it came back to him several days later. An article in Star-Bulletin on April 12 explained how it happened.
"Barbara Mana, a 14-year-old ninth-grader at Kalakaua Intermediate School, met with Elvis yesterday between scenes at Ala Wai Harbor, where Elvis is on location. Barbara found the ring in her hand after a mob-scene handshake at the Hawaiian Village Hotel Saturday. She returned it to Joe Esposito, Elvis' bookkeeper the next day.
"When formally introduced to Elvis, she seemed spellbound by his soft Southern voice. 'Thanks for bringing the ring back,' he drawled in appreciation while showing her the fourth left finger on which he usually wears the ring. Between scenes at the helm of a powerboat, Elvis sat down and talked to Barbara. For a momento of the visit, he signed his autograph, 'To Barbara, Thanks for being honest.'"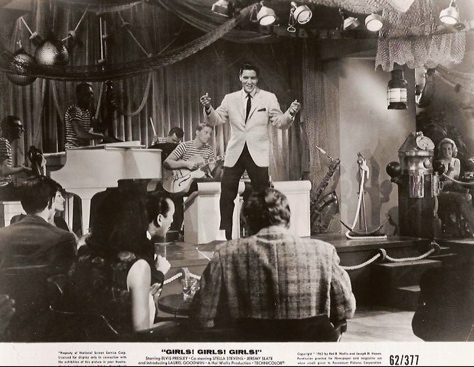 • Photography around Oahu
After settling in at the Hawaiian Village resort, Elvis reported to director Norman Taurog in Honolulu on April 9 for the start of principal photography on Girls! Girls! Girls! Jeremy Slate and Laurel Goodwin had been filming scenes on location off Oahu's coast  the previous week. Stella Stevens was scheduled to fly into Honolulu the following week. The company planned to finish its work in the islands by the end of the month before returning to Hollywood for the balance of filming at Paramount Studios.
Filming began in the sea off Honolulu. The difficulty of filming in those choppy waters was clearly evident in the final cut of Girls! Girls! Girls! Jeremy Slate later recalled how an unexpected wave left him with a cracked rib.
"One scene called for a close-up of a fight scene on a sailboat. The boat was rocking and was all wet. We had to time it like a couple of ballet dancers. Elvis was to come up and give me one in the gut, but the boat rolled at the wrong time. My timing was off, and when Elvis threw the uppercut instead of my head being there my chest was."
When the morning of Friday, April 13, dawned ominously dark, director Norman Taurog decided to invoke his good luck charm so the day's filming schedule wouldn't be disrupted for the first time by rain. It did rain, but only a little. Taurog hastened to assure Elvis and Stella Stevens that things weren't fully disrupted. Taurog's charm was a well-worn piece of marble, which was given to him by Mrs. Louis B. Mayer, whose late husband was MGM studio chief back in 1936 when Taurog was directing Boys Town.
• Filming moves to the Big Island
Running a few days behind schedule, Taurog's location crew flew to the island of Hawaii and set up headquarters at the King Kamehameha Hotel, Kailua-Kona. The scenes at Paradise Cove in the movie were shot at the picturesque fishing village of Milolii on the southern tip of Hawaii's Kona Coast. After visiting the remote village (population 74), Scenarist Edward Anhalt saw it as the perfect refuge for Presley when troubled in Girls! Girls! Girls! The only road to the tiny hamlet dropped 2,000 feet over five miles from Hawaii's Belt Highway to an isolated harbor below.
The school generator, which supplied the only electricity in Milolii, was inoperative when the Paramount crew arrived. The technicians for Girls! Girls! Girls! soon had the generator working. They also paved, for the first time, the village's half-mile main street to ensure that the camera trucks could move smoothly while filming. The 150-foot pier, along which Elvis is seen running in the movie, was also built by film workers. Additionally, they repaired and painted some of the outriggers.
Most important to Milolii's residents, though, were the jobs the production crew provided everyone in the village. The annual cash income there at the time averaged about $370 per family. Suddenly, everyone in the village, both adults and children, were earning $15 a day providing "background color." On the first day of filming in Milolii, all 18 students in the village school came down to the shore to see Elvis and watch how movies were made. During a break in filming, the group had a picture taken with Elvis.
• The cast and crew returns to Honolulu
After three days of shooting in Milolii, Elvis and the rest of cast, returned to Honolulu on April 27. This time it wasn't choppy waters that interfered with director Taurog's schedule. Directly above where the cast and crew were filming flew a steady stream of loud military airplanes involved in nuclear tests further out in the ocean. "I'm so homesick for the peace and quiet of the Hollywood Freeway I can't stand it," director Norman Taurog told columnist Dorothy Manners. "Just as soon as we get ready to shoot Elvis on a calm sea on a tuna boat — Zinnnnnng go those jets. And to make things more charming, some of our equipment can't be landed because of the shipping strike."
Soon, though, most of the scheduled Oahu scenes were "in the can." With just a few location scenes left to shoot, the cast flew back to Hollywood, where the bulk of the movie's scenes would be shot. On April 26, the Star-Bulletin reported, "Producer Hal Wallis flew to California last week after receiving word of the death of his wife, Louise Fazanda, famed character actress-comedienne."
• Scenes shot on the Paramount lot
When shooting resumed on the Paramount lot on May 1, 1962, some Hollywood columnists were allowed to watch and report on some scenes being filmed. Harold Heffernan was among those writers so honored. His column of June 16, 1962, was titled, "Stella and Elvis Finally Meet." Heffernan first set the mood for his readers.
"Stella Stevens and Elvis Presley … were playing a love scene across the smoky expanse of a nightclub floor … It's a crowded nightclub, the Pirate's Den, with a suitable nautical décor of sea shells, fish, nets, binnacle, ship's telegraph, and running lights. Stella, in figure-hugging sheath of pink beige silk and swirls of jet beads, commences an undulating dance. 'Never let me go,' she sings to a hypothetical lover, "Love me too much … what would I be without you …"
"'My world was overturned at the very start,' Stella continues to sing, her glance holding on the newcomer. This is love across the dance floor, at ten paces. 'All by bridges burned by my flaming heart. You'd never leave me, would you … never let me go.'
"The club patrons respond with a ripple of polite applause. They don't know — aren't supposed to know — the great love drama being played here. Then with a quick bow to the customers and a nod to the orchestra, Stella threads her way through the tables to where Elvis is sitting. It is an eager greeting, but the exchange turns out to be pretty darn dull by any Hollywood scripter's standards.
"'It's been a long time,' she says to him and says right back, quick like: 'It sure has.'
"'Cut!' says director Norman Taurog and the two newly-met principals go to Stella's dressing room — to discuss home-town Memphis."
• Was it really Stella's voice?
Stella Stevens received more praise for singing in Girls! Girls! Girls! than she did for her acting. When word first came out of Hollywood that Stevens would appear in Elvis' new movie, she was cast as a "nitery singer." In that role, her character, Robin Ganter, delivered a trio of sultry songs — "Baby, Baby, Baby," "The Nearness of You," and "Never Let Me Go." In Variety's review of the film on November 7, 1962, she got some praise for her singing.
"Stella Stevens, however, is wasted in a standard role as a sultry torch singer who has given up ever really nailing the guy. She does her best, but aside from singing three songs (her first singing in a film) in a style suitable for the character, there just isn't enough for her to do."
Other reviewers agreed. In his Springfield Leader movie review, Hank Billings', even implied that Stella Stevens' singing nearly upstaged Elvis in the film:
"It is also here that Presley alternately charms and infuriates a slick girl vocalist (played by Stella Stevens, who looks good and sings so much better than he acts that its fortunate her emoting is brief.)"
The reality, though, was that Stella Stevens did not sing any of the three songs attributed to her in Girls! Girls! Girls! Noted Presley musicologist Ernst Mikael Jorgensen has revealed that all three of Stevens' solo songs in the movie were actually sung by vocalist Gilda Maiken with Ms. Stevens lip-synching. (Maiken was a pop and jazz singer, most known as the lead singer of The Skylarks.)
• The Cat's Que
For one particular short scene toward the end of the movie, director Taurog had to use patience and creativity to get one of the "actors" to respond for the camera on que. The scene called for a cat to make a delayed entrance behind Elvis, but when Taurog called "action," the cat didn't delay, but rather jumped right into the scene. Taurog tried it again, this time cuing Elvis with "Go." Elvis went, but the cat stayed behind. Next Taurog tried cuing the cat with "Cat." This time the cat obeyed, but it wasn't caught on tape. The cameraman thought someone had yelled, "Cut!" When the director changed the cat's cue to "pussycat," Elvis, cat, and cameraman were all in sync.
• Differing Perspectives: Stella Stevens vs. Jeremy Slate
There was more drama played out behind the scenes of Girls! Girls! Girls! than what was caught by the cameras. Stella Stevens, the film's second female lead, was at its center, but Jeremy Slate, the second male lead, provided a much needed counter perspective to the situation. In 1962, Stevens found herself locked into a one-picture-per-year contract with Paramount. When she was given the Presley movie as her annual role that year, she strongest resisted the assignment. Two years later, she told Hollywood columnist Sheilah Graham that she asked Hal Wallis to let her out of the role with Elvis.
"I went to him and said, 'You're a wonderful producer … but I've read this script. I can't imagine why in the world you would want me. It's ridiculous, a very shallow thing.' I was trying to be very nice about it. I didn't realize that he had approved the script. He was in a rage. I had to do it. Everyone was expecting me to be troublesome, but I completed the picture. I have never seen the picture and never will. Mr. Wallis likes to feel that actors are his puppets. I don't dislike Mr. Wallis as a man, but I can't think of a picture good enough that would make me want to work for him, to be his puppet. I have too much respect for my talent as an actress. I don't want to fight. I don't want to be dominated."
Stevens' disappointment about doing the Presley movie apparently also soured her relationship with director Norman Taurog. She said in a 1994 interview, "What I remember is him (Taurog) screaming at me at the top of his lungs in front of the cast and crew … It embarrassed me in front of everybody. I've never been talked to or treated like that."
Conversely, while Stevens felt Girls! Girls! Girls! was a low point in her career, Jeremy Slate's saw his role in the movie as an important step forward for his career. He explained his viewpoint in detail in a July 1, 1962, article in the Los Angeles Times.
"A number of people have said to me that it is a waste of time to appear in a Presley picture as far as my career is concerned because all eyes are on Elvis. My argument is that, because of this it's a challenge to the actor. Basically, this is why so many actors fail. They lose the thrill of contributing. It's at that point they feel this business owes them something. I feel that any actor who feels he's going to get the cake handed to him complete in the script shouldn't be acting.
"OK, now, I've had romantic dreams. Two years ago I was offered a small roll in 'GI Blues.' I turned it down. I told my agents that I have a dream and I want to stick to it. Features are what I want to do. They called me in and said I'd be in a guaranteed box-office success. Under the circumstances, I accepted it.
"So two years later I was chosen to co-star with Elvis and out of this has come an option for a five-year multiple picture contract with Hal Wallis. So there it is. It depends on how the actor feels. It's up to his conscience. It's no question that you should become selective, but only when you feel you know more about yourself and when the producers and directors know what you can do.
"Unfortunately, from a commercial point of view, I think it can be proven that good actors in a production that becomes a financial failure suffer as a consequence. This is precluded in a Presley picture, thanks to Elvis."
 • "Don't knock success, Stella."
In a 1968 interview with Roger Ebert of the Chicago Sun-Times, Stella Stevens reflected on a brief conversation with Elvis Presley on the set of Girls! Girls! Girls! six years earlier. "Elvis is a nice guy. You can talk to him," she said. "One day I said, 'Elvis honey, why do you do this garbage?' He thought a while and said, 'Don't knock success, Stella.'"
According to statistics compiled by Presley scholar and writer Trina Young, Girls! Girls! Girls! did indeed turn out to be a success. It was the 19th top grossing film in 1962. It's rental earnings reached $3.6 million, and its "Total Box Office Earnings" totaled $7.92 million. Those numbers place Girls! Girls! Girls! 7th among the 31 feature movies Elvis made during his Hollywood career. The only ones more successful financially were, in order, Viva Las Vegas, Blue Hawaii, G.I. Blues, Love Me Tender, Jailhouse Rock, and Loving You. — Alan Hanson © 2023
Go to Review of Girls! Girls! Girls!
Return to Elvis in Hollywood Page