In his own words …
Remembering Scotty Moore
Scotty Moore, the guitarist who gained fame backing Elvis Presley in the 1950s, died June 26, 2016, at the age of 84. Scotty was one of seven members of the musical entourage who helped create the Presley sound on stage and in the recording studio during the singer's rise to rock 'n' roll renown in the mid-fifties. With the previous deaths of bass player Bill Black, all four of the Jordanaires — Hoyt Hawkins, Neal Matthews, Hugh Jarrett, and Gordon Stoker — and Elvis himself, drummer D.J. Fontana became the last man standing from those early years of Presleymania. (Fontana died on June 13, 2018)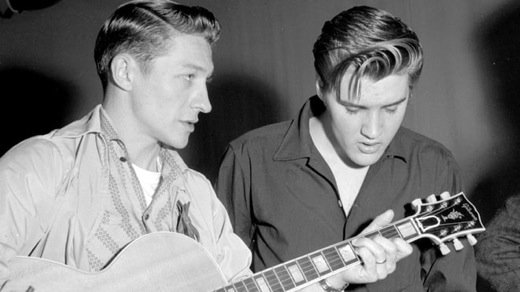 Of Elvis's early sidemen, however, Scotty Moore was clearly the most significant. His unique guitar licks, all of which he fashioned himself, were significant elements in Presley's hit recordings, including "Heartbreak Hotel," "Hound Dog," "Don't Be Cruel," and "Jailhouse Rock."
In addition to his musical contributions, Scotty Moore was, through the years, the single most important source of historical information concerning the rise of Elvis Presley. Scotty was there with Elvis from day one, that being July 4, 1954, when the two first got together for a jam session at Scotty's house in Memphis. From that day until he distanced himself from Presley in September 1957, Scotty was with Elvis for every stage show, recording session, and TV appearance.
Sought out often by journalists and authors, Scotty Moore provided considerable information about Elvis in dozens of interviews over the years. They've been printed in many books and Presley fan magazines. In addition, of course, Scotty collaborated with James Dickerson to tell his own story in That's Alright, Elvis, published in 1997.
Portions of one Scotty Moore interview can be heard in his own words on the 1971 radio documentary, The Elvis Presley Story. Scotty was among many Elvis insiders who sat for taped interviews for Jerry Hopkins' 1971 Presley biography. Portions of many of those interviews, including Scotty's, were included in the radio documentary that same year. Hearing Scotty talk about his early years with Elvis is one of the program's highlights. On his passing, then, it's fitting to let Scotty Moore tell about his collaboration with Elvis in his own words.
Below are some of Scotty's comments that can be heard on The Elvis Presley Story. I have edited them slightly to remove some repetition and insert punctuation as needed. We'll start with Scotty's remembrance of that first meeting with Elvis at Scotty's house in Memphis on July 4, 1954.
"Elvis came in. He had on pink shirt, pink pants, white buck shoes, and, of course, his famous duck tail haircut. We small-talked for a few minutes and drug out the guitars. He started singin' different songs, some old Hank Snow songs, I think a couple of Marty Robbins songs, mostly country songs. Bill Black came down, which I had told him before that Elvis would be down there, and he came down, sat around, listened for a few minutes. Then Elvis left. I called Bill and said, 'What'd you think?' He said, 'Well, ya know, didn't really impress me. The cat sang pretty good.' And honestly, that was my opinion, too. He sang real well, the songs that he was singing. Nothin' out of the ordinary."
Scotty passed on his opinion to Sam Philips, who decided to have Elvis come into his studio for an audition the next day. Scotty explained how that audition turned into a historic recording session.
"Elvis picks up the guitar and starts just bangin' on it; starts singing 'That's All Right Mama,' just a tension release, you know, doin' something to break the monotony. And Bill picked up his bass and started slappin' the strings, and I started trying to get in somewhere with what was going on. And Sam came out of the control room and [said], 'Whatta ya all doin'. We all said, 'We don't know; just cutting up.' He said, 'Sounds pretty good comin' through the doors. See if you can put it together a little better and let's put it on tape.' Everybody looked at each other and said, 'What were we doin'?'"
"That's All Right Mama" was recorded that evening. Scotty then recalled the trio's next one-song recording session at Sun:
"The next night, or a couple of nights later, we were trying to get something to go on the backside of it, for the other side of the record. Again we go into the studio and start playin' around with different songs. Bill Black picked up his bass, started slappin' it, then started clowning, slappin' the base, and started singin' in a high, falsetto bass, mimicking Bill Munroe, singin' 'Blue Moon of Kentucky.' Elvis started playing rhythm with him, and he started singin'. Again, I joined in, and this is how 'Blue Moon of Kentucky' came about."
Scotty also spoke of how Elvis developed his signature shaking on stage in the early days:
"Elvis naturally, when he plays guitar, where some people would pat their foot, he would shake one of his legs. It was just a way of keepin' time, I think, actually, that on this show … Back then—do you remember the old 'Loose Britches'? Now, you shake your leg, you can make it look like fancy shakin', [like] you're doin' three times more than you're really doin'. And I think a lot of it could have been nerves. I know we were all scared to death goin' out there. And like when I was doin' an instrumental part, he would back off the mike and be playin', shakin', the crowd would just go wild. They really liked it. He thought they were actually makin' fun of him."
Elvis, Scotty, and Bill had created a new and unusual style in their first Sun sessions. Since none of them were songwriters, they had to find existing songs that would work with their new sound. Scotty explained:
"Once we had created the style, then finding songs, of course, was a problem. It was a matter of tryin' one song after another for a long time. And I would say, actually, that all of the records that were recorded on Sun were a spur of the moment thing. None of us were school musicians. We played entirely by ear, and feel was the most important thing to us."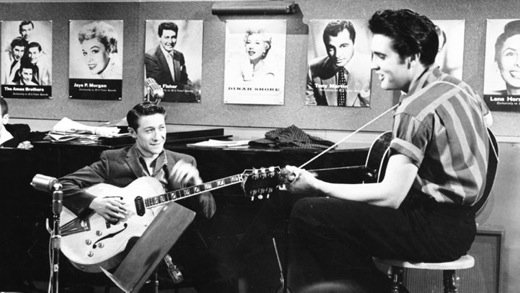 Near constant touring around the South in 1954-55 had both exciting and stressful consequences, according to Scotty:
"Let's face it. This was a picnic. We'd actually almost have to drag him out of bed in the morning. We were constantly clowning. Of course, we had our little spats. Somebody would sull up, say, 'Stop the car; we're gonna get out and fight.' Get out, walk around the car, shake hands, get back in the car and go on, ya know."
As noted earlier, Scotty Moore personally created the guitar solos he played on Elvis's recordings. In The Elvis Presley Story, he described two of them. First, on "Hound Dog," recorded July 2, 1956:
"I did a weird, to me now, it was an unmusical type instrumental solo. But it fit. I would say you could call it ancient psychedelic."
Then on "Too Much," recorded September 2, 1956:
"I don't remember now exactly what I had nailed down for the solo instrumental part. It was in an odd key … well, for most guitar players, I would say. When my instrumental part came, I absolutely just got lost. I didn't know where I was at. But from the experience we had already gained in these months behind us, in playing on stage, you go ahead, you just keep on going, and this is what I did. And this was the take that was released."
In 1957, the fans at Elvis' stage shows got even wilder. Scotty recalled the reaction of one crowd that year in St. Louis:
"One girl tried to crawl up on the stage. Of course, the policemen told her, ya know, she had to get back. In a few minutes, she'd try it again. After two or three attempts, she finally got past the policemen and managed to get up on the stage and grab ahold of Elvis's arm. And this started somebody else headed for the stage. And right in the middle of a song—I don't remember what song it was—we realized that here come a thousand people at you."
After Elvis returned from the army in 1960, Scotty continued to play on the recording sessions. He said Elvis was completely in charge of those sessions:
"He'd go through piles of material. He'd spend a lot of time on a session just sittin' and listenin' to material. And he'd hear somethin' and say, 'This may be good; here let's try this.' There was no director. Nobody said you do this, you do that." 
---
On the wall in my family room hangs a large, framed print of the above image, shot by Alfred Wertheimer during one of Elvis' appearances on the Dorsey brothers' show in 1956. Elvis is out front, as he always was, creating energy in the crowd. However, the real reason this picture is a favorite of mine is because it reminds me that no depiction of Elvis Presley on stage in those days would be complete without Scotty Moore and Bill Black working in the background. — Alan Hanson (© July 2016