Elvis Presley's Greatest Recordings:


A Top 20 List
In November Rolling Stone issued a "Special Collectors Edition" of The Beatles' "100 Greatest Songs." Hopefully the magazine will someday get around to listing Elvis Presley's "100 Greatest Songs," but to bridge the gap until they do, I'm offering the following list of Elvis' "20 Greatest Recordings." While a list of 100 great Elvis recordings could easily be compiled, space here limits the list to 20.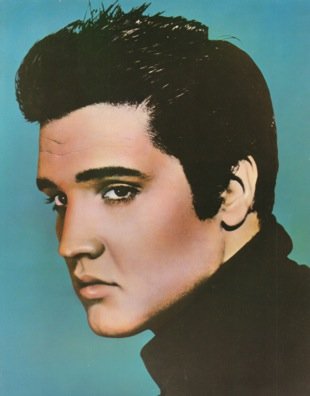 "Recordings" is more appropriate for an Elvis list than the term "songs" used by Rolling Stone for The Beatles. All 100 tunes on the Fab Four list were both written and recorded by them. Thus in its selection process the magazine took into consideration both the creativity involved in the composition of each song and the quality of its recording. Presley was not a songwriter, so we are left to make judgments based solely on his performance in the recording studio.
In addition, all "cover" songs (those previously recorded by other singers or groups) were excluded from consideration in The Beatles list. Since many of Elvis' biggest hits were technically "cover" songs, they were eligible for his list. In fact, at least 8 of the 20 songs on the following list were recorded by other acts before Elvis made them his own.
Some final considerations: Only Elvis' studio recordings were eligible for the following list. Recordings were judged, selected and rated based on three factors—(1) vocal performance, (2) chart performance, and (3) historical significance. Each recording's initial release on vinyl is listed. Some, like "Guitar Man," first appeared on an LP and were later released as a single. All quotes by Ernst Jorgensen are from his book, Elvis Presley: A Life in Music. Finally, a link is provided if there is more information about a recording elsewhere on Elvis-History-Blog.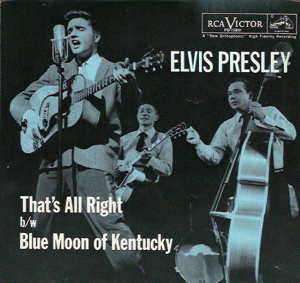 #1: THAT'S ALL RIGHT (recorded: July 5 or 6, 1954 / single released: mid-July 1954)
Some say this cut started it all for rock 'n' roll. It certainly launched Elvis Presley's career. Legend has it that Elvis and Bill Black started fooling around with Arthur Crudup's blues number in Sam Phillips' small studio. After Scotty Moore jumped in, Sam recognized something original and started the recording equipment. When asked later to explain how he came up with the new sound, Elvis explained, "Well, to be honest, we just kinda stumbled upon it." According to Jorgensen, Elvis "injected a bright, breezy, more melodic feel into the traditional blues." The record open doors for Elvis, and the course of pop music changed forever.
#2: HOUND DOG (recorded: July 2, 1956 / single released: July 13, 1956)
Elvis' controversial performances of "Hound Dog" on Milton Berle's and Steve Allen's TV shows made certain that Presley's single of the song would be a hit even before he recorded it. Elvis had been giving the song the bump-and-grind treatment in his live shows. "What they needed to figure out," noted Jorgensen, "was how to turn the live performance into a record that would have the same effect." The result was a "full-speed-ahead version that had more to do with energy and overall impact than anything else." The legendary "from the waist up" treatment given Elvis' performance of the song on The Ed Sullivan Show made it rock 'n' roll's signature song in the fifties. Read more about "Hound Dog"
#3: HEARTBREAK HOTEL (recorded: Jan. 10, 1956 / single released: Jan. 27, 1956)
"Heartbreak Hotel" put Elvis on the national stage. Presley knew he had something special when writer Mae Axton handed him the song in late 1955. "I've got this brand new song and it's gonna be my first hit," he announced to a December crowd in Arkansas. "It would have been hard to say what genre 'Heartbreak Hotel' was written in," Jorgensen noted, "perhaps it was more like a blues than anything else." Floyd Cramer and Chet Atkins joined Elvis' trio in the studio, and the echo effect of the Sun recordings was duplicated. "Heartbreak Hotel" rode Billboard's Top 100 for over six months, spending 7 weeks at #1. Read more about "Heartbreak Hotel"
#4: HOW GREAT THOU ART (recorded: May 25, 1966 / released on LP: February 1967)
Most critics agree that Elvis' gospel recordings contain his best musical performances. "How Great Thou Art" clearly demonstrated his commitment to that genre. "Elvis sang with sincerity and dedication," says Jorgensen. "He had crafted for himself an ad-hoc arrangement in which he took every part of the four-part vocal … In an extraordinary fulfillment of his vocal ambitions, he had become a kind of one-man quartet, making the song both a personal challenge and a tribute to the singing style he'd always loved." During his career, Elvis received only three Grammy Awards. "How Great Thou Art" was responsible for two of them—Best Gospel Album (1967) and Best Live Gospel Recording (1974).
#5: IT'S NOW OR NEVER (recorded: April 3, 1960 / single released: July 5, 1960)
The release of "It's Now or Never" in 1960 heralded a fundamental change in Elvis' musical career. At age 25 he abandoned his rock 'n' roll image and entered pop music's mainstream. Jorgensen described the recording as "pure pop music, delivered with both superb musical command and the highest level of professionalism—it represented exactly Colonel Tom Parker's dreams and hopes for Elvis' new artistic direction." Presley's public accepted his transition to a more mature kind of music. "It's Now or Never" spent 20 weeks in Billboard'sHot 100, including 10 weeks in the top 10 and 5 weeks at #1. Read more about "It's Now or Never"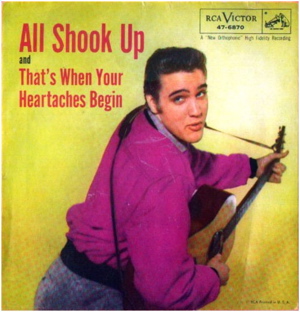 #6: ALL SHOOK UP (recorded: Jan. 12, 1957 / single released: March 22, 1957)
At 30 weeks, "All Shook Up" rode Billboard's pop chart longer than any other Elvis single. It spent 4 months in the top 10, including 8 weeks at #1. Otis Blackwell wrote this one for Elvis, as he had "Don't Be Cruel" the year before. According to Jorgensen, "All Shook Up" was an "irresistible shuffle-rhythm tune whose negligible melody was less important than its style … and Elvis knew just how to deliver it." Gordon Stoker's duet on the chorus and Elvis' overdubbed guitar slapping helped produce a driving beat on this classic rock 'n' roll recording.
#7: GUITAR MAN (recorded: Sept. 10, 1967 / released on LP: October 1967)
Elvis's late sixties comeback is usually dated to his December 1968 TV special, but it really began with the recording of "Guitar Man" over a year earlier. It was a cover of writer Jerry Reed's country version, but Elvis' strong, driving vocal signaled a commitment to his roots that he had not projected in years. The recording was mishandled commercially. It first appeared as extra song on the "Clambake" soundtrack LP. That initial exposure weakened the single release of three months later. Although the single peaked at #43 in only 6 weeks on the chart, it was a sign that Elvis again had found his way musically.
#8: RECONSIDER BABY (recorded: April 4, 1960 / released on LP: April 8, 1960)
Elvis showcased the strength and versatility of voice during his spring 1960 studio sessions. He put his signature on the blues when he recorded "Reconsider Baby" at the end of an all-night session on April 4. "At the heart an unrehearsed jam," noted Jorgensen, "the track starred the newest addition to the group, Homer 'Boots' Randolph … His sax solo, the first on a Presley record, went straight into the book of classic rock 'n' roll moments."
#9: GOOD LUCK CHARM (recorded: Oct. 15, 1961 / single released: Feb. 27, 1962)
A straight pop number, "Good Luck Charm" posed no vocal challenge for Elvis. With the help again of Gordon Stoker on the chorus, the tune was recorded in just a few takes. The single release had immense significance in Elvis' career. It would be Elvis's last #1 record for seven years. Lawsuits over publishing rights to "Good Luck Charm" caused the song's composer Aaron Schroeder to stop writing for Elvis. Others who had written Elvis' past hits soon stopped as well, and going forward Presley's recording career suffered for lack of quality material. Read more about "Good Luck Charm"
#10: JAILHOUSE ROCK (recorded: April 30, 1957 / single released: Sept. 24, 1957)
With writers Jerry Leiber and Mike Stoller working directly with him in the studio, Elvis produced his "hardest rocker yet," according to Jorgensen. "Elvis' quick, sure grasp of the tune—and his instinct to sing the song with an urgency that transcended its satirical intent—rocked Jerry and Mike back on their heels." The single became Presley's third blockbuster hit of the year. "Jailhouse Rock" spent 27 weeks on the Top 100, 14 weeks in the top 10, and 6 at #1.mind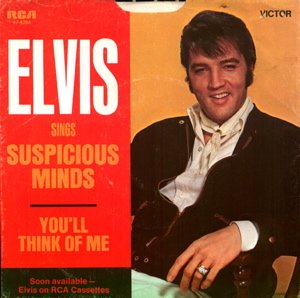 #11: SUSPICIOUS MINDS (recorded: Jan. 22, 1969 / single released: Aug. 26, 1969)
Elvis' "comeback" was complete when "Suspicious Minds" reached #1 on the Hot 100 on November 1, 1969. He hadn't been on top of the chart for seven years, and he never would be again. Recording the song was a group effort. Producer Chips Momon worked with the band to get it in the right groove while Elvis worked on getting the lyrics and phrasing down. "It felt good from the first take," says Jorgensen. Momon's overdubbing work on the recording pleased Elvis, who listened to the record over and over at Graceland. A hard driving rendition of "Suspicious Minds" became the climax of his Vegas and road shows in the seventies.
#12: I NEED YOUR LOVE TONIGHT (recorded: June 10, 1958 / single released: March 10, 1959)
Elvis' June 1958 recording session in Nashville was probably the most important of his career. Before he went to Germany, enough single-quality recordings to keep him on the charts for two years had to be put in the bank. Of the four classic recordings laid down at that session, the first, "I Need Your Love Tonight," was the strongest. "The lyrics ('paw, paw,' 'ooh wee') may have bordered on the silly," Jorgensen noted, "but they were all part of the irresistibly light arrangement, and Elvis had fun playing around with them, using every trick in his book of sexy phrasings." Hank Garland's guitar work gave the recording much of its power and energy. The single pairing of "I Need Your Love Tonight" (#4) and "A Fool Such As I" (#2) became one of Elvis' biggest two-sided hits.
#13: CAN'T HELP FALLING IN LOVE (recorded: March 23, 1961 / single released: Nov. 21, 1961)
Perhaps the most recognized of Elvis' handful of signature songs, "Can't Help Falling In Love" demonstrates Presley's ability to deliver romantic ballads in the sixties. The particularly slow pace of the melody challenged Elvis in the studio. "The ambition and concentration he put into a marathon twenty-nine takes of 'Can't Help Falling In Love' on the final day suggested how seriously he took the beautiful, intimate ballad," says Jorgensen. Although the single failed to reach #1 on the charts, it remains one of his most familiar tunes. Elvis used it as his closing number during his shows throughout the seventies.
#14: DON'T BE CRUEL (recorded: July 2, 1956 / single released: July 13, 1956)
Although one of Elvis' biggest chart hits (27 weeks on the Top 100, 16 weeks in the top 10, and 7 weeks at #1), "Don't Be Cruel" was essentially overshadowed by its flip side, "Hound Dog." The first time Elvis heard Otis Blackwell's composition was when he listened to the demo moments before he recorded it. "From Scotty's opening lick, the simple shuffle swept up everyone in the room, and it was clear that Elvis and the group were onto something," according to Jorgensen. "The rest of the track fell in with a natural grace that sounded almost effortless—and like nothing ever heard before. Read more about "Don't Be Cruel"
#15: VIVA LAS VEGAS (recorded: July 10, 1963 / single released: April 28, 1964)
One of Elvis' most recognized recordings these days, "Viva Las Vegas" was just another Presley bust on the charts in 1964. It ran a mere 7 weeks on the Hot 100, peaking at #33. It deserved a better fate. Elvis' recording was a "shimmering appraisal of the neon-lit city, as infectious as a quick stroll down the Strip," judged Jorgensen. "The density of the band performance and the seemingly limitless excitement of Elvis' own delivery matched the brilliant pop song." Decades later Presley's recording has become the unofficial anthem of Las Vegas.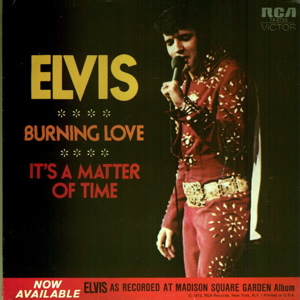 #16: BURNING LOVE (recorded: Jan. 28, 1972 / single released: Aug. 1, 1972)
After a couple years of disappointing single releases, Elvis, at age 37, demonstrated that he still had the pipes to deliver a hit rock record. "Burning Love" spent 15 weeks on the Hot 100, peaking at #2. Sadly, though, the recording also revealed that Elvis had lost his instinct in the studio. Jorgensen explains: "It took almost everyone in the room to persuade Elvis to commit himself to 'Burning Love' … Elvis himself remained unconvinced, and though he eventually cut it, three months later he told reporters in New York … that a good rock song was 'hard to find.' He seemed to have no idea that the one he'd just completed would become a classic." After "Burning Love," Elvis would never again approach the top of the charts.
#17: IF I CAN DREAM (recorded: June 23, 1968 / single released: Nov. 5, 1968)
"If I Can Dream" caused the music industry to take another look at Elvis Presley. It was not a huge chart hit, peaking at #12 on the Hot 100, but the recording's energy and message gave Elvis the relevancy he had lacked for many years. "From the beginning Elvis sang as if he were pleading for his very life," Jorgensen noted. "Echoing the song's idealistic message, he remarked loud enough for everybody to hear: 'I'm never going to sing another song I don't believe in.'" He stayed true to that commitment for two years, resulting in the last great renaissance of his musical career.
#18: LOVE ME TENDER (recorded: Aug. 24, 1956 / single released: Sept. 28, 1956)
Elvis was not in the best of moods when 20th Century Fox required him to record four songs to be used in his first movie. At least "Love Me Tender," based on the folk melody "Aura Lee," fit the Civil War theme of the film. The simple tune was no challenge for Presley's vocal range, but it shot to the top of the charts anyway. The 23 weeks it spent on the Top 100 included 3 weeks at #1 and 14 in the top 10. His first ballad released as a single by RCA, "Love Me Tender" demonstrated that Elvis was more than just a rock 'n' roll singer. Read more about "Love Me Tender"
#19: CRYING IN THE CHAPEL (recorded: Oct. 31, 1960 / single released: April 6, 1965)
Gordon Stoker of the Jordanaires recalls that everyone in the studio was tired at the end of an all-night recording session on Halloween morning in 1960, when Elvis said, "Let's try 'Crying in the Chapel.'" Complications over publishing rights caused the hymn to be left off Elvis' "His Hand in Mine" gospel album later that year. Nearly five years later, RCA dusted off "Crying in the Chapel" and released it as a single. Elvis's soulful recording spent 7 weeks in the Hot 100's top 10, an amazing accomplishment for a gospel record. It didn't lead to a Presley revival, though. Several years would pass before Elvis had another hit. Still, in the wasteland of Elvis' mid-sixties records, "Crying in the Chapel" was a reminder of his past devotion to gospel music, which would be renewed with "How Great Thou Art" two years later. Read more about "Crying in the Chapel"
#20: SUCH A NIGHT (recorded: April 4, 1960 / released on LP: April 8, 1960)
Recorded during the classic sessions right after Elvis returned from the army, "Such a Night" revealed that Presley could still knock out an old-fashioned rock 'n' roll number. According to Jorgensen, the recording "walked the fine line between suggestiveness and aloof humor with a newly sparkling charm. It seemed like yet another candidate for a smash single." However, when the decision was made to go with mainstream singles like "Are You Lonesome Tonight?" and "It's Now or Never," the rockers from the sessions became tracks on the "Elvis Is Back" LP. "Such a Night" was a moderate hit as a single in 1964, but one wonders how much bigger of a hit it might have been in 1960, when the memory of Elvis' rock 'n' roll days were still fresh in his fans' minds. — Alan Hanson | © October 2010
Go to Elvis Music

Go to Home Page